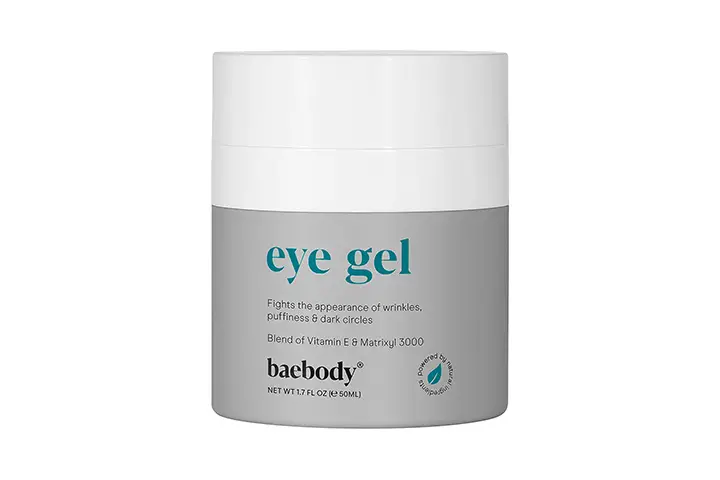 Eyes will not only help to see but also help to speak alot. So make your eyes bright by avoiding dark circles, eye wrinkles and puffy bags. Baebody eye gel is a perfect solution for all these issues.
The powerful ingredients of this product will fight with wrinkles, puffiness and dark circles.
You need to treat the eye area specially as it is much tender than the other skin area on your face. So this light weight gel makes your eye area supple, hydrated and healthy.
Baebody Eye Gel for Under and Around Eyes
How it Works:
The powerful blend of vitamin E, matrixyl 3000 and peptide complex helps to diminish the appearance of dark circles, puffiness and wrinkles.
It can be used in the morning and night also.
The light weight formula of this product helps to absorb quickly and will not leave any greasy feeling.
When you apply vitamin E, it helps to protect your skin from the damage caused by free radicals and it also works as an antioxidant that helps to lighten the dark spots and hyperpigmentation.
Matrixyl 3000 treets your skin by avoiding aging signs and helps to look more young.
The anti-inflammatory properties of Jojoba oil and Amino acid make your skin hydrated.
It also helps to reduce the redness caused by drying and makes your skin calm.
Pros:
Works gently around the eye area.
Use it day and night for best results.
Dermatologist tested.
Non -irritating and hypoallergenic formula.
Reduces the puffiness and dark circles.
Cons:
Rating: 3.9 out of 5
No more heavy creams and lotions on your gentle eye area. Choose this lightweight gel for the best results. Baebody eye gel fights with dark circles, puffiness and wrinkles.
Frequently Asked Questions (FAQ's)
Q. Does this help with dark circles?
Ans: Baebody Eye Gel is formulated to help with the appearance of wrinkles, puffiness and dark circles. Results may vary from person to person!
Q. Is it oil free?
Ans: It is not oily when you apply on your skin there is no shine after it absorbs into the skin.
Q. How effectively will this product work on under eye bags?
Ans: It's amazing! It's hard to believe but after a week of using this product, the bags under my eyes were almost non-existent. You love this product!
Alternate Products:
You Might Also Like: