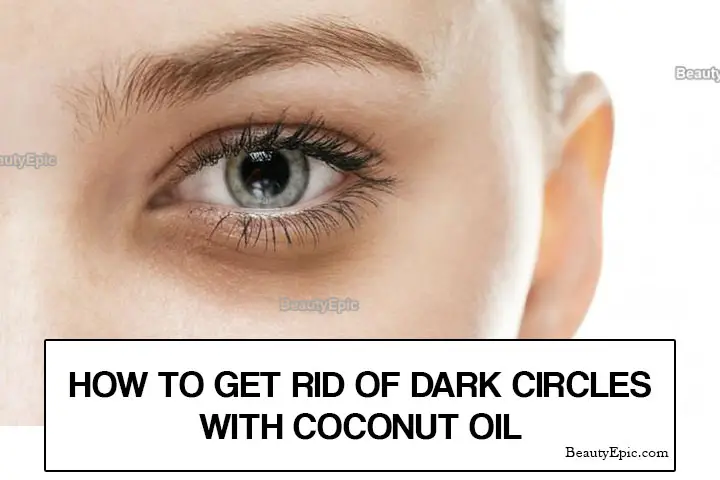 The skin under the eyes turns thin and delicate with the blue veins under eyes appearing dark. This dark discoloration of the skin is called a dark circle. In today's world men and women of all age groups and children suffer from this problem. Using virgin coconut oil is a sure and natural way to cure this problem.
Does Coconut oil Remove Dark Circles?
Coconut oil is the most common article in our homes. It is rich in minerals and if very effective against various ailments. It is the easiest and cheapest remedy against dark circles.
Coconut oil is a great moisturizer.
Applying coconut oil around the eyes prevents dryness and keeps the skin moisturized.
It helps to keep the dark circles and puffy eyes at bay.
It soothes the skin and prevents wrinkles and fine lines.
Virgin coconut oil has lactic acid that helps in lightning the skin just like lemon juice.
It contains essential fatty acids and vitamins, which allows the growth of healthy skin.
[ Read: How to Remove Dark Circles with Baking Soda ]
How To Use Coconut Oil for Dark Circles?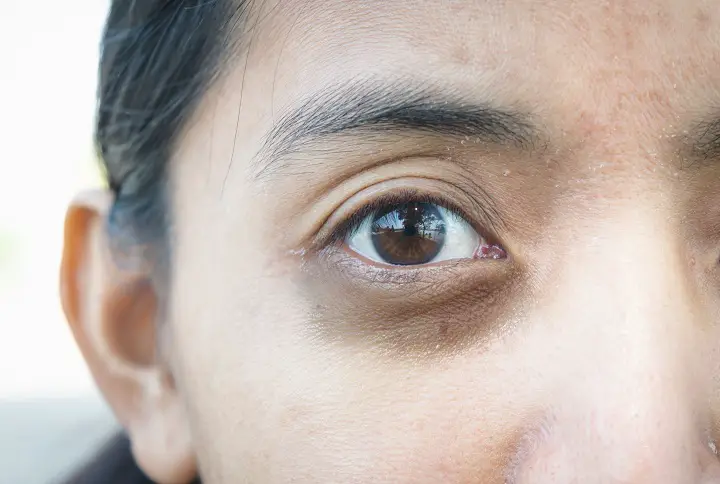 Cosmetics and creams work temporarily on persistent and resilient dark circles. They generally do more harm than good. Coconut oil is a natural remedy that heals your strained under eye muscles very well and it a product that is present in nearly all households.
Coconut Oil Used Directly
This is a very hassle free way of treating your dark circles. It is easy and can be done any time.
Cleanse your face with a mild soap and pat it dry.
Gently apply coconut oil under your eyes.
Leave it overnight (if using at night else keep it for 4-5 hours).
In the morning you can wash your face with a mild cleanser.
Repeat this process regularly until the dark circles are gone.
Note– It is preferable to use extra virgin coconut oil. You can continue this process even after your dark circles are gone as it keeps your delicate under eye muscles healthy.
[ Read: How To Use Castor Oil For Dark Circles ]
Coconut oil with Turmeric Paste
A combination of coconut oil and turmeric paste can be used to cure unnatural skin pigmentation or discoloration of the skin.
Take a pinch of turmeric and make a smooth paste by mixing it with a tablespoon of coconut oil.
Ensure that it is a thick paste.
Apply this paste on the dark circles and keep it for 15 minutes.
Wipe it away with a cotton ball.
How it helps: This will help to stimulate blood flow and moisturize the skin.
[ Read: Does Lemon Juice Help Dark Circles ]
Coconut oil and Almond oil
Almond oil which is used extensively for skin nourishing can be combined with coconut oil to cure under eye dark circles. Almond oil is rich in vitamin E, which is great for the skin.
Mix together equal parts of coconut oil and almond oil.
Gently massage this mixture on your dark circles using your fingertips.
Leave it for 5-6 hours.
If you are putting it at night then leave it overnight.
Cleanse with normal water.
Repetition: Repeat this process regularly until the dark circles are gone.
[ Read: How to Use Vitamin E oil for Dark Circles ]
Coconut oil with Chickpea Flour And Turmeric
Turmeric is very good for the skin and removes any unnatural pigmentation. Chickpea flour acts as a natural cleanser.
Add chickpea flour and turmeric in a bowl.
To this add some coconut oil, whole milk, honey and fresh lemon juice.
Make a paste with thin consistency and apply it on the affected area.
Let it dry for 15 minutes and wipe with a clean, wet cloth.
Wash and pat dry.
Repetitions: Repeat regularly.
[ Read: How to Remove Dark Circles with Cucumber ]
Tips And Precautions
There are certain dos and don'ts that one needs to follow while using coconut oil. It will give the best possible results.
It is preferable to use extra virgin coconut oil.
Ensure that the oil does not enter your eyes as it may cause irritation of the eye.
If your dark circles do not begin to fade after a week then consult a doctor as they may be the indication of some deeper health issues.
Best Eye Creams for Dark Circles
Best For Those On A Budget
Neutrogena Hydro Boost Eye Gel-Cream – Buy on Amazon
Best For A Lightweight, Nongreasy Cream
Neocutis Lumière Illuminating Eye Cream – Buy on Amazon
Best For Those In Need Of A Hydration Boost
Origins Eye Doctor – Buy on Amazon
Best All-in-one Eye Cream
Eight Saints All In Eye Cream – Buy on Amazon
You Might Also Like: