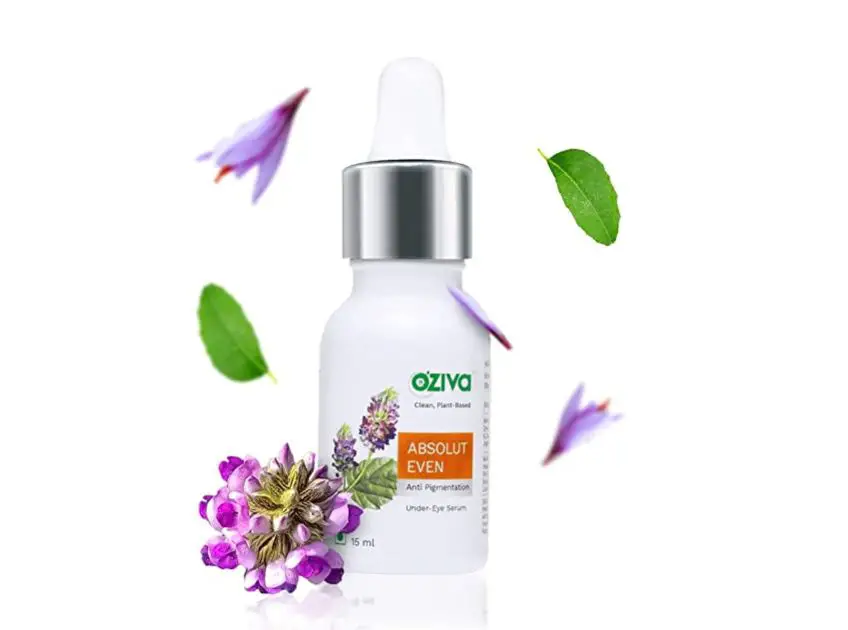 Beautiful eyes become the center of attraction instantly. However, dark circles, pigmentation, puffiness, and fine lines can greatly reduce the impact on beautiful eyes. The skin around the eyes is very soft and sensitive, due to which the effect of aging gets more prominent around the eyes. Puffiness, wrinkles, sagging skin, and pigmentation around the eyes are common as a part of aging.
Apart from aging, dark circles can also come due to lack of sleep, stress, anxiety, and other medical conditions. Waking up late and sleeping for less than 6 hours can make your eyes look tired.
To combat all these signs, plenty of eye care products are on the market. You can easily find plenty of brands selling under-eyes creams, serums, and lotions. Today we will review Oziva Absolut Even Anti-Pigmentation Under-Eye Serum, which contains the goodness of plant-based extracts and seems highly promising. Let's check out.
Product Review
Seeing the ingredients- quinoa seed extract, licorice oil, and water lily oil, we easily understand the worth of this amazing eye serum. All these ingredients are plant-based and a rich source of antioxidants and flavonoids. Besides improving the collagen content that maintains the skin's elasticity, the serum also helps reduce inflammation and inhibits pigmentation.
The oils in the serum provide a soothing effect on the eyes. Regular use of serum reduces cellular damage as it delivers Phyto Niacinamide through tulsi extracts. It makes the eyes feel visibly refreshed and rejuvenated. The age-defying property of Oziva Absolut Even Anti-Pigmentation Under-Eye Serum is all that we like the most. We would suggest everyone try it.
Product Description
Oziva Absolut Even Anti-Pigmentation Under-Eye Serum is loaded with ingredients rich in antioxidants and flavonoids. These components are essential to get healthy and glowing skin. When the serum is applied around the eyes on a regular basis, it gives an astounding result.
Some major issues it resolves include dark circles, puffiness, eye bags, fine lines, and wrinkles. If your eyes look tired due to dark circles, say goodbye with Oziva Absolut Even Anti-Pigmentation Under-Eye Serum.
It suits all skin types. For applying, take two to three drops of serum in your palm and pat them under your eyes. Now, with the help of fingertips, gently massage and wait until the serum gets absorbed completely.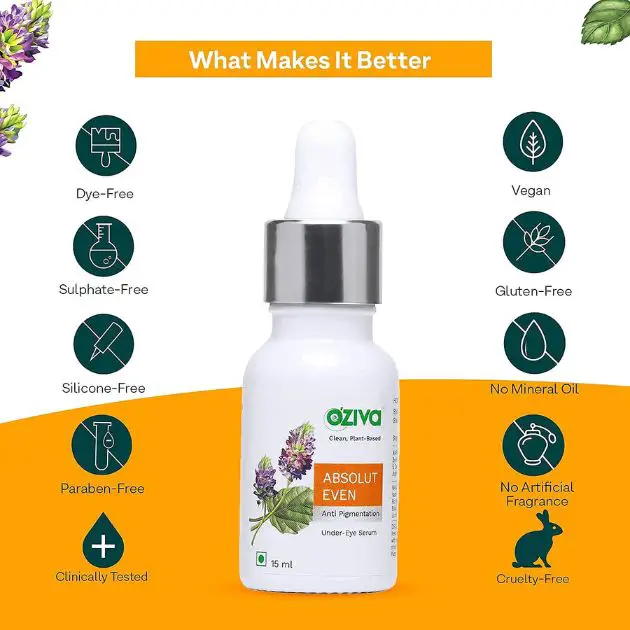 Nutrition Facts
The two major blends in Oziva Absolut Even Anti-Pigmentation Under-Eye Serum are-
Dark Circle & Puffiness Reducer Blend- The extracts of tulsi and quinoa seed furnish the need for Phtyo Niacinamide, which helps reduce puffiness and dark circles around the eyes.
Fine Line Reducer Blend- To reduce the signs of aging around the eyes, the blend consists of Water Lily Oil and Licorice Oil that deliver Phyto Retinol (Bakuchiol) to the skin and reduce fine lines.
What We Like
It is a clinically tested product.
Certified vegan and cruelty-free.
It is free from sulfate, paraben, artificial fragrance, silicone, and dye.
This product has no side effects, and it suits all skin types.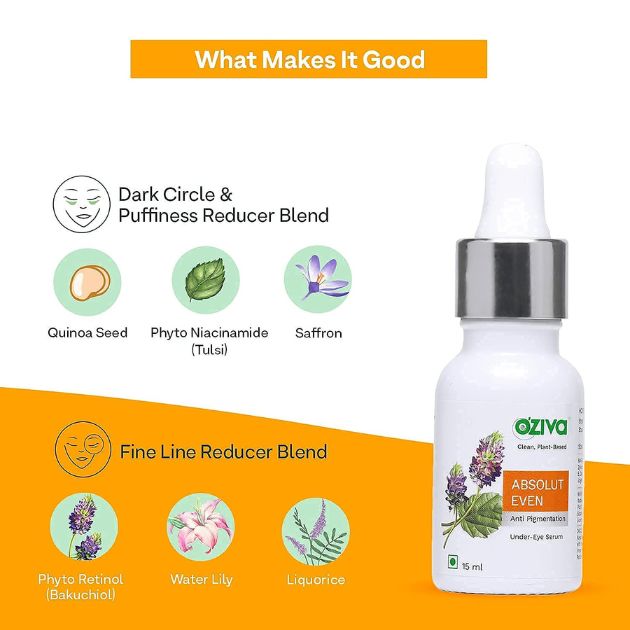 What We Don't Like
You need to regularly apply the serum under your eyes for at least two to four months to see the difference. If you want an instant result, this product is not for you. However, once you start using it regularly, the result will be ever-lasting.
How Much Does Oziva Collagen Builder Cost?
The regular price of Oziva Absolut Even Anti-Pigmentation Under-Eye Serum is Rs 449. Still, you can buy it at a sale price of Rs 436 from Oziva's official website or from a trusted source like Amazon to get the benefits of discounts and offers.
Alternative Products
Conclusion
We all want to have beautiful and stunning eyes, but when aging, huge stress and lack of sleep take a toll on the beauty of eyes, using effective products like Oziva Absolut Even Anti-Pigmentation Under-Eye Serum seems fruitful.
While most of the products in the market are chemical-based, plant-based products like Oziva gives good results without any side effects. It nourishes the area around the eyes and makes the eyes look gorgeous.
Read More