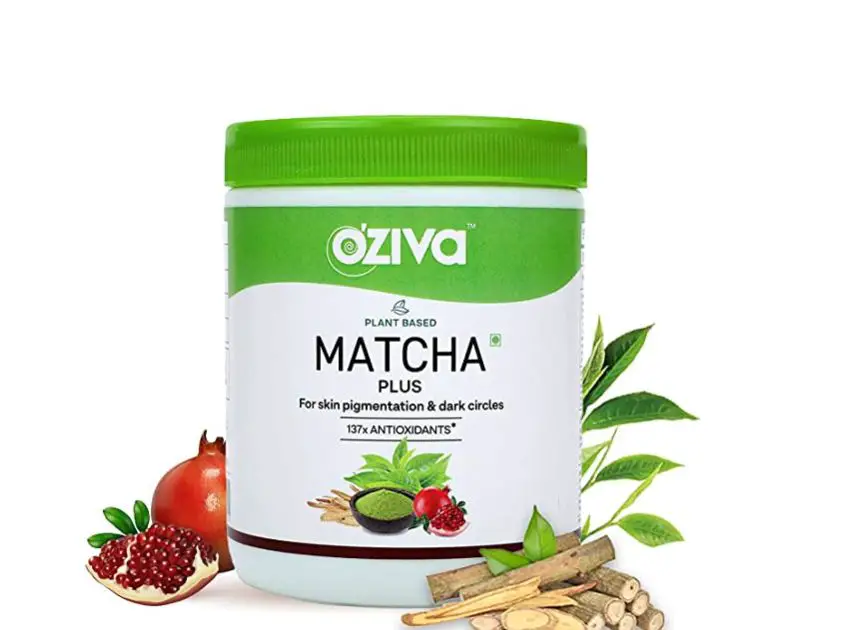 Some drinks can be enjoyed to keep the skin healthy, and Matcha is one of them. However, finding pure and organic Matcha that has the goodness of all the nutrients and antioxidants is difficult to find because most of them come in their adulterated form.
Being a powerhouse of antioxidants, Matcha has become the number one choice of people all around the globe. It is the reason why many brands have come up with their Matcha products. But is it easy to trust all of them?
Today we are reviewing Oziva plant-based Matcha Plus, which consists of organic Matcha and activated charcoal to make it more effective for the skin.
Product Review
Oziva Plant-based Matcha Plus comprises hand-picked Japanese Matcha along with licorice and activated charcoal- basically everything that helps to keep the skin radiant and glowing. Since all the extracts are from nature, the product seems promising.
Along with these major ingredients, the presence of pomegranate and ginger enhances the effectiveness. It is believed that these components make the skin clearer by reducing dark spots, dark circles, and pigmentation.
Apart from benefiting the skin, Oziva Matcha Plus also helps to maintain mental focus. It boosts stamina and helps in weight loss and metabolism. Overall, it is a decent product that can be used for healthy skin and mental well-being.
Product Description
With more than 137 types of antioxidants, Japanese Matcha has already made a significant place in the health and beauty industry. It supports skin health and an active lifestyle. Since Oziva Matcha Plus uses hand-picked matcha from Japan, its reliability on it increases.
It consists of 100% organic matcha that works on improving the skin complexion. Activated charcoal has been added that aids in removing the dead skin and other impurities from the skin. To perk up the effectiveness of the product, licorice is added that evens out the skin tone and reduces dark spots and dark circles.
For use, add one scoop to 150 ml of hot water. Wait for 1 minute to allow it to settle and enjoy your healthy drink.
Nutrition Facts
Nature's ingredients make Oziva Matcha Plus one of the best health drinks of the time, especially for skin health and mental well-being. The major ingredients are-
Matcha- It is rich in antioxidants that improve skin tone and reduce pigments.
Licorice- The properties of licorice aid in evening out the skin tone. It reduces the dark spots and dark circles and makes the skin look radiant and vibrant.
Activated charcoal- Charcoal is a natural exfoliating agent that keeps the skin lively and controls issues like acne and blemishes.
Ginger- It is also a rich source of antioxidants that fades dark spots and rejuvenates the skin.
What We Like
It is gluten-free, soy-free, and does not contain artificial sweeteners or preservatives.
It is a clinically tested product.
Certified vegan.
There are no side effects of Oziva Matcha Plus.

What We Don't Like
Regular consumption of Oziva Matcha Plus is essential to get the desired results. In order to see the effectiveness of drinking Matcha Plus, make sure you include it in your daily regime and drink it twice or at least once for one month.
How Much Does Oziva Matcha Plus Cost?
The regular price of Oziva Matcha Plus is Check Here. Never buy Oziva products from sources other than the Oziva website and Amazon to ensure you get the benefits of offers and discounts running n the Oziva products.
Alternative Products
Conclusion
We all drink green tea and other Matcha drinks to maintain health and mental well-being. However, all products are not reliable and do not give effective results even after two and three months. If you are fed up with using different drinks to maintain overall well-being, you should definitely give a try to Oziva Matcha Plus, which helps to maintain skin health and mental balance.
The results may come late, but your patience will be worth it. Switch to Oziva Matcha Plus for an overall health benefit.
Read More