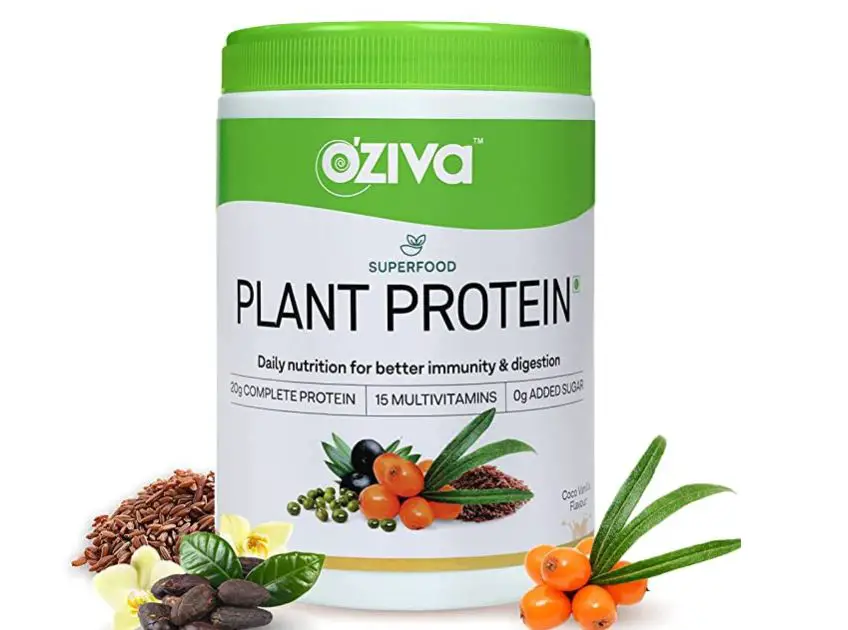 There is no need to explain the importance of protein in the growth and development of the body. It makes the building blocks of the body and makes 20% of you. Protein is essential as it is important for all bodily functions- whether you want to build muscles, keep your skin, hair, and nails healthy, or want a strong immune system.
However, poor diet and eating habits can make the body deficient in protein. Also, people who work out more or have a highly active routine need to have more protein in their diet. To replenish this protein, the body needs extra protein that you can have with protein supplements.
While the market is flooded with multiple brands that sell protein supplements, Oziva's superfood plant protein has plant-based ingredients suitable for all. Let's unveil Oziva Superfood plant protein and check out its ingredients and how effective it really is.
Product Review
OZiva Superfood Plant Protein is designed to deliver all the essential amino acids to the body and improve immunity and overall health. The isolates from pea, brown rice, and mung bean deliver essential amino acids and furnish protein deficiency in the body, making it promising and fruitful.
When we talk about minerals and vitamins, there are Biotin, Iron, Zinc, Vitamin A, Vitamin D, Vitamin C, and B-Vitamins that promote healthy hair and skin. Overall, 20 g of complete protein, along with 15 essential vitamins and minerals, is indeed a superfood plant protein.
Seeing the composition, it seems OZiva Superfood Plant Protein is worth trying. Some additional perks associated with it are- it is soy-free, trans-fat-free, and non-GMO with no artificial sweeteners and preservatives. It increases the value of the product even more.
Product Description
OZiva Superfood Plant Protein is composed of plant-based ingredients and has the goodness of ayurvedic herbs. It furnishes the need for essential amino acids and helps in strengthening the body and making you feel energized and revitalized.
To use, you have to mix half or one scoop of Oziva Superfood Plant Protein powder with 200 ml of water. Now shake or stir well. You can also blend it in a jar and enjoy your superfood.
Nutrition Facts
The different blends that make OZiva Superfood Plant Protein highly effective include the following-
Clean Protein Blend- It consists of isolates from pea, brown rice, and mung bean.
Immunity Blend- There are ayurvedic herbs like Moringa, Amla, Tulsi, and Acai Berry that strengthen the immune system.
Digestive Blend- To improve digestion, there are Guduchi, Triphala, Papain, Chicory Root Fibre.
Energy Blend- Herbs like Ashwagandha, Maca Root, Ginseng, and Cinnamon are a great source to make one feel high on energy.
Skin & Hair Blend- To improve hair health, the product consists of all the essential macro and micronutrients along with Vitamins like Biotin, Iron, Calcium, Zinc, Vitamin A, Vitamin D, Vitamin C, and B-Vitamins.
What We Like
It is a chemical-free product, highly effective in boosting immunity.
Every ingredient of the product is plant-based.
It is soy-free, gluten-free, and non-GMO.
There are no preservatives or artificial sweeteners.
It is completely vegan, making it suitable for all types of people.

What We Don't Like
To get the desired results and see the effectiveness, one has to take OZiva Superfood Plant Protein regularly as a health drink. So, you have to make it a habit of taking it to get the desired result.
How Much Does Oziva Superfood Plant Protein Cost?
The regular price of OZiva Superfood Plant Protein is Rs 1299, but you can buy it at a discounted price of Rs 1169. You can also buy the product from Amazon, wherein it is available at a sale price only. Do not buy Oziva products from any other source as you may not get them at the sale price.
Alternative Products
Conclusion
If you feel weak and fatigued most of the time, it could be because of a lack of protein in the body. Protein is essential for growth and development. People who are indulged in a highly active schedule and workout intensely should opt for Oziva Superfood plant protein, which is easy to digest and suits all, irrespective of age.
Consume it regularly to see the difference in health, immune system, and stamina.
Read More