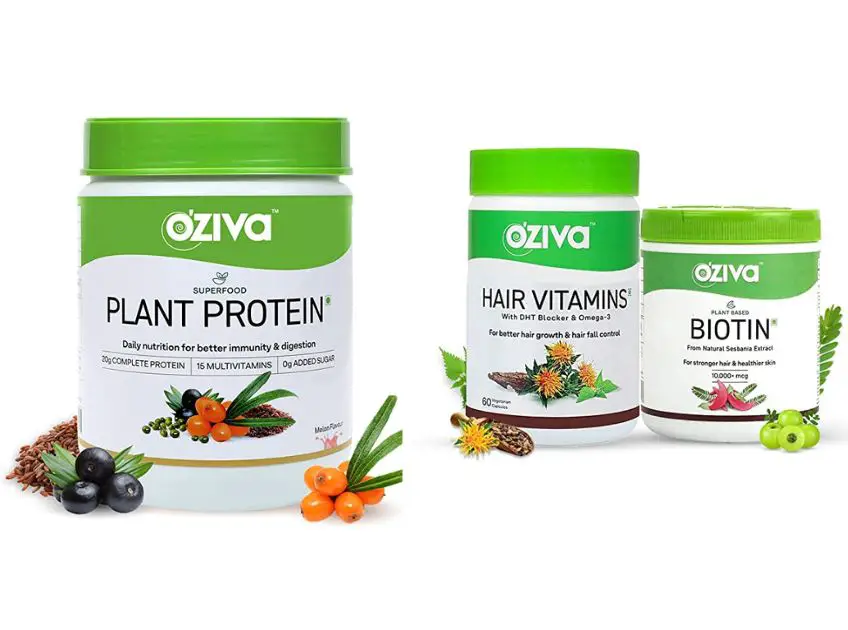 Long, shining, and voluminous hair is all that we need. However, due to multiple reasons, we have to face different hair issues. Hair fall, dandruff, flaky scalp, hair thinning, and in severe cases, baldness are some of the most common problems that we have to deal with.
Protein and certain minerals and vitamins play a huge role in maintaining hair health. Therefore, Oziva has come up with Superfood Plant Protein and Hair Vitamins that support hair health immensely. It is believed that when these two products are taken in combination, they affect hair health tremendously. So, let's review each one of them and understand how effective they are.
Product Review
We all know the essentiality of macro and micronutrients for hair health. Sometimes due to poor nutrition, the body lacks these nutrients that make the body weak and hair prone to breakage. Protein is one of the essential nutrients for hair health. Therefore, eating a protein-rich and balanced diet is extremely important.
However, if you feel any issue with hair, the two products from Oziva- Superfood plant protein and hair vitamins come to the rescue. What we like the most about these products is every ingredient is 100% natural and plant-based. It furnishes the need for macro and micronutrients in the body along with protein, which is vital for hair growth.
These products also have ingredients that promote the release of DHT blockers, ensuring healthy hair follicles and no hair fall. The advanced scientific formula with essential Hair Vitamins, Iron, Zinc, DHT Blocker ingredients, and Omega-3 makes hair stronger and healthier,
Product Description
This combination is a miracle for hair health and overall fitness. While the protein powder will furnish the need for protein in the body, hair vitamins will support hair health and make them lustrous and shiny.
To use Oziva Superfood Plant Protein, you need to mix half scoop of powder with 200 ml water and shake well. Take it along with breakfast to deliver protein to the body and make it healthy.
For Hair Vitamins, you need to take two capsules- once in the morning and another at night, specifically after meals with a glass of water.
Make this your routine, and you will see the difference within one or two months. The hair will become healthier, voluminous, and lustrous. Also, common issues like hair fall, split ends and weak and fragile hair will rectify.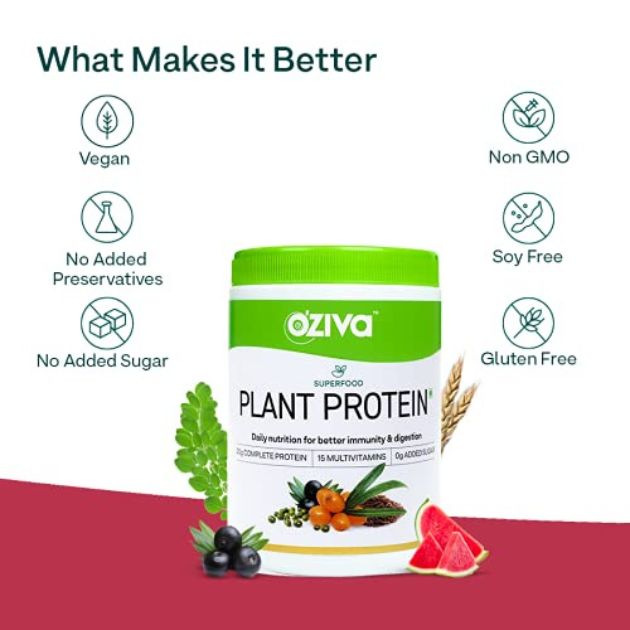 Nutrition Facts
The products consist of two special blends and some major plant-based ingredients-
Blends-
Clean Protein Blend- To replenish protein, the powder consists of protein isolates from pea, brown rice, and mung bean that consists of almost all the essential amino acids and make you healthier.
Skin & Hair Blend- To improve hair quality, this blend consists of Biotin, Iron, Calcium, Zinc, Vitamin A, Vitamin D, Vitamin C, and B-Vitamins.
Other Components
Hair Vitamins- These vitamins promote hair growth and support stronger, healthier, and shinier hair.
DHT Blocker- The work of a DHT blocker is to prevent follicle shrinkage that helps to reduce hair fall.
Omega-3- It keeps the scalp hydrated and provides nourishment to the hair.
What We Like
It is a complete plant protein free from cholesterol.
Easy to digest, and people of any age, between 16 to 65, can take it under the direction of a physician.
It is free of gluten, soy, added sugar, artificial sweeteners, and preservatives.
It is a non-GMO product.
Reduces hair fall by making the preventing hair follicles to shrink
Prevents dry and flaky scalp by nourishing the scalp
Promotes healthy hair growth
Make hair voluminous, lustrous, shiny

What We Don't Like
It takes time to see the desired effect on hair as both the products contain plant-based ingredients. However, since plant-based ingredients work right from the root cause, the results are long-lasting.
How Much Does Oziva Plant-based Protein Powder And Oziva Hair Vitamins Cost?
The regular price of Oziva Plant-based protein powder is Rs 1,299/-. You can buy it at the sale price of Rs 1,169/- only from the website.
The regular price of one bottle of Oziva Hair Vitamin costs Rs 899. However, you can avail of the sale price and get it in Rs. 859 only.
Make sure you buy these products only from the official website of Oziva or from a trusted source like Amazon to enjoy the benefits of discounts and deals.
Alternative Products
Conclusion
Oziva has come up with high-quality plant-based ingredients that make it one of the most trusted and reliable brands of the time. If you want to give your hair a boost, look no further than Oziva plant-based Superfood and hair vitamins. The results will be worth your try.
Read More