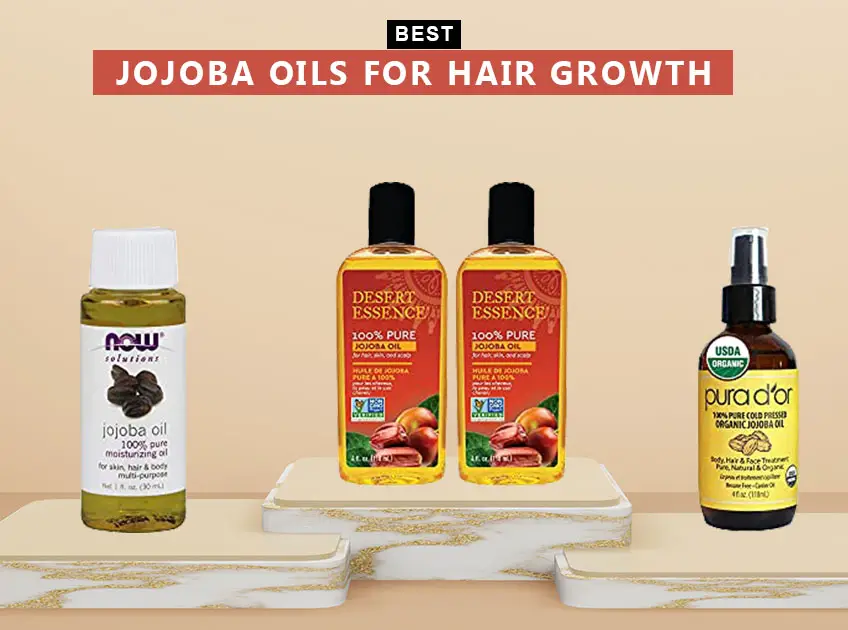 Jojoba oil has proven to be effective over time, gaining the favour of professionals, at-home stylists, and beauty editors worldwide. The Simmondsia Chinensis plant produces an oil that is silky smooth and serves as one of the best styling products on the planet because of its capacity to preserve and enhance moisture.
This oil is more than just a business trend. Minerals, vitamins, and antioxidants are added to jojoba oil to make it more nutritious. This versatile oil works wonders on both your skin and hair. It can quickly fix and resolve all your problems.
Jojoba Oils
You can have naturally nourished skin with a healthy appearance by using this magical oil on a regular basis. If you're already curious about what else is available, scroll down to learn what the store's best items are.
7 Best Jojoba Oils for Hair Growth
1. For all hair types: Cliganic USDA Organic Jojoba Oil
Only jojoba oil extracts, which aid in hair growth, are present in the product; alcohol and added fragrance are absent.
Undiluted and made entirely of organic ingredients, the oil quickly penetrates the hair cuticles to fortify the strands and deeply hydrate the scalp.
The oil also treats the issue of too much sebum with its cold-pressed technology if you have an itchy scalp or oily hair.
What We Don't Like: The natural fragrance can be too much for some people.
[ Read: How To Get Rid Of Oily Hair Naturally ]
2. The travel buddy size: Now Solutions Jojoba Oil
This Jojoba oil is portable because it only comes in 1-ounce bottles that easily fit in a purse or travel pouch.
All hair types can benefit from the high-quality oil that is produced when jojoba seeds are cold-pressed.
It can be used for nourishing the face and body in addition to hair, making it useful for travel.
Suitable for every type of consumer on the market because it is vegan, cruelty-free, hexane-free, and paraben-free.
What We Don't Like: They may cause irritation to some people.
3. Hassle-Free Oil: PURA D'OR Organic Golden Jojoba Oil
If you don't like dispensers because they can be messy at times, here is another product that has a spray jet cap and could be useful.
Concerning your scalp or hair, it promises to reduce frizz, repair damage, calm an irritated scalp, and even add volume following a therapeutic oil massage.
This organic jojoba oil by Pura D'or can be used as a makeup remover and is brimming with the ability to address countless skin, hair, or nail issues.
What We Don't Like: The fragrance isn't for everyone, and it might irritate some people.
[ Read: Best Jojoba Oils To Achieve Healthy, Frizz Free Hair ]
4. The non-grease jojoba oil: Sk Organics Jojoba Oil
All consumer types in the market will benefit from the oil's veganism and free of animal testing.
Your scalp feels hydrated and full thanks to it's quick absorbing formula.
Since it doesn't contain any harsh chemicals like parabens or fragrances, it's also a fantastic option for people with sensitive scalps and skin.
Reviewers with oily scalps appreciate that this product does not cause breakouts, and it is also unlikely to clog pores.
What We Don't Like: The packaging is a little flimsy and leaks a bit.
5. Best for daily purposes: Viva Naturals Organic Jojoba
Every time you use this Viva Naturals organic and pure jojoba oil, the product promises that your scalp and hair will be intensely moisturized.
This oil can be the tonic to revive and repair your hair if it is lifeless, frizzy, or extremely dry.
It is USDA Certified, deeply moisturizes, protects, and nurtures hair cuticles, gets rid of dryness and dandruff, and encourages strong, healthy hair growth.
What We Don't Like: It was suggested to be thorough because the fragrance might be too strong for some people.
6. The Oil Control: Healing Solutions Organic Jojoba Oil
As a non-comedogenic oil, this organic oil was developed to leave scalp pores clear and free of oil.
There's no need to be concerned about clogged scalp and oil control because the oil is light and non-greasy and won't leave a residue.
This jojoba oil is completely pure and natural. It is entirely undiluted and chemical-free.
What We Don't Like: Some customers might find the smell a little overpowering.
[ Read: 7 Simple Home Remedies For Dry Itchy Scalp ]
7. Gluten-Free: Desert Essence 100% Pure Jojoba Oil
It is no less than food for hair to grow healthy and nourished that is made from organic jojoba oil, which is well known for its intense moisturizing advantages.
It can be applied to the skin to reclaim your youthful glow, as well as to the hair to treat dryness, frizz, and damaged strands, as well as to get rid of flakes and dandruff.
In addition to being cold-pressed, non-GMO, and cruelty-free, it is also vegan, gluten-free, and B Corporation certified.
What We Don't Like: It is slightly thick and heavy on the hair, so it can be a mess.
Conclusion
Jojoba oil for hair can be applied in countless ways. Either directly apply it to the scalp or hair, or combine it with other hair oils or essential oils. If necessary, jojoba oil can also be added to your conditioner, shampoo, or hair serum. But if any irritation persists, you should consult a dermatologist.
You Might Also Like: