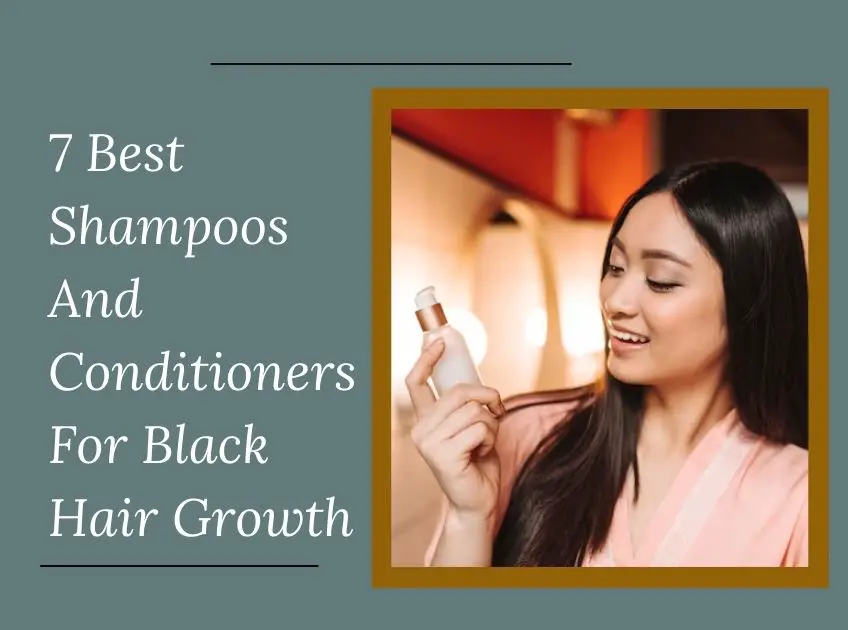 Maintaining the health of black hair takes little effort. Even though you can find plenty of shampoos and conditioners for black hair, most are of no use. Therefore, being mindful of hair care products is essential.
It is essential to know the ingredients of your hair care products. For instance, your shampoos and conditioners should be free of harmful ingredients like paraben and sulfate. At the same time, the presence of hair-hydrating ingredients that promote hair growth, prevent dryness, reduce split ends and minimize breakage is necessary.
Shampoos And Conditioners
If you have black hair and looking for some of the best shampoos and conditioners for black hair growth, you are at the right place. Here, we have carefully selected some of the best shampoos and conditioners that work wonders in promoting hair growth and preventing hair thinning.
These products cleanse the scalp thoroughly, remove the excess oils, and lock in moisture to prevent future dryness.
Keep scrolling and check them out!
7 Best Shampoos And Conditioners For Black Hair Growth
1. Best Overall: Shea Moisture Jamaican Castor Oil Shampoo
Moisturizes the hair while promoting its growth and elasticity
Infused with organic Shea Butter nourishes the scalp and the hair
It also contains apple cider vinegar
Lowers the hair's pH, leaving it smooth and easy to detangle
Formulated to promote deep cleaning, removing any product buildup
The pleasing smell of vanilla notes, castor oil, and cider vinegar
Suitable for color-treated hair
What We Don't Like: It may cause porous hair to matte
[ Read: Best 2 In 1 Shampoo And Conditioner ]
2. Best Budget Buy: Maui Strengthening Shampoo
Help seal the cuticles and prevents air from getting in, thus preventing frizz
Contains moisturizing and restorative ingredients
Infused with aloe vera, castor oil, bamboo fibers, and neem oil
Strengthens, repairs, and fortifies hair locks
Helps soften and renew natural hair
Restores a healthy-looking glow
Works well for color-treated hair
What We Don't Like: It may dry out some hair types. Also, it has an overpowering fragrance.
3. Best Natural Shampoo: Argan Oil Shampoo by Crème of Nature
Hydrates, detangles, and nourishes hair
It doesn't dry out hair after washing
Free of sulfate, propylene, mineral oil, paraffin, or silicones
Excellent buy for women with black hair
Contains various natural ingredients, including coconut oil, argan oil, avocado, and olive oil
Strengthen, moisturize and restore damaged hair shafts
Help you detangle the stubborn hair knots on type 4 hair while washing it
What We Don't Like: it doesn't lather and has an overpowering smell.
4. Best for Strengthening Hair: Camille Rose Leave-in Conditioner
Hydrates the hair and smooths out frizz
It makes hair springy, hydrated, and easy to manage
Enriched with rice milk that delivers the goodness of vitamins A, B12, and D, nourishing your hair
Binds to the hair shaft, infusing it with fatty acids that prevent breakage
Anti-oxidizing properties help the hair to recover from exposure to harmful environmental elements like pollutants
What We Don't Like: It may leave a white residue on the scalp.
[ Read: 7 Best Leave In Conditioners For Relaxed Hair ]
5. Best for Damaged Hair: Aveda Restructuring Shampoo
Restructures the hair, restoring its health, shine, and glow
It contains crucial ingredients for hair repair
Coconut, quinoa protein, and babassu are the major ingredients
Penetrates the hair from the stem cells in hair follicles
Promotes the growth of stronger and more voluminous hair
Deep cleans the hair and the scalp, leaving it lighter, fluffier, and smoother
What We Don't Like: It is pricey and has a thick consistency.
6. Best for Curly Hair: SheaMoisture 2-in-1 Conditioner and Detangler
Designed for wigs and weaves
Easy to dispense the conditioner on the hair
Helps refresh dull and dry hair
Softens the cuticles and reduces frizz
What We Don't Like: It may feel greasy on hair. Also, you may see white residue after washing.
[ Read: 7 Best Deep Conditioners For Curly Hair ]
7. Best for Dry Hair: Carol's Daughter Black Shampoo
Best for dry hair as it has a hydrating formula
Contains aloe vera, shea butter, and rosemary
Restores moisture while removing any product buildup and dirt.
Works on all curl types — 4A, 4B, 4C, 3A, 3B, 3C, 2A, 2B, and 2C
It has a pleasing smell and lathers easily.
What We Don't Like: It takes time to rinse due to its thick consistency.
Conclusion
Now that you know some of the best shampoos and conditioners for black hair growth, it's high time you should start investing in them to promote hair growth and prevent hair thinning.
It's time to say goodbye to hair fall.
You Might Also Like: