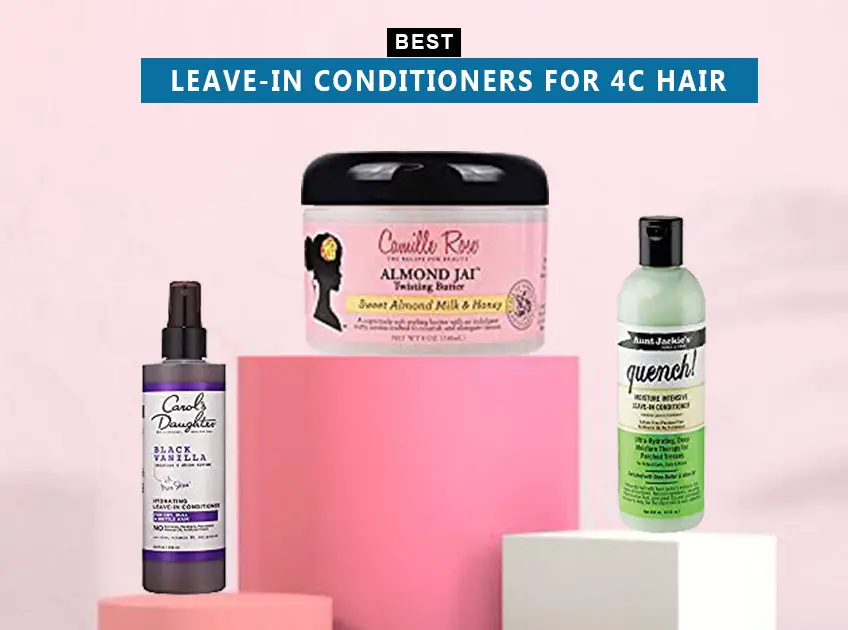 To be the healthiest, shinier version of itself, all hair needs moisture and care. For 4c hair, however, the search for hydrated hair becomes extremely important.
The reason for this is that 4c hair is usually dry and fragile, and if someone has low porosity hair then it is a real struggle.
Leave-In Conditioners
The trial-and-error stage has been experienced by almost everyone with 4C hair. Given that there are so many things to consider, including the texture and porosity of the hair, and that is not surprising.
So, here is a curated list of some of the best leave-in conditioners for your 4c hair based on different types and preferences.
7 Best Leave-In Conditioners For 4C Hair
1. For the volume: Miss Jessie's Leave In Condish
It has all the essential elements such as pumpkin seed extract, soybean extract, and aloe to nurture and moisturize your curls.
It not only seals in your moisture but also protects the area between your locks and layers.
For 4c hair, this lightweight leave-in conditioner adds volume, smoothness, and long-lasting suppleness so you
can fully appreciate and safeguard your locks.
What We Don't Like: It has an overbearing smell.
[ Read: 7 Best Moisturizers For 4C Hair ]
2. The Overall: TGIN Miracle RepaiRx Protective Leave-In Conditioner
The esteemed fashion publication Cosmopolitan also suggests this leave-in conditioner brand among others.
Its main components are coconut oil and black honey, both of which are used to treat split ends and promote hair growth.
If you want to handle your curls with softer, glossier, and more manageable hair, this conditioner will be your go-to choice.
What We Don't Like: It has an overwhelming smell, which may not suit everyone.
3. For the thick curls: Sheamoisture Jamaican Black Castor Oil Strengthen & Restore Leave-in Conditioner
For women with thick curls, this is among the best leave-in conditioners available in the market for hair moisturization.
It contains all the essential elements such as Shea Butter and Castor Oil to provide that nourishment and growth in the hair.
You should definitely try this conditioner if your curls have been harmed by overprocessing and heating.
Additionally, paraben-free, this conditioner effectively controls frizz while detangling hair.
What We Don't Like: It can be quite sticky and dries out quickly.
[ Read: 7 Best Curl Defining Products For 4C Hair ]
4. Budget-Friendly: Aunt Jackie's Curls and Coils Quench Moisture Intensive Leave-In Hair Conditioner
Aunt Jackie's is one of the best conditioners for all curly-haired college students or for anyone looking to switch to a conditioner that is affordable and efficient.
The product has all the essential ingredients you need such as shea butter, olive oil, and marshmallow root.
Aside from natural curls, you can also use it to maintain waves and coils. Because the product contains a lot of protein, it works best on porous hair.
What We Don't Like: Due to its high protein content, it should not be used daily.
5. Best for Hydration: Naturall Club Nourishing Avocado Leave-in Conditioner With Kiwi
This is one the best products when it comes to hydrating your scalp with all round natural care.
This is your go-to product if your curls are frizzy and dull because it contains avocado, kiwi, and konjac roots, which penetrate your scalp deeply to work.
The fact that this product promotes blood flow to our scalp and has a foamy texture is one of its key benefits.
What We Don't Like: It may cause an allergic reaction in some people.
[ Read: 7 Best Conditioners For 4C Hair ]
6. Travel Friendly: Carol's Daughter Black Vanilla Leave-In Conditioner
The Carol's Daughter Black Vanilla Leave-In Conditioner, which has a spray jet, is a very handy product for traveling.
Castor oil, rosemary, and aloe are the ingredients that work best to moisturize your hair and prevent frizz, dullness, and dry scalp.
You can use it whenever you want to manage and control your frizzy hair because it is portable and easy to carry.
What We Don't Like: It can cause burnout and scalp irritation in some people.
7. The soft and shiny: Camille Rose Naturals Almond jai twisting butter
Almond jai twisting butter is the best at delivering the best results for braid outs and twist outs.
For type 4c dense hair, this butter is the ideal moisturiser, detangler, and softener.
In order to achieve healthy softness and moisturization, it is typically advised to leave your twists in for a few days before taking them out.
Along with Macadamia Seed Oil, which helps prevent breakage, the conditioner contains vital ingredients like pumpkin seed oil, sesame seed oil and jojoba seed oil to make your hair strong.
What We Don't Like: It may create white clumps on your hair.
[ Read: 7 Best Oils For 4C Hair ]
Conclusion
When treating dry or undernourished hair, ingredients are crucial, so it is important to look for products with nourishing oils. Keep an eye out for ingredients like coconut oil, which can be used to seal split ends and encourage growth, and olive oil, which can be used to hydrate hair and add slip. Before purchasing a product, always give it a try to see if it is right for you.
You Might Also Like: