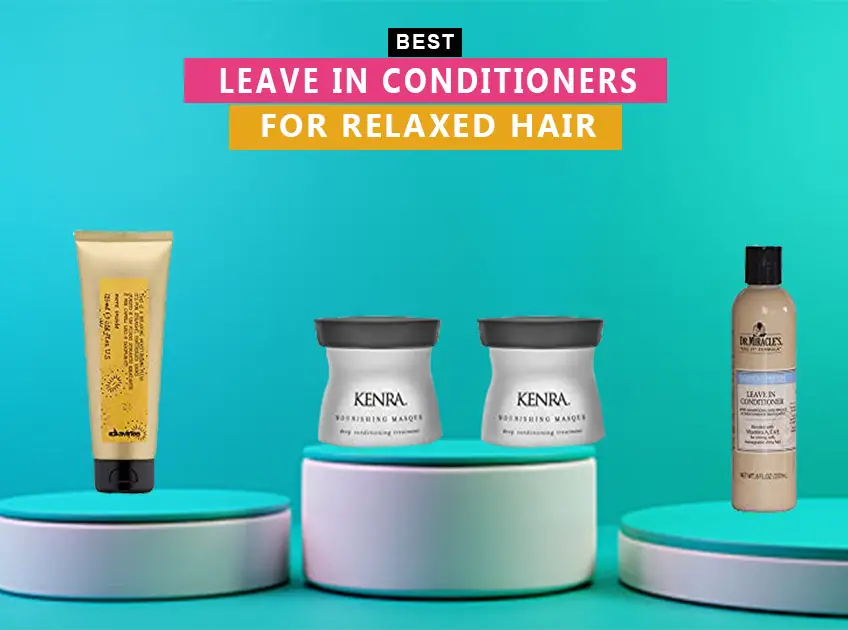 When the brand new, relaxed hair looks stunning because they had the smoothest curls and gives off a sleek shine. You need to take special care of them to keep them in perfect condition as they are prone to damage and frizz.
Relaxed Hair
For this reason, you should use the best leave-in conditioners for relaxed hair to repair the damage. The hair follicles will be nourished by using a hydrating conditioner, which will also make them more elastic, smoother, and stronger.
The top seven moisturising conditioners for relaxed hair are ranked in this article.
7 Best Leave In Conditioners For Relaxed Hair
1. The Best Overall: MIZANI Miracle Milk
One of the best products in the market for providing moisture and necessary nourishment for relaxed hair is MIZANI Miracle Milk.
It contains a blend of coconut oil and fennel seed oil, which sets on your hair to give it lovely, sweet-smelling locks.
The formula penetrates every follicle to deliver moisture and hydration to every strand for those amazing locks and looks.
What We Don't Like: It leaves a flimsy residue on the hair.
2. Lightweight Conditioner: Tgin Green Tea Super Moist Leave-In Conditioner
It is one of the best blends of lightweight conditioner with a blend of moisturizer and antioxidants in the market.
This can be your go-to product because of its hydrating formula, which turns dry, brittle hair into soft, smooth, and healthy strands.
The antioxidants and fatty acids in green tea and argan oil, which are both present in this product, support the elasticity, shine, and moisture of your hair.
This is a great choice for people who are looking to work the damaged roots and scalp.
What We Don't Like: It contains phenoxyethanol.
[ Read: 7 Best Deep Conditioners For Relaxed Hair ]
3. From the hands of professionals: Redken Acidic Perfecting Concentrate Leave-In Conditioner for Damaged Hair
This is one of the top leave-in conditioners chosen by experts that are offered for a reasonable price.
Its citric acid formulation works incredibly well on dry, brittle, and split ends because the damage is occurring within the follicle.
From day one, using this leave-in on relaxed hairstyles will result in less breakage, less frizz, and generally healthier-looking hair.
What We Don't Like: It can cause irritation on the scalp.
4. With all-natural ingredients: Dr. Miracle's Leave-In Conditioner
Looking for something that deeply nourishes and conditions your hair, Dr. Miracle's Leave In is the best you can get.
This conditioner is specially formulated for curly and wavy hair with its thick buttery and cream texture coating every strand.
It contains all the right elements your hair requires such as aloe vera, coconut oil, honey, and jojoba oil to help enhance the growth of the hair.
What We Don't Like: Its texture can leave the hair greasy.
[ Read: 16 Effective Home Remedies for Hair Growth & Thickness ]
5. For dry relaxing hair: Davines Moisturizing Fluid
This Italian leave-in conditioner is one of the eco-friendliest products in the market for those who are environmentally conscious.
Once applied to our frizzy hair, the conditioner will continue to work for several days to give you silky, straight hair.
The formula of the product is not only environmentally friendly but also can withstand heat and humidity to keep your hair intact.
What We Don't Like: It only comes in 4.2 fl oz, which is insufficient for someone with thicker hair.
[ Read: 7 Best Shampoos And Conditioners For Straightened Hair ]
6. For no build-up: Eden Bodyworks Coconut Shea Leave-In Conditioner
You will fall in love with the creamy consistency of this conditioner as it provides hydration and nourishes your scalp.
This is a must-have for someone with curls as the coconut and shea butter-infused cream will help you in getting that shine.
Use this conditioner to make each day count without having to worry about the build-up.
This Leave In is nutrient-rich, lightweight, and has a creamy consistency that makes application and distribution simple.
What We Don't Like: It may leave a flimsy yellowish tint in some hair.
7. For Relaxed Black hair: Kenra Nourishing Masque
The company is renowned for using the most advanced technology and techniques to produce the best hair products, and this one is no exception.
The conditioner works as a revitalizing agent to mend ends that have broken due to heat or other products.
The best way to use this apply it twice a week to achieve smoother, shiner, and stronger hair.
Contrary to most hair masks, it is not runny. It continued and remained in place. It also rinses out beautifully.
What We Don't Like: The smell can be overbearing for some.
[ Read: 5 Best Homemade Hair Conditioners: Benefits + How to Use ]
Conclusion
To keep relaxed hair strong and healthy, extra care and attention must be given to it. The use of leave-in conditioners is a huge boon for those with relaxed hair. These formulations aim to hydrate the hair, add shine, nourish the strands, and get rid of frizz. But before you buy one, check the ingredients to make sure they fit your need.
You Might Also Like: