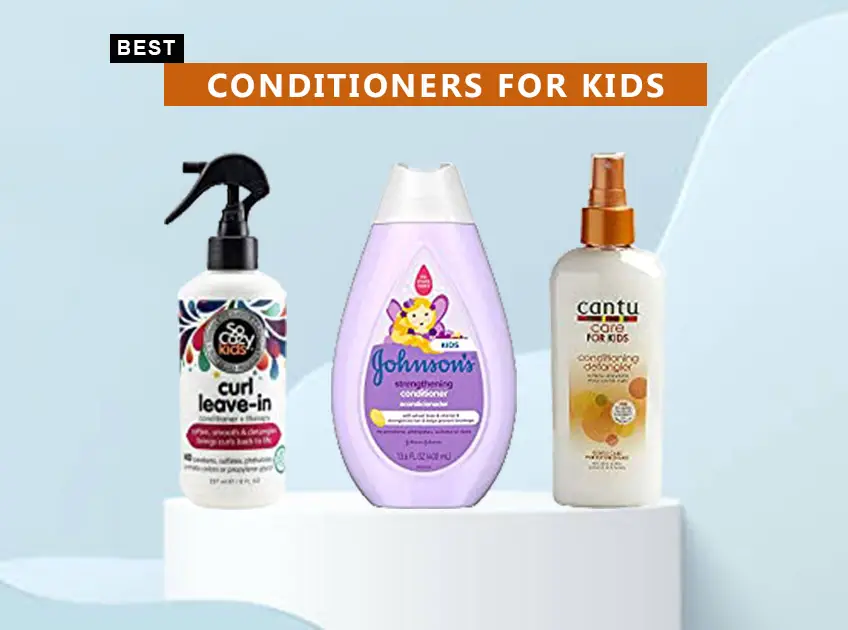 Managing kids' hair may take a toll as they often play in dirt and grime, which results in messy and unruly hair. At the same time, you can't use any random conditioner on kids' hair as their hair is fragile and prone to damage quickly.
It is when using conditioners meant especially for kids' hair is essential. Here we have mentioned the 7 best conditioners for kids that are made with gentle ingredients that keep hair health intact. Also, these conditioners can bring back health and shine to hair without compromising its softness.
Conditioners for Kids
So, if you have difficulty finding the perfect conditioner for your kid, check out the list below and buy what suits your needs.
7 Best Conditioners for Kids
1. Best for Curly Hair: CurlyKids Curly Deep Hair Conditioner
Infused with the glycerine that instantly hydrates hair strands, making them soft and supple
The fast-absorbing formula helps retain hair's health
Consists of vital nutrients and minerals that deeply nourish every strand and revitalize the scalp
It ensures softer, healthier, and voluminous hair with no dirt, grime, and residue
Free of mineral oil, sulfate, parabens, silicones, phthalates, gluten, paraffin, or propylene
What we don't like: It does not work well on hair with fine texture.
[ Read: 7 Best Deep Conditioners For Relaxed Hair ]
2. Coconut Infused: Cantu Care for Kids Conditioning Detangler
Helps make hair soft and smooth, thus detangling hair with no hassle
It works on every strand, making it soft and shiny for easy combing and reduced breakage
Formulated with pure Shea butter, coconut oil, and honey for ultra nourishment of hair
Free of mineral oil, sulfate, parabens, silicones, phthalates, gluten, paraffin or propylene, and other harmful ingredients
What we don't like: It is expensive.
[ Read: Wet Brush Pro Detangle Hair Brush Review ]
3. Leave-in Conditioner for Curly Hair: SoCozy Curl Spray Leave-In Conditioner for kids
It helps condition and cleanses curly hair to restore its natural texture and shine
The powerful ingredients make hair strands stronger from roots and thus increase their strength
Also works on improving the elasticity of hair
Active ingredients are keratin, olive oil, and plump oil
It is free of nasty ingredients like Parabens, Sulfates, Phthalates, Formaldehyde, Synthetic Colors or Dyes,
Propylene Glycol, Gluten, Wheat, and Nuts
What we don't like: It may cause allergies to kids with sensitive skin, so check the labels before using.
[ Read: 7 Best Drugstore Conditioners For Curly Hair ]
4. Anti Frizz Protection: Fairy Tales Tangle Tamer Detangling Conditioner for Kids
It is a perfect detangling and smoothening solution for kids with dry, dull, and dehydrated hair
Helps calm the frizz by providing intense hydration to every strand and giving them a silky, shiny texture
Consists of Panthenol and Vitamin E, Keratin and Vitamin B- everything that helps in maintaining healthy hair
It is sulfate-free, paraben-free, phthalate-free, gluten-free, soy-free, dairy-free and nut-free
What we don't like: It is expensive.
[ Read: Home Remedies For Frizzy Hair ]
5. Best for All Hair Types: Cantu Care for Kids Nourishing Conditioner
Infused with a blend of hair-loving ingredients like shea butter, coconut oil, and honey that keep hair soft and supple
Hydrates dry hair strands, making them stronger from the roots
Moisturizes hair gently and is free of every harmful ingredient
Free of sulfates, gluten, parabens, and mineral oil
What we don't like: Thorough cleaning is necessary to keep residue at bay.
[ Read: 15 Basic Hair Care Tips to Include in Your Hair Care Routine ]
6. Hypoallergenic Conditioner: Johnson's Baby Strengthening Tear-Free Kids' Conditioner
It consists of Vitamin E and bran that helps prevent breakage on kids' hair and make them stronger and healthier
It has the most powerful tear-free formula, thus best for babies, kids and toddlers
It is designed to moisturize each strand gently, strengthening them and preventing the breakage of hair
It is a hypoallergenic conditioner that is free of paraben, phthalate, sulfate
What we don't like: Johnson Baby products have been controversial for some reasons, making them suspicious to use.
[ Read: How to Strengthen Hair Naturally ]
7. Naturally Scented with Essential Oils: TotLogic Kids Detangler Hair Spray and Toddler Leave-In Conditioner
The use of this conditioner helps in the easy detangling of hair without weighing it down
It works well on dry and wet hair equally
The pleasing aroma comes from the blend of Bergamot, Chamomile, and Lavender Essential
Free of Sulfates, Formaldehyde, Phthalates, Parabens, SLS, SLES, MEA, DEA, TEA, Petroleum, derived ingredients, or methylisothiazolinone or MI
What we don't like: It is pricy.
Conclusion
These are the most useful and the best conditioners for kids. Pick any of them and manage your kid's hair with no hassle. Your kids love these conditioners due to their tear-free formula and pleasing aroma.
You Might Also Like: