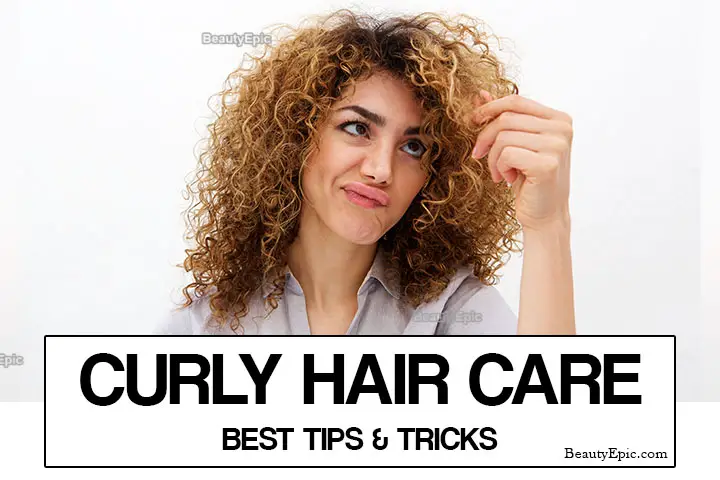 Curly hair with the curves and bends looks quite pretty. However, due to the turns and twists, it can be delicate and fragile. Since it is curvy, the natural oil which is produced by your scalp for softening and protecting the hair strands might have a difficult time to travel from the roots to the tip. This is the reason curly hair tends to experience low moisture level. Here are some of the hair care tips which will help in taking care of natural curls.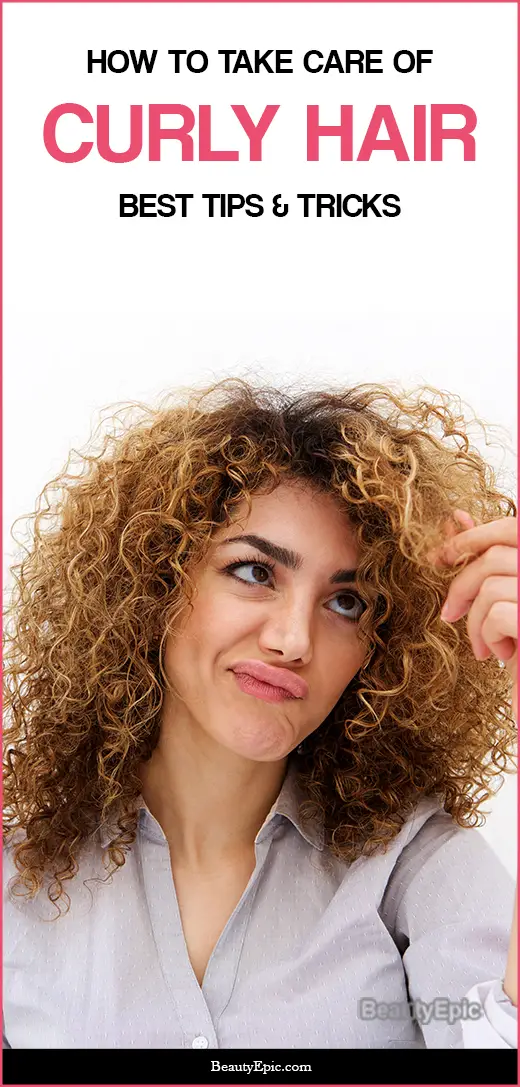 1. Go for the Pre-Shampoo Treatment
Many girls have to say that the pre-shampoo routine is really beneficial for people with curly hair. This routine is actually what it says, a step that is performed prior to shampooing.
It can soften, detangle, and condition your hair before you shampoo. Moreover, it will prevent unnecessary damage and roughness during the process of shampooing, particularly is the hair is snarled or tangled.
Use a conditioning oil or condition for pre-shampoo and then apply it on your dry hair. Apply it by dividing the hair into sections.
Take the help of your finger for separating the curls. Leave the conditioner for about 20 minutes. In case your hair is too snarled then you should put on a towel or a plastic cap to heat up the head. This opens the cuticle and helps the conditioner to penetrate deeply. With this step, it becomes easier to detangle the hair after shampooing.
[ Read: Homemade Hair Masks For Curly Hair ]
2. Avoid Daily Shampoos
You do not have to shampoo curly as frequently you shampoo straight hair. If you shampoo often, it will stress and stretch fragile hair strands and also dry the thirsty curls. Nevertheless, conditioners can help you out. You should use it frequently. You should apply it even if you do not shampoo your hair.
[ Read: How to Maintain Healthy Hair ]
3. Choose Shampoo Wisely
Take your curls to be fine cashmere. Obviously, you would not wash it with harsh detergent. Likewise, you should not clean your hair with a harsh shampoo. Make sure that you use a mild shampoo and a cleansing conditioner that has low-lather and will refresh the scalp and hair without stripping it off the natural oil and moisture.
4. Section the Hair to Wash Tangle-Free
Scrubbing, rubbing, and swirling the hair on top of the help when you shampoo might prove to be detrimental for your hair. It might lead to tangles that you do not want to think about. Thus, it is better to break it down. Divide the hair into sections.
Clip or twist away all but one. Apply shampoo to that one section and then wash it thoroughly. Do this with the other section. Make sure that you rinse the hair section by section.
5. Avoid Using Hot Water
Cold water shampooing or rinsing might not give a luxurious hair wash experience. However, it can shut the cuticle. This, in turn, will lock the moisture. Thus, your hair will appear shinier and it will have reduced frizz.
[ Read: Best Oils For Hair Growth & Thickness ]
6. Use Good Hair Conditioner Often
After you shampoo, you need to apply a conditioner. You should opt for a formula which answers to your hair requirements. In case your hair is dry, you should go for the one that has humectants such as glycerin or glycol.
If your hair is weak, you will require a protein constructor that has keratin or silk amino acids for restoring strength. Like mentioned above, you should work it out in sections. Make sure that you avoid the scalp and it doesn't need moisture.
Take the help of a wide tooth comb for distributing the conditioner evenly. Then allow the conditioner to work. Cover your hair with a plastic cap and then with a towel for 20 minutes. In case you are using a moisturizing conditioner and the hair is absorbed, you might not want to rinse it.
Nevertheless, when you use a protein conditioner, it is necessary to rinse. These formulas might make the hair a bit brittle and cause breakage when left in the hair. In case you feel that you need to moisture it, you should go for a leave-in conditioner after you rinse the protein conditioner and style your hair.
[ Read: How Often Should You Condition Your Hair? ]
7. Comb Correctly
You need to comb with care and use snag-free and seamless combs. It is important that you invest in the best quality comb.
Make sure that you do not rake or pull while combing. When you detangle the hair after you shampoo, make sure that it is still wet and is protected by a coat of conditioner.
Avoid brushes as it might prove to be harmful to the curls. It leads to a frothy and fizzy mess. Also, you might yank the hair out at the root and create split ends. As a matter of fact, using a brush might also cause your hair to break mid-shaft.
You Might Also Like: