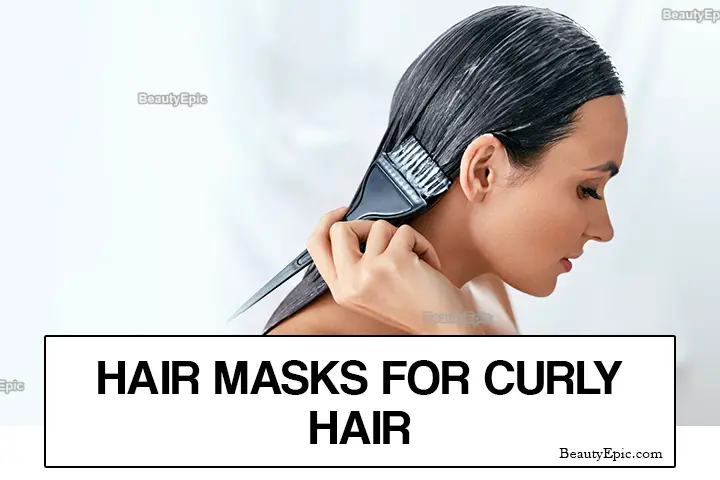 Curly hair is commonly dry and brittle, there are many products available on the market for curly hair, but those are damaging your hair. It is advisable to use homemade hair masks. However, we can find all these natural ingredients available in our kitchen that will help us to restore our hair from the roots to the tip without damage caused by chemical products. Make these homemade hair masks for curly hair is simple and cheaper than you think.
Top 6 Homemade Hair Masks For Curly Hair
1. Vegetable Oil Hair Mask
If your hair is dry due to chemical treatments, vegetable oils are the most recommended in these cases. The high content of vitamins, fatty acids, and minerals provide health to your hair and essential nutrients to maintain shine. It is advisable to combine various oils to optimize the results and achieve effects in a short time.
Ingredients:
Argan oil
Coconut oil
Olive oil
Preparation time: 5 minutes.
How to do:
Mix a tablespoon of each oil (above mentioned) in a clean bowl
Mix very well and apply this mixture all over your hair
Leave it for about 20 to 30 minutes then wash it with your regular shampoo.
Repetitions: Do this once or twice a week.
This homemade mask not only gives health and shine to your hair but it will also help you to untangle your hair if it is much damaged or too frizzy. It is a natural and excellent option for this type of hair.
[ Read: Coconut Hair Mask Benefits ]
2. Honey Hair Mask
Honey is known to be a natural moisturizer, which helps to restore the moisture of our hair especially when it is dry due to the damage caused by chemical agents.
Ingredients:
Preparation time: 3 minutes.
How to do:
Mix equal amounts of honey and coconut oil in a bowl until you get a homogeneous mixture
Apply this mixture throughout your hair from the roots to the tips
Gently massages with your fingertips for a few minutes
Cover this hair mask with a bathing cap
Wait for at least 30 minutes then rinse with warm water, try to use a mild shampoo.
[ Read: Homemade Honey Hair Masks ]
3. Aloe Vera Hair Mask
It is one of the most used medicinal plants for health and beauty. Aloe vera contains 20 minerals, 12 vitamins, 18 amino acids and a lot of nutrients which help to the overall health of our hair.
Ingredients:
Aloe vera leaf
Two tablespoons of coconut oil
Three tablespoons of unflavored yogurt
Preparation time: 5 minutes.
How to do:
Extract the gel from aloe vera leaf using a spoon/fork
Mix 4 tablespoons of aloe gel, two tablespoons of coconut oil and three tablespoons of unflavored yogurt in a bowl
Mix everything very well and apply it on your hair
Wait for 30 minutes and then rinse with plenty of warm water.
You can use this hair mask twice a week for optimal results.
[ Read: Aloe Vera Hair Mask Recipes ]
4. Fenugreek Seeds
Fenugreek seeds are rich in minerals and are high in protein. It has an excellent source of lecithin, which is a great emulsifying agent, which maintains moisture making our hair more flexible, which gives us an appearance of natural curls.
Ingredients:
1 cup of fenugreek seeds
½ liter of water
Yogurt and olive oil
Preparation time: 12 hours.
Application time: 5 minutes.
How to do:
Soak fenugreek seeds with water in a glass container overnight
In the morning grab these seeds and crush them to a paste
Mix them with yogurt and olive oil in a bowl until you get a creamy paste
Apply this paste on your hair and let sit for at least an hour
Once finished this time, proceed to wash your hair with warm water
Repetitions: Recommend to use this mixture at least two times a week, the results will surprise you.
[ Read: Benefits and Uses of Fenugreek for Hair ]
5. Apple Cider Vinegar
Acidic properties of apple cider vinegar help to maintain the natural PH level of the hair, softening the wave of your curls. Astringent properties of apple cider vinegar help to close the cuticles around your hair. It makes the hair smoother.
Ingredients:
 Apple cider vinegar
Water
Preparation time: 5 minutes.
How to do:
In a container mix equal amounts of water and apple cider vinegar
Before using this mixture you should wash your hair
Apply this solution for your hair and wait for 10 minutes
Finally, rinse with cold water.
Repetitions: It is recommended to use it 2 or 3 times a month.
[ Read: Apple Cider Vinegar Benefits for Your Hair ]
6. Yogurt and Banana Hair Mask
Banana contains potassium which is essential to prevent dry and lifeless hair. On the other hand, yogurt contains proteins which help to strengthen and give vitality to the hair. Preparing them together make us have an excellent mask for moisturizing and strengthening hair.
Ingredients:
 Yogurt
One egg
One ripe banana
Preparation time: 5 minutes.
How to do:
Take that overripe banana and mash it up with a fork in a clean container
Then add the yogurt and egg, mix everything very well
Apply this mixture on your hair and wait for at least 20 minutes
Finally, wash your hair with water
Repetitions: Do this mask once or twice a month.
These homemade masks that we recommend are very simple to make at home, and you have to find the best one that suits your hair. However, it is essential to follow these safety tips to take care of your curly hair.
Additional Tips
Avoid the use of curling irons and dryers.It is not recommended to wash your hair every day
Use a Shampoo and conditioner suitable for your hair type.
If you go to a pool, preferably cover your head with a shower cap while swimming
Comb your wet hair with your fingers or with a wide-tooth comb
Do not rub the towel excessively on your hair and avoid using the dryer as much as possible
Cut the ends of your hair every two months.
Follow these tips and the hair masks that we recommend, and you will have beautiful and healthy hair.
Best Curly Hair Products
src="https://www.youtube.com/embed/xMSseIracz4″ title="YouTube video player" frameborder="0″ allow="accelerometer; autoplay; clipboard-write; encrypted-media; gyroscope; picture-in-picture; web-share" allowfullscreen>
You Might Also Like: