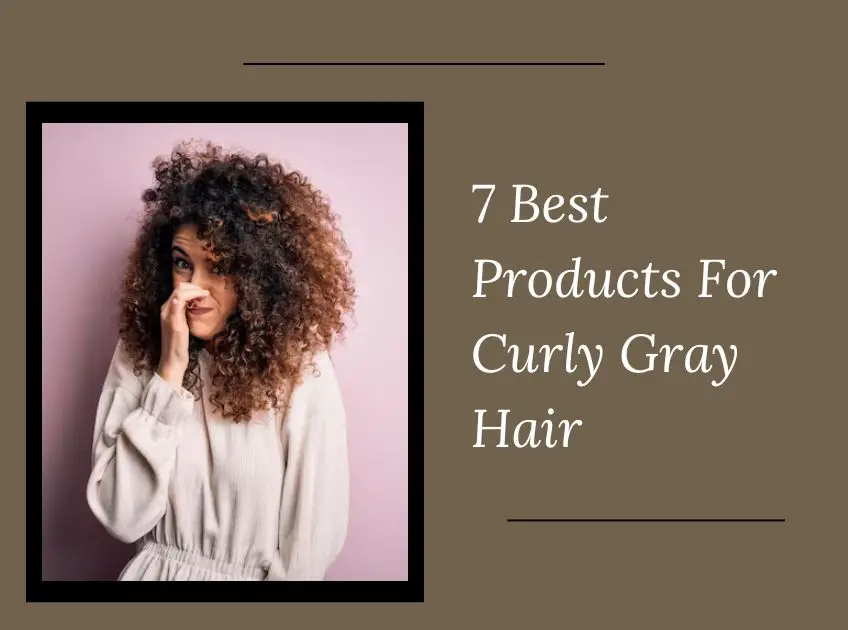 Irrespective of how stunning curly hair seems, they are tricky to manage. Curly hair is generally low porosity hair and is prone to dryness and getting brittle. Due to excessive frizz and flyaways, managing them and getting a hairstyle seems daunting too.
At the same time, when they start turning gray with aging, the dryness increases. The dryness of gray hair is not because of its texture but the lack of oil. As you age, the sebaceous glands that are attached to the hair follicle start secreting less oil than before. Due to this, they become drier than ever.
Curly Gray Hair
Luckily, we have certain hair care products that help maintain curly gray hair perfectly and do not let it lose its shine and health. We have curated a list of the 7 best products for curly gray hair that will help you tremendously.
You will find oil, shampoo, conditioner as well as hair colors that will suit curly gray hair. Check them out
7 Best Products For Curly Gray Hair
1. Tames the Frizz: OGX Frizz-Free + Keratin Smoothing Oil Shampoo
It is formulated with hydrolyzed keratin and argan oil that tames frizz effectively
Addresses multiple issues and improves hair strength, flexibility, and shine
Protects hair against humidity and other environmental stress
The mild fragrance comes from the blend of tropical orange, island pineapple, and golden amber
Leaves hair shiny and easily manageable
It has a pleasing fragrance
What We Don't Like: It may make hair feel slightly heavy.
[ Read: 7 Best Shampoos For Keratin Treated Hair ]
2. 100% Pure: OKAY Olive Oil For All Hair Textures & Skin Types
Multipurpose essential oil suits all hair textures, including curly hair
It can be used on the skin as well
Addresses multiple skin and hair issues
It moisturizes, soothes, massages, and heals damaged hair
Provides deep nourishment to hair, making them silky, shiny, and voluminous
Formulated with 100% Pure Olive Oil,
Loaded with anti-aging antioxidants and hydrating squalene
What We Don't Like: The smell may feel a little awkward.
3. Vibrant Color & Shine: All About Curls Permanent Hair Color Dye
Created especially for naturally curly, very curly, and coily hair of any texture or tone
It helps get nourished, defined, vibrantly colored curls
It gives beautiful, even, and vibrant colors on every twist of the curls
Offers 100% gray coverage and ensures radiant color shine
It comes with prep and protects hair serum infused with Vitamin B6 and collagen
Free of harmful ingredients
What We Don't Like: Overpowering smell.
4. Rich Color: Garnier Nutrisse Ultra Color Nourishing Color Creme
Offering intense hydration, this hair color makes strands strong and supple while giving them the desired color
Enriched with ingredients like avocado, olive, and shea butter that add moisture and nourishment to the strands
The non-drip formula glides over the strands, easing the process manifold
The pleasing fragrance and silky texture make it one of the best hair color
It features an ultra-reflective formula that easily turns dark hair colors to your desired shade
23 shades of this hair color are available that you can apply as per your skin type
What We Don't Like: The color fades faster, and reapplication becomes necessary.
[ Read: 7 Best Hair Dyes For Curly Hair ]
5. Plant-based Extracts: Curl Junkie Daily Fix Cleansing Hair Conditioner
It helps cleanse the curls without stripping the moisture off.
It also cleanses the scalp without adding weight.
The concentrated formula lasts for a longer
The active ingredients are Mentha Piperita (Peppermint) Leaf Extract, Yucca Leaf Extract, Melissa Officinalis (Melissa) Leaf Extract, Matricaria Recutita (Chamomile) Flower Extract, and Urtica Dioica (Nettle) Leaf Extract.
What We Don't Like: It comes with an expensive price tag
6. Best for Curls and Coils: Curly Hair Products by Carol's Daughter
Eliminates pollutants and deeply moisturizes hair from root to tip.
Prevents frizz completely
Hydrates hair and defines curls without leaving any residue
The active ingredients are Shea Butter, Vitamin B5, Agave Tequilana Stem Extract
What We Don't Like: It contains Dimethicone and Amodimethicone, which may not suit certain hair types.
[ Read: 7 Best Oils For Curly Hair Growth ]
7. All-in-One Product: Aussie Total Miracle Collection 7n1 Shampoo and Conditioner Set
It contains seven benefits in 1 bottle
Thoroughly cleanses hair and prevents damage
Works on split ends
Infused with Australian macadamia oil and apricot that make hair soft and smooth
Features ultra-hydrating and nourishing properties
Adds shine to the hair and maintains frizz
What We Don't Like: It is not suited best for oily hair.
Conclusion
Now that you know some of the best products for curly gray hair, it's time to transform it and flaunt the locks all the time. Maintaining curly hair is no fuss only when you know the right haircare product.
You Might Also Like: