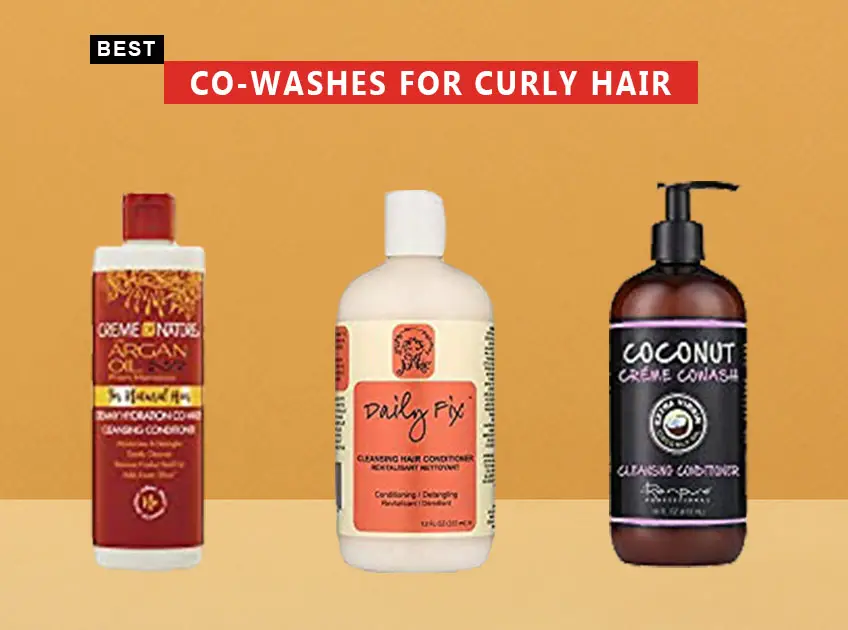 Curly hair is prone to damage more than fine and straight hair. Since it is intensely textured, the chances of getting dry, dehydrated, and dull are always high. At the same time, scalp buildup is also high in curly hair.
You may be wrong if you think you can wash your curly hair and ensure it stays clean and healthy. Shampooing every day can extract natural oil from the hair and scalp, making your curly hair drier than ever.
Co-Washes
So, what's the solution? CO wash is the perfect way to maintain the health of curly hair without stripping off the natural oils. CO washing involves using conditioner to wash the hair instead of shampoo. Since shampoo's hard ingredients may create havoc in dry hair, co-washing comes in handy.
Here we have listed the best CO wash for curly hair to ensure your curls stay healthy, bouncy, soft, and supple. Scroll down and check them out!
7 Best Co-Washes For Curly Hair
1. Plant-based Extracts: Curl Junkie Daily Fix Cleansing Hair Conditioner
Cleanses the curls without stripping the moisture off
Also cleanses the scalp without adding weight.
The concentrated formula lasts for longer
The active ingredients are Mentha Piperita (Peppermint) Leaf Extract, Yucca Leaf Extract, Melissa Officinalis (Melissa) Leaf Extract, Matricaria Recuitita (Chamomile) Flower Extract, and Urtica Dioica (Nettle) Leaf Extract.
What we don't like: It comes with an expensive price tag
[ Read: 5 Best Homemade Hair Conditioners ] 
2. Detangles the Curls: Renpure Coconut Creme Cowash – Best Hydrating Co-Wash For Natural Hair
Provides intense lubrication to hair and protects it from damage
Removes all impurities of scalp and hair gently
Infused with hair-loving ingredients like keratin, amino acids, and protein
Reverses the effects of hair damage and restores strength,
Bring smoothness and shine to hair
Contains shea butter for extra conditioning of the damaged areas
Offers extra protection of lipids
Free of parabens, sulfates, and other harsh salts
What we don't like: The pump may malfunction after some time.
[ Read: 5 Easy Homemade Hair Rinse Recipes for Silky and Shiny Hair ]
3. Removes Scalp Buildup: Tigi Bed Head Calma Sutra Cleansing Conditioner
It is a no-foam co-washing conditioner
Best for curly and wavy hair
Infused with babassu and Brazil nut oils
Provides extra nourishment to hair
Cleanses the residue buildup from your scalp
What we don't like: Nothing
4. Replenish the Lost Moisture: Aussie Miracle Curls Co-Wash
Ultimate treat to revive dry and damaged hair
Curls stay soft, shiny, and deeply conditioned for up to 3 days
Infused with Avocado Oil, and leaves hair smelling diving
Vegan and cruelty-free formula
What we don't like: It doesn't work with oily and fine hair as it is made specially to reconstruct dry and damaged curly hair.
5. Intense Cleansing: Creme of Nature Argon Oil Co-Wash Cleansing Conditioner
It is a color-safe formula
Enriched with argan oil for extra hydration
Cleanses hair by removing dirt and product residue
Enriched with argan oil that provides intense hydration to natural hair
Keeps curls frizz-free and defines them
Free of parabens and sulfates
What we don't like: Fragrance may feel overpowering
[ Read: 7 Best Argan Oils for Hair ]
6. Frizz-free Curls: Aunt Jackies Flaxseed Recipes Purify Me – Best Cleansing Conditioner
Helps replenish moisture while eliminating dust, buildup, and impurities
Infused with flaxseed, a great source of omega fatty acids.
Prevents hair thinning
Consists of avocado and coconut oils for hair health and nourishment
Suitable and gentle enough for everyday use
What we don't like: Thick consistency
7. Best for Curls and Coils: Curly Hair Products by Carol's Daughter
Conclusion
Eliminates pollutants and deeply moisturizes hair from root to tip.
Hydrates hair and defines curls without leaving any residue
The active ingredients are Shea Butter, Vitamin B5, Agave Tequilana Stem Extract
What we don't like: It contains Dimethicone and Amodimethicone, which may not suit certain hair types.
If you are dealing with dry and brittle curly hair, it's high time that you should shift to CO washing from regular shampoo wash. Get rid of all the nasty shampoos from your cupboard and replace them with co-wash products that are mild and gentle for curly hair.
Buy any of the best Co-wash for curly hair that we have hand-picked for you and flaunt your beautiful curls wherever you go.
You Might Also Like: