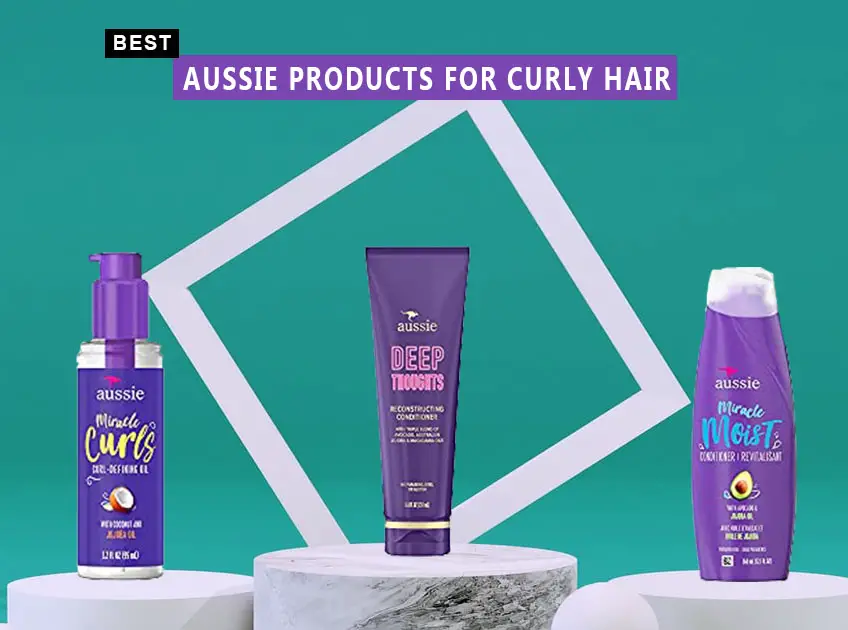 Since Aussie launched its hair care products, it has created a storm in the hair industry. With some of the most effective hair solutions, it has become one of the popular brands. All of its products are crafted with botanical ingredients unique to Australia.
The idea behind Aussie products is based on the belief that hair care should be free of hassle. With a wide range of hair care solutions, you can easily find the one that suits your hair type and achieve healthy, smooth, and soft hair.
Aussie Products For Curly Hair
Since products of Aussie care about the planet too, they are strictly against testing their products on animals. The brand is cruelty-free by PETA. So, if you are also one of those who care about the planet and animals, Aussie is your brand.
7 Best Aussie Products For Curly Hair
1. Complete Hair Care for Curls and Coils: Aussie Miracle Curls Shampoo and Conditioner Set
Infused with Australian botanicals such as coconut oil and jojoba oil
Conditions the curls and gently cleanses them to make them soft and silky
Restores moisture in your hair and adds volume to it
Specially designed for loose, tight, kinky, or classic curls
What we don't like: This product contains sulfate, which is not considered an ideal ingredient for hair care.
2. Replenish Hair Health And Shine: Aussie Paraben-Free Miracle Moist Conditioner
Full of miracle ingredients, making hair feel soft and hydrated
Infused with avocado and Australian jojoba seed oil
Have a pleasing luscious citrus smell
Free of parabens
What we don't like: If you have fine or thin hair, this product won't be as good as it is for thick and dry hair.
[ Read: 16 Home Remedies for Hair Growth and Thickness ]
3. All-in-One Product: Aussie Total Miracle Collection 7n1 Shampoo and Conditioner Set
Locked with seven benefits in 1 bottle
Cleanses hair and prevents damage caused by split ends and humidity
Infused with apricot and Australian macadamia oil, make hair soft and smooth by hydrating and nourishing it
Adds shine to your hair and controls frizz
What we don't like: It is not suited best for oily hair as it already contains Australian macadamia oil that can add to the oiliness of hair.
[ Read: 10 Best Shampoo For Dry Damaged Hair With Split Ends ]
4. Remedy for Dry and Curly Hair: Aussie Deep Thoughts Reconstructing Conditioner
Contains the goodness of a Triple Oil Blend of Avocado, Australian Jojoba, and Macadamia Oils
Nourishing formula for a complete transformation of hair
Repairs and restores moisture to your thirsty hair with a formula that penetrates each strand
Cruelty-free, paraben-free, dye-free, and gluten-free
What we don't like: The oil may feel sticky on skin.
5. Rejuvenating Every Hair Strand: Aussie 3-Minute Miracle Reconstructor
Curls stay soft, shiny, and deeply conditioned for up to 3 days
Infused with Macadamia Nut Oil, and leaves hair smelling diving
Vegan and cruelty-free formula
What we don't like: It doesn't work with oily and fine hair as it is made specially to reconstruct dry and damaged curly hair.
6. Beneficial Mask For Hair Repair: Aussie Miracle Curls Defining
Non-greasy, lightweight oil that revives and restores dry and damaged hair
Super soft, shiny, and smells pleasingly
Enriched with a triple oil blend of Coconut Oil and Australian Jojoba Seed Oil
Lightweight hair treatment with multiple benefits
What we don't like: The texture of the oil is sticky, and it leaves your hair feeling greasy and oily.
[ Read: How To Get Rid Of Oily Hair Naturally ]
7. Most Effective Gel: Aussie Instant Freeze Sculpting Maximum Hold Hair Gel
Ensures firm hold and works well with all hair types, including curly hair
Infused with Jojoba Oil, Sea Kelp, and Australian Aloe
Smells pleasing with citrus, florals, and aquatic notes
Empower your style and attitude with maximum hold
What we don't like: You need to use only the right amount to provide the right firm and hold to the hair, or else it will make them greasy.
Conclusion
With the ability to calm the frizz and flyaways and manage curls and coils, Aussie hair care products could help in many ways. Since curly hair is difficult to tame, the right products, like Aussie products for curly hair, will only help.
Get the goodness of botanical extracts blended in Aussie's hair care products and manage your curls and coils hassle-free.
You Might Also Like: