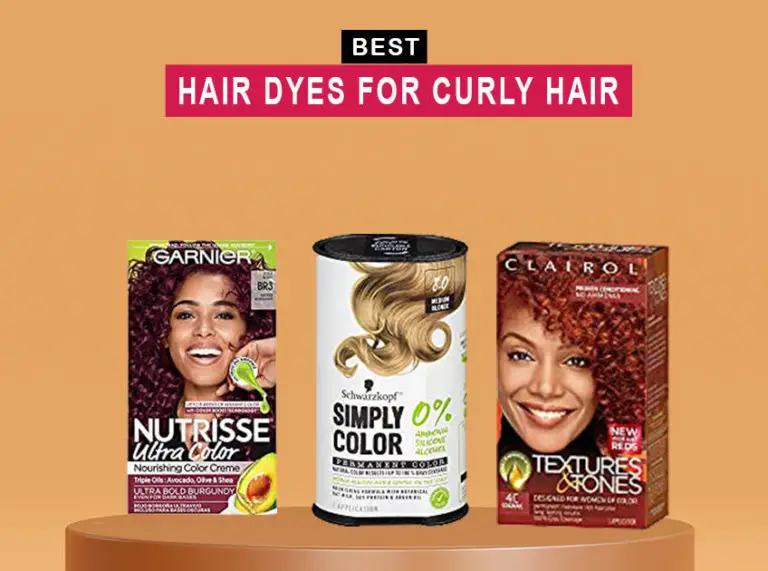 Coloring curly hair gives them a statement look. However, finding the right hair dye that suits curly hair can take a toll. The best hair dye for curly hair should deposit the pigment evenly to the strands. At the same time, it should match the variations in tones to complement the hair and skin tone.
Hair Dyes
Since box dyes come with essential tools to ease application, we have curated a list of the 7 best hair dyes for you. All these hair dyes are tried and tested on curly hair. Infused with hair-loving ingredients, they will keep your strands and scalp healthy.
Keep scrolling to find out the best hair dyes for curly hair.
[ Read: 16 Effective Tips For Healthy Hair ]
7 Best Hair Dyes For Curly Hair
1. Vibrant Color & Shine: All About Curls Permanent Hair Color Dye
Created especially for naturally curly, very curly hair of any texture or tone
It helps get nourished, defined, vibrantly colored curls
It gives beautiful, even, and vibrant colors on every twist of the curls
Offers 100% gray coverage and ensures radiant color shine
It comes with prep and protects hair serum infused with Vitamin B6 and collagen
Free of harmful ingredients
What We Don't Like: Overpowering smell.
[ Read: How to Take Care of Curly Hair ]
2. Clairol Professional Texture and Tones Permanent Hair Color
It gives 3 salon tones and highlights in 1 simple step using Color Blend technology
The stunning auburn color enhances the beauty of curls and gives them a natural look
Comes with hair color essentials like ColorBlend Formula, ColorBlend Activator, CC Plus ColorSeal Conditioner, Expert gloves
The color lasts for over 6 weeks
It covers 100% grays with complementary highlights and lowlights for a natural and authentic look
What We Don't Like: Hair may feel dry after washing.
[ Read: How To Take Care Of Dyed Hair ]
3. 100 percent Gray Coverage: SoftSheen-Carson Dark and Lovely Fade Resist Rich Conditioning Hair Color
Offering 100% gray coverage, the dye helps protect colored hair from breakage
Leaves hair Shiny and Silky with luxurious, rich color that lasts for up to 8 weeks
Infused with natural ingredients like shea, avocado, and olive that offer intense nourishment to the scalp and strands
Free of harmful ingredients
What We Don't Like: Overpowering smell.
[ Read: Hair Color For Sensitive Scalp ]

4. Schwarzkopf Simply Color Permanent Hair Color
It gives vibrant color and helps maintain their shine
The ingredients are gentle on the scalp
Non-irritating and dermatologist-tested and approved product
Formulated with botanical oat milk, soy protein, and argan oil. It is free from ammonia, alcohol, and silicone
Offers long-lasting color & up 100% gray coverage
What We Don't Like: Hair may feel slightly dry.
[ Read: 7 Best Oils For Curly Hair Growth ]
5. Clairol Nice'n Easy Permanent Hair Dye
It uses the exclusive Color Blend Technology that helps give 3 salon tones and highlights
The results last for over 8 weeks
It offers 100% gray coverage, making hair shiny and stylish
Good for curls and wavy hair
What We Don't Like: Overpowering smell.
[ Read: 5 Ways to Get Shiny Hair Naturally at Home ]
6. Rich Color: Garnier Nutrisse Ultra Color Nourishing Color Creme
Offering intense hydration, this hair color makes strands strong and supple while giving them the desired color
Enriched with ingredients like avocado, olive, and shea butter that add moisture and nourishment to the strands
The non-drip formula glides over the strands, easing the process manifold
The pleasing fragrance and silky texture make it one of the best hair color
It features an ultra-reflective formula that easily turns dark hair colors to your desired shade
23 shades of this hair color are available that you can apply as per your skin type
What We Don't Like: The color fades faster, and reapplication becomes necessary.
[ Read: 7 Best Blonde Hair Dyes for Dark Hair ]
7. Adds Shine and Gloss: L'Oreal Paris Superior Preference Fade-Defying Color + Shine System
It is a perfect hair coloring kit that can be used at home easily
It helps deliver a smooth, soft, and shiny look to hair, making them look luxurious
The results are long-lasting, irrespective of your natural hair color
It comes with a conditioner and hair serum to keep hair vibrant, silky, and smooth
Multiple shades are available that you can choose according to your skin type
It offers good gray coverage and maximum shine
What We Don't Like: Overpowering smell.
[ Read: 7 Best Deep Conditioners For Curly Hair ]
Conclusion
Now that you have some of the best hair dyes for curly hair, it's time to color your curls and make them more amazing. Since the quality and performance of these hair dyes are excellent, you can use them without any second thoughts.
You Might Also Like: