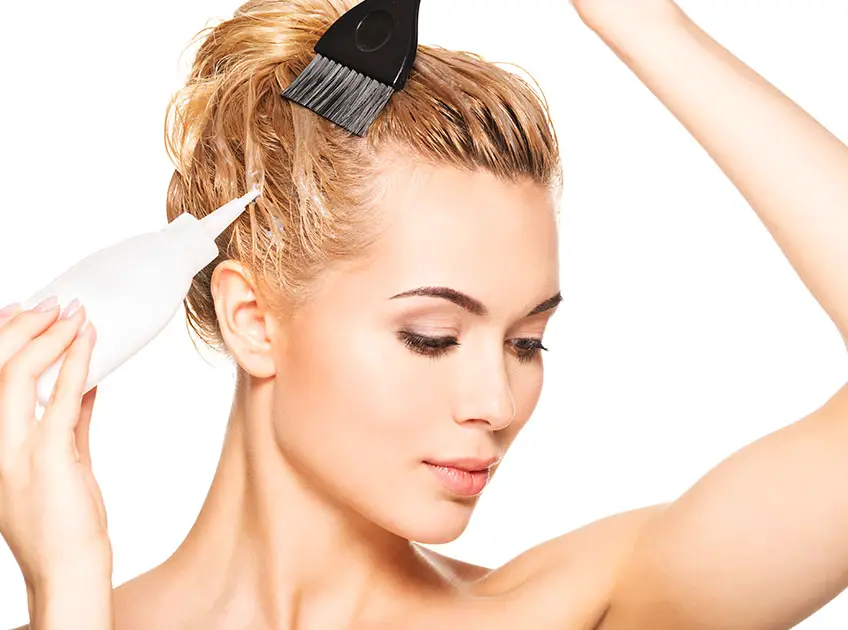 Just as fun as colouring your hair at home is, thank your lucky stars if the outcome is not desirable, then, removing them is a solution that can be done at home. Most of these are natural methods with everyday items that you can find lying at your home. These methods are proven friendly and easy to use. The methods mentioned will be not only for semi-permanent but also for permanent dyes which generally take a long process to remove or you have to wait until your hair outgrows. So, let's not dilly dally and get right into the methods on how to remove hair dye.
Remove Hair Dye
Methods To Remove Hair Dye
Pigments that settle on the hair's root or surface to alter colour are known as hair dyes. Typically, it is done to cover white or grey hair, achieve the desired appearance in line with current trends, or bring back the original hair colour. Changing the colour of one's hair is a practice known as "hair dyeing" that dates back to medieval times. Nevertheless, as the market has become more demanding over time, the makeup and constituents of dyes have shifted from being natural to chemical-based. While some chemical-based colours do need professional assistance, others can be treated with the aid of natural cures. Here, we'll go over both methods for removing hair dye.
1. Anti-Dandruff Shampoo With Baking Soda: A common household item baking soda has a lot of purposes, and one of them is removing hair dye. If the dye is semi-permanent or lightening dark hair, then baking soda is the best option. It acts out as a great solvent when used with anti-dandruff shampoo as the shampoo contains selenium sulfide which aids in the fading of hair colour. Here is the step-by-step procedure on how to remove hair dye with these two:
Create a mixture of anti-dandruff shampoo with baking soda in equal parts.
Damp your hair with hot water and apply the mixture to your hair.
Leave it for about 20 minutes.
Rinse with warm water and condition well.
Then gently rinse off your hair.
Note: Moisturize your hair after washing as baking soda can cause dryness.
2. Dish Soap: Dish liquid soap is the domestic cleaning product that is most frequently used to remove grease. The harsh detergents present in the dish soap effectively help strip away semi-permanent hair colour from your hair. Using it with the appropriate method can yield results otherwise it may lead to damage. Take a look at this method on how dish soap can remove hair dye:
Use 4 drops of dish soap and two squirts of shampoo.
Create a mixture.
Clear your scalp of any residue before applying.
Massage and lather well on your head
Rinse off well until the water runs clear.
Repeat this process again after every 2 or 3 days.
Remember to moisturize after every wash to ease out the dryness.
3. Vitamin C Tablets With Hot Water: The person "famous for being famous" who popularised yet another method is none other than social media sensation Kim Kardashian. This hair mask technique can assist in removing hair dye from your hair. Following are the steps:
Crush Vitam C tablets (not capsules) in a bowl, make sure it is in powder form with no lumps left.
Mix it well with a dye-free clarifying shampoo to prepare a mask.
Once well blended, apply the mask to your hair from roots to end.
Leave it for about half an hour to an hour with a shower cap on.
Wash off with lukewarm water thoroughly.
Use deep conditioning to prevent dryness and moisturizer after the wash.
4. Vinegar Rinse Or Apple Cider Vinegar: Another household item that can be used is apple cider vinegar or vinegar. Due to its acidic content, it helps in the removal of hair dye. Apart from this, it controls frizziness, removing dulling residue from hard water, eliminating product build-up, and detangling. There is a proper ratio for the use of vinegar or apple cider vinegar which is mentioned below along with the procedure:
Make a mixture of vinegar and hot water. The ratio is 1:1.
Shampoo the hair to be free of any dirt or residue.
Pour the concoction over your head on a sink or tub. Wear swimming goggles to protect the eyes.
Let it sit for 15 – 20 minutes under a shower cap.
Shampoo and rinse off the concoction thoroughly. Repeat this process a few times to achieve the result.
5. Hot Oil: A good champi is everyone's idle choice and the main ingredient for this is hot oil. We all know the benefit of hot oil as a relaxor, but did you know hot oil can also remove hair dyes? It is one of the most natural methods and here is how you can apply it:
Heat up the oil of your choice in a pot on a stove.
After heating, massage from your roots to the tips.
Cover your hair with a towel and keep it overnight for even better results.
Use an anti-dandruff or clarifying shampoo when you wash your hair.
6. Epsom Salt And Baking Soda: Not really common but another method is using Epsom salt with baking soda to remove the hair dye. All you need to do is add epsom salt and baking soda and create a mixture in a spray. Spray over the hair where there is hair dye and keep it on for 10 minutes. Rinse with warm water. Repeat at least twice a week to get better results.
7. Bleach Baths: Use this technique only as a last resort because it might harm your hair. Make sure if any problem arises you should immediately call your doctor or dermatologist. Following are the steps for bleach baths:
Mix bleach and shampoo in an equal ratio of 1:1.
Advisably start with a strand to make sure your hair is not over processed.
Leave it on for 30 minutes and check every 5 minutes.
Rinse it off thoroughly from the scalp.
Note: Avoid applying the mixture on the scalp if the result turns out bad for the tip.
Conclusion
The majority of these are natural methods that can be used at home to get rid of direct deposit dyes or semi-permanent dyes. A professional should always be sought out for a process like this even though some of them can be used for permanent dyes. Try some of these strategies; however, it is advised that you research them and test them to determine which works best for you.
You Might Also Like: