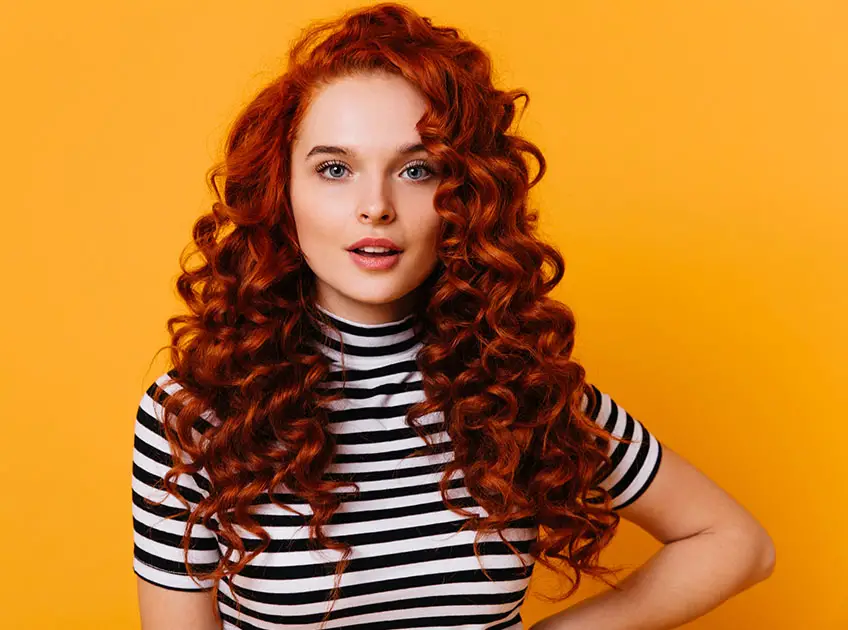 Getting away with hair coloring at home is full of surprises, and the results may not be what you have expected. Whether you're leaving brassy orange streaks in your hair dye session or expecting a change, you will find here the best solution for it. In this blog, you will get a piece of information about how to repair orange hair using box dye. Within minutes, you'll have wide knowledge about procedures to refresh your tangerine tresses.
Certain Guidance To Fix Orange Hair With Box Dye
Go For A Blue-based Dye To Protect Orange Hair
As per the color theory principle, blue shampoo or blue pigments is the best solution for orange locks. Usage of blue-green dye corrects the reddish-orange hair and purple shampoo corrects the yellowish hair. If you want to prevent orange hair, you should move to blue-based dye. This blue-based dye has a lot of blue pigment content, so it provides helps to reduce the brassiness tone.
Points To Follow Before Applying The Box Dye To Fix Orange Hair
If you want to repair your orange hair, the basic step is to select the correct hair dye. You may be surprised when come to know the different color varieties available for changing orange hair. The best varieties of colors are listed below
Red: If you want to take away the orange color, select a red dye with a purple or blue base. Red dye provides a neutral hair tone as well as blue and purple dye remove the orange hair color.
Blue: As we indicated earlier, using blue color dye can take off the orange hair color and has the power to neutralize the orange pigments. You have to be very careful when you choose blue dye. Because, if you selected the wrong hue, it has possible to change your hair color to blue or muddy.
Black: Black dye has the potential to hide the maximum of the color because it's dark. but it is very hard to take off. If you use black dye regularly, it creates a hair damage problem. So, it can be used rarely.
Brown: Brown color or any shade of brown dye has the capacity to cover your present orange hair. The selection of a cool or gray color shade of brown will neutralize your orange hair fully.
Blonde: Usage of cool or ash blonde dye changes your orange strands to a light or cool brown color.
Steps To Fix Orange Hair With The Help Of A Permanent Box Dye
Permanent box hair dye is perfect for completely hiding up unnecessary orange tones. Its cuticle lifting contents can deeply penetrate your hair strands and lock in their color. You can also try Demi-permanent box dye, and Semi-permanent box dye to fix orange hair by following its steps. . This is the moment to learn about the steps to fix orange hair using permanent box dye.
1. Select your permanent box dye-favored shade.
2. Wear a pair of hand gloves and an unused old t-shirt in case of getting stained.
3. Apply a layer of petroleum jelly to your hair surface and your ear's top places.
4. Mix the hair dye and developer then follow the steps mentioned on the package and combine the two in a ratio of 1:2 or 1:1.
5. Divide your hair sections into four or more and put the hair clip on each section.
6. Apply the dye to your hair by hair section-wise.
7. Wear a shower cap and let it for 45 minutes.
8. Wash your hair properly with cold water.
9. Apply color-safe hair conditioner and let it for 5 minutes and wash it.
10. Dry your hair and view the final hair color result.
The Suggestion For The Best Box Hair Dyes
With the helpful guidance mentioned above, now you can view which is the best box of hair dyes to neutralize unwanted oranges.
1. Naturtint 10A Light Ash Blonde: Naturtint is enriched with seed oils as well as plant extracts and it helps to nourish and hydrate your locks. In addition, it assists you to fix your hair strands instantly after hair coloring.
2. Revlon Colorsilk Natural Blue Black: It is very simple to use, and this type of box hair dye helps to get a flawless complexion. Its non-drip gel technology provides you with natural-looking and long-lasting hair color.
3. Garnier Hair Color Nutrisse 51 Medium Ash Brown: Garnier Nutris Permanent Dye ensures a long-lasting color with completely gray coverage. Its moisturizing cream dye provides assistance to maintain your hair strands in good shape.
Conclusion
Hoping that, this blog has given you useful guidelines to fix your orange hair in an easy way. If you are going to do hair coloring, it is better to do it after testing your hair strength.
You Might Also Like: