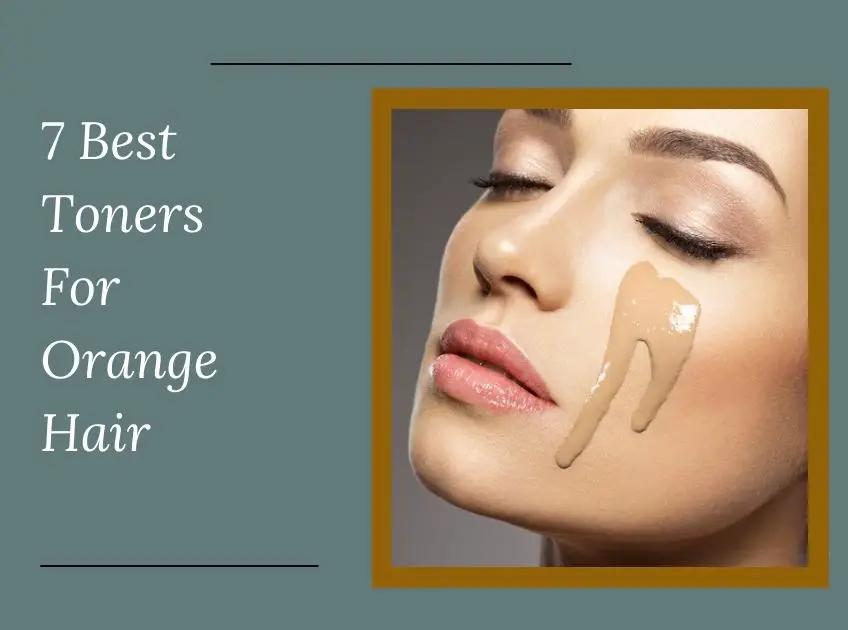 If you want to tone down your bleached hair, the best toners for orange hair will come to the rescue. Different toners remove the undesired orange and brassy tones from the hair, giving a cool ashy blonde. Using high-quality toners is one of the best ways to remove unnecessary hints of orange, red, and gold and ensure ashy and cool-toned hair.
Before checking the best toners for orange hair, let's understand what a toner is and why it is needed. Hair toner is applied to the hair to remove brassiness from the colored blonde or white locks. Apart from this, toners also add shine to the strands, prolonging the vibrancy and look of the hair.
Toners For Orange Hair
If you are looking for the best toner for orange hair, check out the list we have shared below. We have carefully selected some of the best and most effective toners for orange skin that remove the brassy and warm tones from the hair. We have included toning solutions and shampoos to help you get multiple options.
Check them out!
7 Best Toners For Orange Hair
1. Top pick for brunettes: Redken Color Extend Brownlights Shampoo
Blue Pigments, Hydrolyzed Wheat Protein, and Citric Acid are the active ingredients
It helps lighten hair and neutralize orange tones in brown hair
It is a sulfate-free formula
It contains citric acid to help balance the scalp's pH level
Strengthens hair and offers deep nourishment
The presence of hydrolyzed wheat protein helps repair damage and leave hair looking smoother
What We Don't Like: It may make the hair slightly sticky.
[ Read: 7 Best Blue Shampoos For Brunettes ]
2. Deeply Nourishing: Moroccanoil Blonde Perfecting Purple Shampoo
Effectively neutralizes unwanted orange and yellow tones
Infused with a moisturizing blend of castor oil, glycerine, and argan oil.
Also, it combines purple pigments
It uses cold-pressed, nutrient-rich argan oil
Increases hair's elasticity and shine
Keep your color protected against UV damage
What We Don't Like: Available in a single size.
3. Best for balayage Color: Matrix Total Results Brass Off Custom Neutralization Mask
Blue Pigments, Violet Pigments, Citric Acid, Soybean Oil, and Vitamin E are the key ingredients
It contains blue and purple pigments that target brassy tones
Infused with hair conditioning ingredients like soybean oil and vitamin E
Keeps shafts nourished while addressing the major hair issue
What We Don't Like: It won't work if you have darker brunette hair.
[ Read: 7 Best Professional Toners For Brassy Hair ]
4. Hair Conditioning Mask: Verb Purple Mask
The key ingredients are Violet Pigments, Glycerin, Panthenol, Acai Fruit Extract, Sunflower Seed Oil
It helps reduce orange and yellow tones in blonde, silver, or gray color
Designed to be used on all hair types
Leave hair shinier and protected from color-fading UV rays
It helps enhance the hair color and reduce brassy notes
It is PETA-certified, cruelty-free, and vegan
What We Don't Like: It may feel slightly heavy.
5. Neutralize Unwanted Colors: Pravana Chromasilk Hair Color Corrector – Ash Blue
It restores the radiance of hair while preserving its original color.
Equalizes the hairs porosity
Extends hair hold and adds maximum shine to it
It results in beautiful tones and delivers up to 100 percent gray coverage.
What We Don't Like: It May feel slightly heavy.
6. Blue-tinted Toner: Manic Panic Virgin Snow Hair Toner Amplified
It helps eliminate brassiness on the lightest level ten blonde
Offers deep conditioning while dyeing the hair and manage orange hair
It is PPD and Ammonia Free, Paraben-free, Gluten-free, resorcinol-free, Phthalate-free
Deeply conditions the strands and make them shiny
What We Don't Like: It may make the hair slightly oily.
[ Read: 6 Easy-To-Do Steps To Fix Orange Hair ]
7. Bleaching Agent: SCHWARZKOPF BLOND ME BM Blonde Ton.Ice60
It has a low ammonia content
It can be used soof after the hair has been lightened
Offers wonderful tone directions for endless creativity
Gives an anti-yellow effect and a cool blonde tone
Ensures long-lasting color result
Effective to use on both pre-lightened and naturally blonde hair
What We Don't Like: Less quantity.
[ Read: 7 Best Professional Toners for Blonde Hair ]
Conclusion
So, these are some of the best toners for orange hair. If you are dealing with orange hair tones, it's time to repair them with the best toner. Since all these products give fruitful results, you can go for them according to your budget and get the best results.
You Might Also Like: