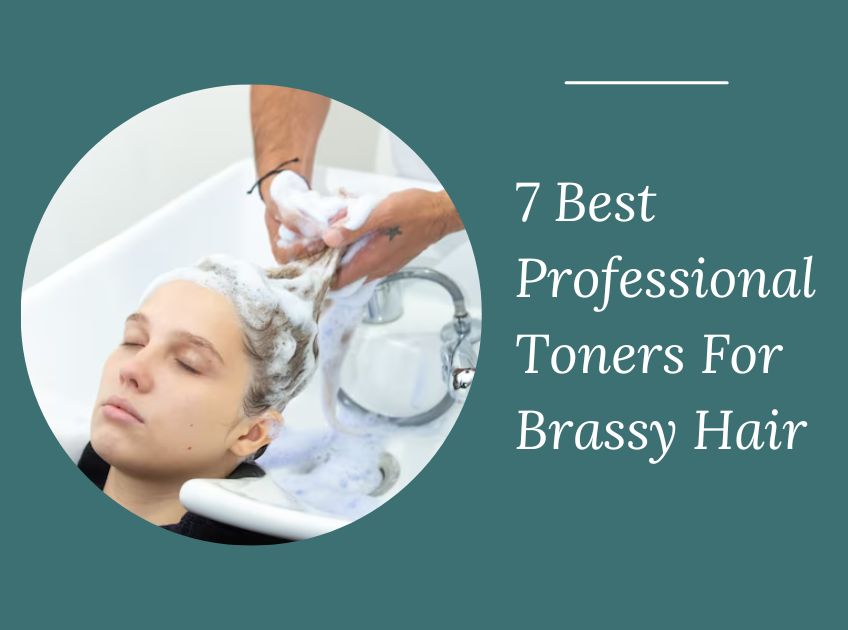 No matter how expensive your hair colour is, once it has served its purpose, it will wash off. The good news is that there are ways to slow down the process and preserve your hair's colour for a longer period.
It does not have to be an expensive salon visit or some random DIY done without knowing or understanding the science behind it. Take time to find out what is right or wrong. You can save time and money by doing this by avoiding the pointless trip to the store.
Brassy Hair
But how do I get there? How do I understand what is best for my hair? These are some pertinent questions that are circling through your mind. So here we have formulated a nice piece that answers your questions regarding hair care for brassy hair with the right toners. These are categorized according to your preferences. Check them out!
7 Best Professional Toners For Brassy Hair
1. Brand Value: bouclème color toning drops
You can include them in your deep conditioning treatments, stylers, or shampoo and conditioner.
These toning drops, which are enhanced with rich indigo hues, work well on blondes, silvers, balayage, and dyed brunettes.
Bring back the vibrancy of your colour and banish brassiness.
What We Don't Like: The smell may be overbearing.
[ Read: 7 Best Purple Shampoos For Balayage ]
2. Worth every penny: Matrix Total Results Brass Off Blue Shampoo
Due to the balancing blue-violet pigments it deposits, which work to effectively counteract the brassy tones, it is suitable for brunettes with lightened hair.
Made to gently wash away build-up and residue that dulls hair while preserving the colour's brightness and vibrancy.
To strengthen and make the hair shinier, it can also be applied to natural hair.
If you want to give your hair extra toning, leave this professional salon shampoo in for two to three minutes.
What We Don't Like: It is worth every penny not to like.
3. 100% Vegan: pureology color fanatic top coat + tone gloss
It is a blue top coat designed for dark blonde to dark brunette hair that, in just 5 minutes, neutralises and tones away brassy orange colours and gives you silky, lustrous strands.
Cuticle sealer for a soft, smooth, and silky feel.
For up to 8 washes, it neutralises undesirable brassy orange
It contains Camellia Oil, which efficiently conditions and nourishes, as well as vegan Oat Milk, which softens and smoothes hair.
What We Don't Like: A bit of expensive.
4. Soothing fragrance: John Frieda Violet Crush Purple Shampoo
After using this deep-cleansing shampoo to remove product buildup, your hair will feel renewed and healthier.
Violet pigments also absorb ultraviolet light to produce a blue-white glow that instantly removes dullness and gives blonde hair a cooler appearance.
This cutting-edge formula moisturizes hair while being kind to the hair and shields blonde hair from fading.
What We Don't Like: It has sulfate, which people can be allergic to.
[ Read: 7 Best Shampoos For Lightening Blonde Hair ]
5. With No-Drip formula: Garnier Nutrisse Ultra Color Nourishing Anti-Brass Treatment
To condition and maintain the health of colour-treated hair, it is enriched with olive, avocado, and shea oils.
Use it once a week to neutralize brassiness and maintain the lightness and brightness of your blonde hair.
Helps to refresh the colour and cool down warm hues, it is formulated with CoolTone technology.
To maintain the shine and gloss of blonde hair, both colour-treated and untreated, use this product.
What We Don't Like: It does not work well as a dark toner.
6. With Natural Ingredients: MARC DANIELS PROFESSIONAL Lush Luminous Blonde Conditioner
The natural Australian blue cypress oil used in this conditioner has curative purple pigments that take away brassy orange and yellow tones while enhancing faded highlights in bleached, blonde, silver, or grey hair.
Vitamins A and C work in conjunction with the leaf extracts of rosemary and sage to improve scalp health and encourage hair growth.222
Pro-vitamin B5 is added to this strong conditioner to strengthen, hydrate, and give dry, lifeless hair back its shine and softness.
This delicately scented product deeply moisturises hair to prevent frizz and flyaways.
What We Don't Like: It leaves a greasy residue on the hair.
[ Read: 7 Best Conditioners for Blonde Hair ]
7. The mask: Majestic Pure Cosmeceuticals Purple Hair Mask
It has moisturizing additives like olive oil, argan oil, and shea butter that condition colour-treated, heated-processed, dry, and damaged hair to keep it strong and healthy.
To extend the life of a colour and preserve the health of your hair and scalp, use it once per week.
Intensely nourishing violet pigments help to brighten and lighten blonde and silver hair by eradicating brassy and yellow tones.
What We Don't Like: It really weighs down nice hair and makes it dull.
Conclusion
Hair toners can help you keep your hair's colour, shine, and volume! Toners with purple or blue undertones can enhance your hair's texture and work wonders on brassy tones. When purchasing hair toners, make sure they preserve the lustre of your hair. There are some popular hair toners that do not include mineral oil, sulphates, parabens, or petrolatum. It is always a good idea to stay away from products that leave unsightly residues or have a tendency to stain your clothes as you use them.
You Might Also Like: