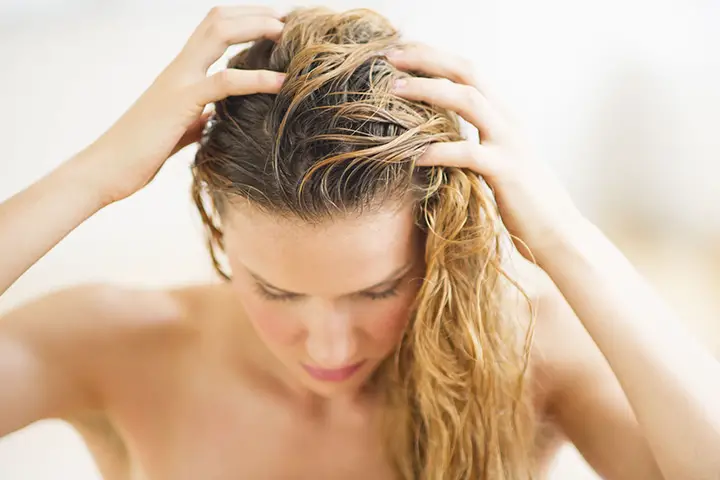 If you need thick and shiny hair, it is important to ensure that the scalp is healthy and free from toxins. Besides our wrong food habits, the quality of water and pollution makes the scalp unhealthy because of which it needs to be detoxified. This will help in unclogging the hair follicles and balancing the natural oil and pH, resulting in the growth of rejuvenated hair.
Benefits of Detoxing Your Scalp:
Here are the Advantages of Detoxifying the Scalp:
 Improved blood circulation in the scalp results in better delivery of nutrients and oxygen to the hair root.
Regenerates hair cells.
Hair follicles get unclogged for better growth.
Prevents acne on the scalp.
Scalp doesn't get dry or flaky which is the main cause of scalp irritation.
How Do You Detox Your Scalp for Healthy Hair?
Some easy ways of detoxifying the scalp are as follows:
1. Scalp Massage:
This enhances blood circulation by which toxins are removed from the scalp through the detox organs in the body. Hair follicles are stimulated by this, resulting in healthier hair growth.
Process of doing:
Use the finger pads to apply gentle rhythmic movements and briskly rub the scalp. Long strokes can be used along the hair length at the end for a relaxed feeling. A wooden hairbrush or a wooden comb with a wide-tooth is also a good alternative.
[ Read: Home Remedies for Dry Itchy Scalp ]
2. Clay Mask:
It acts as a natural shampoo detox method which is a good way of getting rid of greasiness from the hair and scalp. Rhassoul or Bentonite are clays with great potential for absorbing dirt and oil. They are also loaded with potassium, magnesium, sodium, silica, and iron, all of which repair, renew and nourish the scalp to make the hair roots strong.
Ingredients:
1/3rd cup of:
Rhassoul clay for normal to dry hair.
Bentonite clay for those having oily hair.
Water or herbal tea
Optional ingredients:
Use any of these oils for a flaky and irritated scalp:
5 drops of lavender oil
A teaspoon of almond oil
A tablespoon each of:
Apple cider vinegar to remove hard water build-up and improve shine. Lime juice
Marshmallow root powder for better moisturization.
Fenugreek powder for boosting hair growth.
Shikakai powder for pH balancing, and making the hair silky.
Herbal Tea Preparation:
A tablespoon of the herb can be used for brewing herbal tea. A cup of it is enough. It needs to be strained and cooled down. Opt for amla, shikakai, rosemary, black tea, or marshmallow root for dark-colored hair. Those having blonde hair can choose green tea, marshmallow root, chamomile, or calendula.
Process of Using:
Make a paste having the consistency of yogurt with the above ingredients and apply it on the scalp with your hands or a brush. The whole scalp should be covered with the mixture and let remain for about 15 minutes before rinsing with water. In the end, use the marshmallow and hibiscus /herbal tea for rinsing the hair for sealing the outermost layer, and ensuring shiny hair.
Frequency of Use: This can be done once in 7 or 15 days.
[ Read: How to Get Rid of Scabs on Scalp ]
3. Cucumber and Lime:
People having an itchy scalp will find it to be a soothing detox treatment as cucumber has hydrating, anti-inflammatory, and anti-itching characteristics. Lime removes the build-up of oil and dirt.
Ingredient:
A cucumber
A teaspoon of lemon juice
Rosemary essential oil-3 drops for stimulating better hair growth
Process of using: The cucumber needs to be blended into a fine paste to which you have to add lime juice. Use your fingers or brush to apply on the scalp. Massage gently for some time and leave it for about 15 minutes before washing with water.
Frequency of use: 1 or 2 times a week.
[ Read: How to Use Tea Tree Oil for Scalp ]
4. Honey and Cinnamon:
This has a nourishing effect on the scalp. People having slow hair growth or baldness issues will find it useful. The moisturizing and pH balancing properties of honey with the anti-inflammatory properties of cinnamon detoxifies the scalp and stimulates hair growth.
Ingredients:
Natural honey-1 tablespoon
Cinnamon powder-1/2 teaspoon
Olive oil-1 tablespoon
Process of using:
Combine the above ingredients in a bowl and massage it on the scalp. Cover the head with a shower cap and let it sit for about 15 minutes before rinsing. You can even shampoo after this
Frequency of use: 1-2 times a week.
[ Recommended: Is Olive Oil Good for Your Scalp ]
5. Lemon Juice or Orange/Apple Juice:
It is loaded with alpha hydroxy acid that easily removes the dead skin cells along with other product build-ups. This results in better hair growth and makes the hair shiny.
Ingredients:
A tablespoon of lime juice for oily hair or orange/apple juice for dry hair
A cup water
Lavender essential oil-5 drops for dry scalp
Process of use:
Combine all the ingredients and massage the scalp with it. Leave it for 5 minutes before using normal water for washing the hair.
Frequency of use: Once a week.
[ Read: How To Use Apple Cider Vinegar For Itchy Scalp ]
6. Ginger and Lemon:
This helps in removing the oil and other build-ups from the scalp because of the acidic nature of lemon juice.
Ingredients:
2 lemons
A large piece of ginger
Mint leaves (not mandatory)
Water
Process of using:
Blend all the above ingredients and strain out the pulp. Take 2 tablespoons of the mixture and add it to a pint of pure water. On your wet hair, pour this mixture and massage the scalp for some time. Then rinse it with water. You can use a shampoo and conditioner free from sulfate-free and silicon after this.
7. Yerba Mate Tea:
It is a strong antioxidant. The polyphenols like chlorogenic acid have anti-microbial characteristics on the scalp. Besides this, it also has vitamin A, B, saponins, and natural silicon which are essential for a healthy scalp. You can have a healthy and shiny scalp with it.
Ingredients:
Process of using:
The yerba mate tea needs to be brewed in hot water for 10 minutes. Let it cool till warm, after straining. Massage the scalp with this warm liquid for some time and let it run through the hair. Then rinse with normal water.
Frequency of use: 1-2 times a week.
8. Apple Cider Vinegar:
It can discard the dirt, oil, and all product build-up from the scalp.
Ingredients:
Apple cider vinegar-1 cup
Water-3 cups
Process of using:
Dilute a cup of apple cider vinegar with 3 cups of water. Transfer this to a bottle. After shampooing your hair with a clarifying shampoo and thorough rinsing, apply the diluted apple cider vinegar on the scalp. Leave this for about 15 minutes after tying your hair into a bun. Rinse it well and apply a conditioner to avoid drying up the hair.
Frequency of use: Once in 7 or 15 days.
9. Aloe Vera Gel:
This soothes the skin, breaks down the dead skin cells, and helps in healing. It prevents dandruff and itching in the Scalp. The cell turnover in the scalp is enhanced by the vitamin A, C, and E in it.
Process of using:
Rub fresh aloe vera gel on the scalp gently and let it rest for an hour before washing with a mild shampoo.
Frequency of use: 1-2 times a week
10. Coconut Milk Shampoo:
This shampoo is loaded with proteins and antioxidants. The scalp is cleaned well with castile soap. Using it regularly will show visible results in a few weeks.
Ingredients:
Coconut milk-1/4 cup
Castile soap-1/3 cup
Vitamin E oil-2 capsules
Fragrant essential oil (optional)- 15-20 drops
Process of using:
Combine the above ingredients and keep in a shampoo bottle and use on wet hair just like you use shampoo
Frequency of use: It can replace the shampoo that you have been using.
11. Coconut Milk and Aloe Vera Shampoo:
It is a great way of balancing pH levels in the scalp and removing dirt, and other product build-ups.
Ingredients:
Coconut milk-1 cup
Pure aloe vera gel- 1.25 cups
Essential oil (optional)- Few drops
Process of using:
Create a smooth paste by whisking all the ingredients. Then freeze it into ice cubes on an ice tray. Keep a cube in the refrigerator the night before you wish to use it. In the morning, wet the hair and then rub the mixture on the scalp just like you use your regular shampoo.
Frequency of use: Once a week.
12. Shikakai:
It has natural saponins which help in cleaning the hair and scalp. Hair gets nourished because of the vitamin A, C, D, E, and K in it.
Ingredients:
Shikakai powder- 2 tablespoon
Water
Process of using:
Make a paste by mixing water with the shikakai powder. On wet hair, concentrate the scalp with the paste. Massage for a few minutes and then rinse with normal water.
Frequency of use: It can be used instead of regular shampoo.
12. Shampoo and Sea Salt:
Exfoliating characteristics of the shampoo will help in detoxifying the scalp by removing dead skin cells and product buildup.
Ingredients:
Coarse sea salt-2 parts
Shampoo-1 part
Process of using:
Create your clarifying shampoo by mixing regular shampoo with sea salt. Apply it on the hair till lather is produced and then rinse using normal water.
Frequency of use: Once a month.
13. Baking Soda:
Cuticles will be lifted by the warm water and baking soda mixture, resulting in deep cleaning action. The oil, dandruff, and other product build-up are removed easily from the scalp by doing this.
Ingredients:
Baking soda-1/2 cup
Hot water-3 cups
Process of using:
Combine hot water with baking soda. Wait till it gets warm. On your wet hair, massage it for some time and then rinse with normal water. Then raw honey can also be used for conditioning the hair.
Frequency of use: 1-2 times a week based on the dryness or oiliness of your hair.
Final Words:
These were some of the simple natural techniques to detoxify the scalp. They are safe as no chemicals are involved and consistently using them helps in making the hair strong and healthy. The best part is that it costs you much less but shows better results than the fancy expensive products available in-store which claim to be good for your hair. Along with this, make sure to follow healthy eating habits and exercising for perfect results.
You Might Also Like: