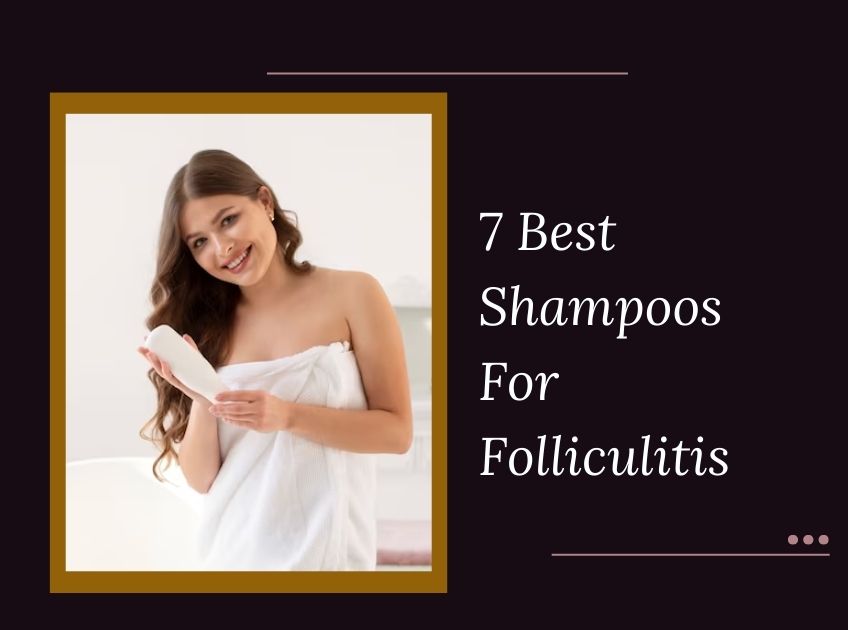 Folliculitis is an issue that causes the hair follicles to get inflamed, and red, with itchy bumps. These can even appear on the neck, face or bottom because of various reasons such as dirt, sweat, yeast infection, or bacteria. Using the right shampoo can help in getting relief from it. Read on to check out some of the best products for reliving folliculitis.
7 Best Shampoos For Folliculitis
1. WOW Skin Science Apple Cider Vinegar Shampoo for rejuvenating the hair and leaving it smooth and silky
Why Do We Like It?
Maintains the skin's pH levels.
Saw palmetto in the product reduces hair fall.
Leaves the hair shiny, soft and silky.
Prevents split ends, breakage and thinning of hair.
Detoxifies the scalp by preventing the build-up of products or any impurities.
Natural ingredients such as pure Himalayan spring water and raw apple cider vinegar removes the toxins from the hair.
Vegan-friendly and cruelty-free product without parabens, gluten, silicone, or sulfate.
Volumnises the hair.
It reduces the flaking of the scalp and the frizziness of hair.
What Do We Dont Like About It?
It has artificially added fragrances.
Could make the skin dry.
[ Read: How to Detox Your Scalp for Healthy Hair at Home ]
2.CLn Shampoo for reducing excess oil and exfoliating dead cells
Why Do We Like It?
Salicylic acid and sodium hypochlorite in the product reduces excess oil and dead skin cells from the scalp.
It reduces flaking and itchiness caused because of folliculitis, dermatitis, and dandruff.
Free from parabens, triclosan, anti-biotics, triclosan, and fragrance.
Dermatologically and clinically tested.
What Do We Dont Like About It?
It has SLS.
Might lead to pimples.
3. Ovante Folliculit Solution Shampoo for cleansing and hydrating the scalp
Why Do We Like It?
Cleanses and moisturises the scalp.
It can be used on any type of hair.
Has a nourishing effect on the scalp by removing yeast and dandruff which causes itching and flaking.
Natural oils, herbal extracts and vitamins keep the scalp and hair healthy.
What Do We Dont Like About It?
4. Tea Tree Oil Shampoo for treating flaky and itchy scalp and reducing thinning
Why Do We Like It?
It has antifungal and antibacterial properties because of tea tree special formula shampoo.
Teats flaky, itchy and dry scalp.
Prevents hair fall and thinning.
Promotes hair growth and keeps the scalp hydrated.
Soothes the irritated scalp.
Lavender and rosemary help in getting rid of head lice.
The product can be safely used on colour-safe hair.
It is free from colour, sulfate, and BPA.
What Do We Dont Like About It?
It has a strong smell which might be disliked by some.
[ Read:  Apple Cider Vinegar For Itchy Scalp & Dandruff Relief ]
5. Tree To Tub Biotin Shampoo for reducing dandruff and thicker and healthy hair
Why Do We Like It?
Any buildup is removed by soapberry.
Deeply cleanses the hair follicles.
Stimulates the growth of the hair and keeps them strong.
Maintains 5.5 pH level.
Lathers well.
Has anti-dandruff properties.
Has antibacterial and antifungal characteristics because of the eucalyptus and tea tree essential oils in it.
It can be safely used on colour-treated hair.
Dermatologists recommended products free from colours, toxins, artificial fragrances, sulfate, parabens, SLS,
silicone, DEA, MEA, and gluten.
Cruelty-free and vegan-friendly.
What Do We Dont Like About It?
Some with sensitive scalps might develop an allergic reaction.
[ Read: 7 Best Shampoos For Thick Hair ]
6. Design Essentials Shampoo For relieving itchiness, and dandruff and keeping the scalp healthy
Why Do We Like It?
Zinc pyrithione in the product reduces itching, flaking and dryness.
Restores natural moisture and keeps the hair healthy.
Cleanses the scalp thoroughly.
Aloe vera and peppermint have a soothing effect on the irritated scalp.
What Do We Dont Like About It?
7. BallVic Follicution Scalp Rx Shampoo for reducing flare-ups and keeping the scalp well-nourished
Why Do We Like It?
Reduces hair loss and flare-ups.
Restores the moisture.
Has a cooling impact on the scalp.
Reduces excess oil production and residue from the scalp.
Infections are prevented because of Zinc pyrithione which has antibacterial and antifungal properties.
It has anti-inflammatory, soothing, and repairing effects on the hair because of rapeseed.
Maintains 5.5 pH of the scalp.
Makes the hair follicles strong.
Can be safely used for kids.
Dermatologist recommended product that is clinically tested and free from parabens, sulfate, silicone, DEA, TEA, and other chemicals.
What Do We Dont Like About It?
It is not completely safe for colour-treated hair.
Conclusion:
Using medicated shampoos like the above can help in quickly treating folliculitis. Such products are clinically tested to effectively deal with dandruff and have a soothing effect on the scalp. But, in case the issue is serious, it is better to consult a doctor before using the products.
You Might Also Like: