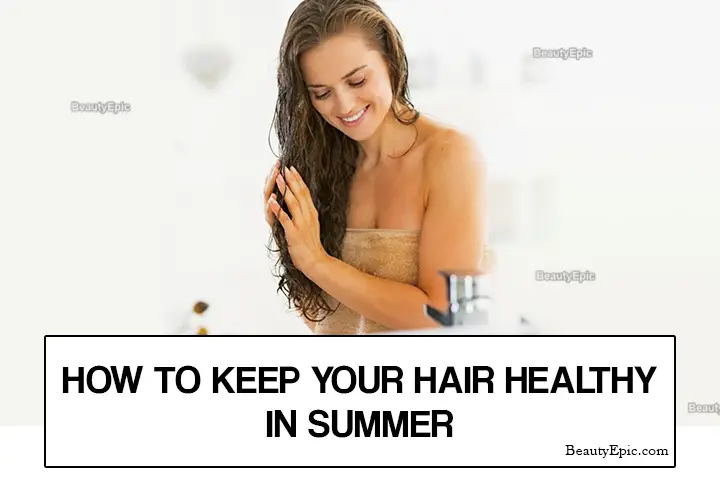 Summer means happy times, which means going to the beach and having fun. But your hairs have to deal with sun, chlorine, salt water and what not during the summer season. We all know that the summer sun can be harmful to our skin as well as our hair if we do not take the necessary precautions. Let us have a look at some of the effects of the summer sun on your hair and see what havoc it is causing.
Effects of Summer on Your Hair
You may have healthy hair all year round, but summer turns your hair lifeless. This is due to the high humidity content in the atmosphere which settles on your hair and weighs it down.
The UV rays can turn your natural and colored hair to lose its shine.
The summer sun can also cause your hair to become dry and lifeless.
We all need to take proper care of our hair during the summers so that they are healthy and shiny. But what can be done so that our hair does not lose their texture this summer? Here in this article, we have compiled a list of few tips and tricks to look after your hair this summer.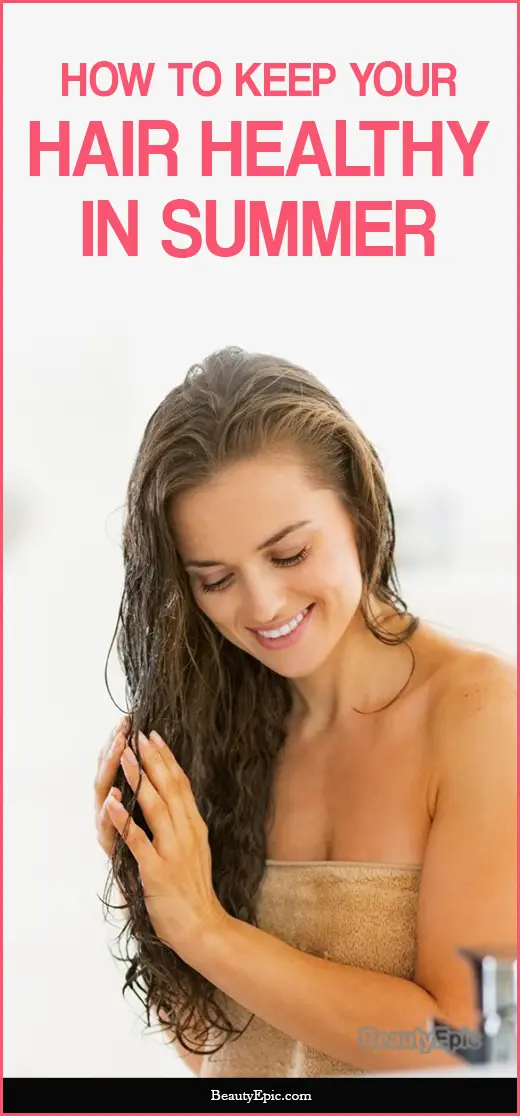 [ Read: Basic Hair Care Tips to Include in Your Hair Care Routine ]
1. Reduce Heat as Much as You Can
If you have to spend a long day in the sun, it is highly recommended that you either apply a deep conditioner containing SPF protection. You can also cover your hair with a hat to avoid direct contact with the sun. You can also protect your hair by avoiding heat styling products such as straightener, automatic curling iron, etc. as much as possible.
If you have to style your hair during summers, you can try out the heatless hairstyle ideas. There are natural ways to curl your hair without using any heat on them. Though it is challenging to avoid heating devices, but it is really beneficial for your hair.
[ Read: How To Fix Hair Breakage On Top Of Head ]
2. Get a Trim Frequently
You can go for a cool hair cut this summer, but if you are thinking that you will get good hair growth afterward, then you might be wrong. Your hair grows from the root, and hence your body cannot identify when it has been cut.
Cutting off the split ends or trimming the hair makes a huge difference as it can help the hair stay more aligned and look healthier. It is suggested that you go for a haircut every 4 to 6 weeks to keep your hair healthy. It will help maximize the effect of your automatic curling iron.
[ Read: 7 Best Curling Irons For Fine Hair ]
3. Picking the Right Shampoo is The Key
More time in the sticky heat simply means washing hair more frequently. But washing hair frequently can cause hair damage. In this case, the shampoo you are using plays a key role in maintaining the quality of your hair.
If you have dry hair, go for a nourishing shampoo and conditioner. Look for products formulated with oils or other ultra-nourishing ingredients. If you have normal hair, look up for products that rinse off the dust and grease easily without affecting the natural oil of your hair. You can always switch to natural products so that your hairs do not suffer much damage due to the frequent hair wash.
[ Read: How to Use Castor oil for Hair Growth ]
4. Take it Easy
Just offer your hair a break from blowouts and go for casual braids, ponytails, and buns this summer. Embrace the simplicity of summer by wearing your hair naturally and playing with the accessories. For instance, you can go for a low fishtail braid along with a headband in lime green or coral.
Even a messy and undone style will look awesome if your hair appears shiny and healthy. Just replace your styling cream with a conditioner to get more smooth and hydrated hair. Doing too much of styling during summer is going to damage your hair for sure.
[ Read: How Often Should You Condition Your Hair? ]
5. Do an Apple Cider Vinegar Rinse
You can also take a break from your shampoo and go for an apple cider vinegar rinse once in a week. The experts suggest that it can help balance the pH of your hair and scalp. This also helps in preventing product build-up and treats dandruff at the same time. Apple cider vinegar is a highly recommended solution by experts.
To easy apply it, you can buy a hair color applicator bottle from any store. It smells like salad dressing, so you can also add a few drops of your favorite oil and dilute the mixture with a little water. You are going to see the results in the first application only without any side effects.
[ Read: Apple Cider Vinegar Benefits for Your Hair ]
6. Ace Your Brushing Technique
Nobody likes tangled hair, so brushing is always necessary, but you cannot tear through your locks mindlessly. Brushing hair aggressively can cause damage to hair with fluffy split ends. To get shiny and untangled hair, just brush them twice a day.
Do not brush your hair from the roots rather brush from the bottom and work up. Do not comb while they are wet as they are more fragile and more prone to breakage. Comb your hair once they are dry using a wide-tooth comb. You can also use a serum to detangle your hair for easy combing.
[ Read: 7 Best Brushes For Wet Hair ]
7. Tone Down the Stress in Your Life
Stress causes you to figuratively or literally tear your hair out resulting in split ends. Stress is the enemy of a majority of the health problems of our life. Stress is also an enemy of thick and healthy hair.
So, go for meditation, yoga, walk, comedy gigs, boxing, gardening or sex – whatever destresses you – as far as it is legal. Work for a stress-free life to avoid any such problems and get healthy and shiny hair.
Do not wait until your hairs are damaged beyond repair. In the summer season, let go of perfect and sleek hairdos and instead go for a loose and natural look. Use the tips mentioned above and tricks to protect your hair from the sun without turning it into an endless battle.
Drink as much water as you can to keep your hair and body hydrated. Drinking 2 to 3 liters of water a day along with a healthy diet will also boost hair growth. Hope the tips mentioned above and tricks help you take care of your hair during this summer.
You Might Also Like: