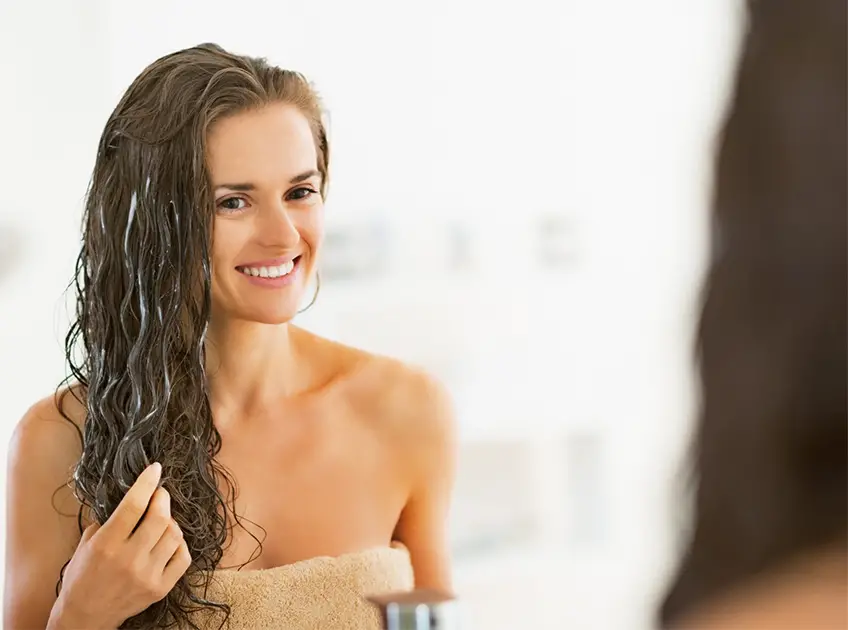 You may have enough knowledge that conditioning can impart you shinier, softer, and more manageable hair. But you might not aware of the types of conditioner and also how often it should apply it on the hair. Conditioning too much on your hair will increase the risk of greasiness conditioning very low will leads to dry and tangled hair. If you want to avoid these both problems, it is very essential to strike the right balance. Keep reading to know how should you condition your hair and also what works great on your hair type.
Types Of Hair Conditions That Make Your Hair Very Healthy
Having both shampoo and conditioner is significant to maintain the hair in a healthy and manageable way. To do this, you should find out what types of conditioner are best for the hair. Different conditioners are works great for several hair types and textures. Below are some different types of conditioners for you
1. Rinse Out The Conditioner
Rinse-out conditioner is the normal conditioner you can use after shampooing. It can be used for colored, damaged, or curly hair. To get a better result you must have this rinse-out conditioner, every time you wash your hair.
Although some brands may work superbly for you more than other products, detect the one which gives you the best results.
2. Deep Conditioner
When you are using a deep conditioner, keep it for a little longer than other conditioners, so that it will deeply penetrate into your hair follicles. You can leave it for nearly 5 min at the time of taking shower, after that you may have a thick conditioned feeling to the hair.
Deep conditioner highly helps to repair heavily damaged hair. You can use it once a week because it will hydrate the dehydrated hair and assist to get back your healthy hair.
There is no condition to apply the conditioner on the hair, it especially depends on your circumstances and also other different environmental stresses on your hair
3. Cleansing Conditioner
The cleansing conditioner is one type of conditioner and shampoo which have been made to wash and optimize the hair simultaneously. It will clean and condition the hair as well as they are usually lighter and it will not condition as deeply as like another conditioner.
Conditioners don't weigh the hair down, which is outstanding and they work excellent if you have oily type hair.
You can use this cleaning conditioner whenever you wash your hair, it may be two days once or once a week.
4. Leave In Conditioner
Name itself tell you about this conditioner, it will be left on your hair until you do your next hair wash. This conditioner type is mainly used to moisturize mild to very dry hair.
Try to have leave in conditioner once a week. But if you have dry, curly, or damaged hair, you should want to apply it often.
5. Conditioning Masks
Conditioning masks work greater than deep conditioners. Leave it for an hour or longer, so that this conditioning mask will work to saturate the follicles with moisture.
You cannot use it if you have fine or oily hair, because it will make it more oily than before. There are many types of conditioning masks available and you can make any of your choices at home.
How To Apply Conditioner To Your Hair?
The way you apply the conditioner will show you how well it works. You may think to apply all over your hair, but it will not help for persons with oil and fine hair because it will make their hair look weighed down.
On the other hand, very curly and coarse hair gets benefits from all-over conditioners.
Signs That Tell You Are Over Conditioning
While a conditioner can give advantages to your hair in lots of ways, you may tend to have certain things when you are over-conditioning. Symptoms include
I) Lack of buoyancy and volume
II) It will give you a greasiness feel
III) Grant excessive glossiness or shine
IV) Difficult to style the hair with heat
If you find any of the above symptoms, try to avoid the usage of conditioner. You can use it after you have the correct amount of buoyancy, shine, and smoothness.
Signs That Tell You Are Under Conditioning
Like you noticing over conditioning on hair, you can also find the under conditioning sign as well. Symptoms of under-conditioned are as follows.
I) Underconditioning leads to dry or brittle strands by which hair will break easily
II) Gives excessive tangling, frizz, and dullness
If any of the above signs are bothering means try to apply conditioner frequently as your hair needs. You can also use deep conditioning for the hair to help maintain the moisture.
Conclusion
Now you have read our guide and hope you can have a good idea of how often should you condition your hair. The amount that you condition the hair purely depends on your hair type. Understand your hair and give the best hair care routine for your beautiful hair.
You Might Also Like: