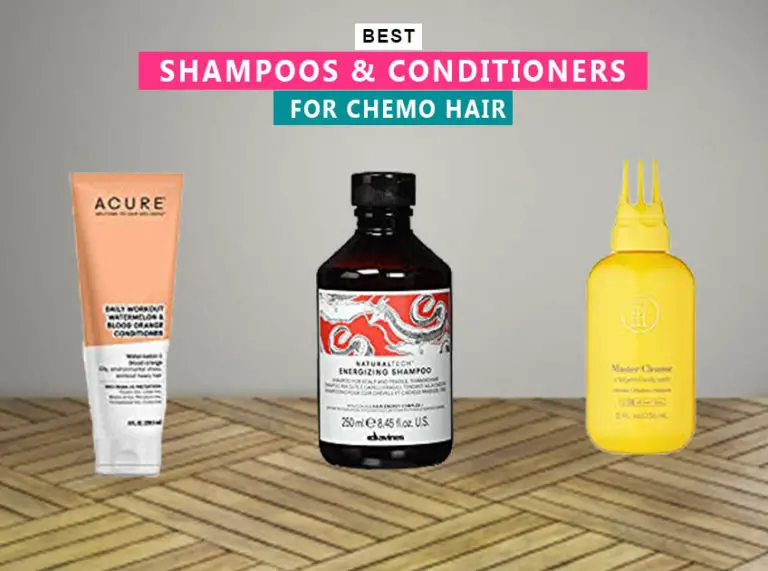 Loosing hair while undergoing chemotherapy is not uncommon. Hair loss happens due to powerful medications that attack rapidly growing cancer cells. Unfortunately, these drugs also attack other rapidly growing cells in your body, including those in your hair roots.
Even though chemotherapy may cause hair loss all over your body, not just on your scalp, the latter is affected the most. Therefore, the best shampoo and conditioner for chemo hair should strengthen the hair, make it appear fuller, and add moisture.
Shampoos And Conditioners
While selecting the best products, you should check price, suitability, and design. If the shampoo and conditioners are designed to make the strong hair right from the follicles and reduce the likelihood of it breaking, grab it.
Check out the best hair cleansing products for chemo hair and prevent hair fall.
7 Best Shampoos And Conditioners For Chemo Hair
1. Best for a caffeine shampoo: Davines Energizing Shampoo
It is best for dry, thinning, and breakage-prone hair
One of the major ingredients is caffeine
Helps increase circulation and improve hair elasticity
Stimulates hair follicle growth
Also, it contains peppermint oil, eucalyptus leaf oil, and citric acid
Free of parabens or sulfates
What We Don't Like: It has fragrance.
[ Read: 7 Best Shampoos For Hair Loss Men ]
2. Best for curly hair: Mielle Organics Babassu Conditioning Shampoo
It is one of the best shampoo for dry and curly hair
It helps strengthen and soften the hair
It is sulfate-free and devoid of other harmful chemicals
Best for natural hair types 3A to 4C.
Infused with babassu oil, almond protein, and hibiscus extract
It helps soften and strengthen the hair
What We Don't Like: It has fragrance. Also, it may feel too heavy on straight hair.
3. Best for itchy scalp: Alikay Naturals Essential 17 Growth Oil
Suitable for itchy scalp
Free of added fragrance and other harmful ingredients
Help reduce itching and stimulate hair growth
Infused with tea tree oil, rosemary oil, and horsetail powder
Strengthens the hair follicles to help stimulate hair growth
Reduces their dandruff and scalp irritation
What We Don't Like: It may irritate the scalp from the essential oils
[ Read: 7 Best Shampoos & Conditioners For Black Hair Growth ]
4. Best leave-in lotion for dry hair: Oyin Handmade Hair Dew
It is a leave-in lotion that conditions the hair
Adds moisture to the "kinks, coils, and curls" to prevent dryness and breakage
It is lightweight
Does not weigh the hair down
Infused with ingredients like castor oil, coconut oil, and olive squalane
What We Don't Like: It has added fragrance. Also, it is not suitable for fine and straight hair.
5. Best for a no-added-fragrance shampoo: Jupiter Balancing Shampoo
It is suitable for all hair types, including an itchy and dry scalp
The major ingredients are zinc pyrithione, coconut oil, squalene, and sugar kelp extract
Removes skin flakes and buildup while calming and moisturizing with essential oils
It helps reduce itchiness and dry scalp with antifungal properties
What We Don't Like: Not suitable for those with an allergy to coconut
6. Best for wig cleaning: TPH By Taraji Master Cleanse
It is suitable for dry and curly hair
It can be used on wigs and natural hair
Help reduce dandruff and ease itching
It consists of witch hazel, tea tree oil, and eucalyptus oil
Repair hair damage and replenish moisture loss
What We Don't Like: Too watery consistency and dries out the hair.
[ Read: 7 Best Shampoos For Synthetic Wigs ]
7. Best for a daily conditioner: Acure Daily Workout Blood Orange and Watermelon Conditioner
It is suitable for dry hair and daily use
The major ingredients are watermelon seed, argan oil, and arginine
Free from parabens, mineral oil, animal products, sulfates, and petroleum
It is the best for sensitive scalps
It is effective and comes at an affordable price
What We Don't Like: It may not moisturize the hair enough
Conclusion
These are the best and most effective shampoos and conditioners for chemo hair that will make hair stronger and prevent hair fall effectively. These shampoos and conditioners also address multiple hair issues and ensure long and healthy hair.
You Might Also Like: