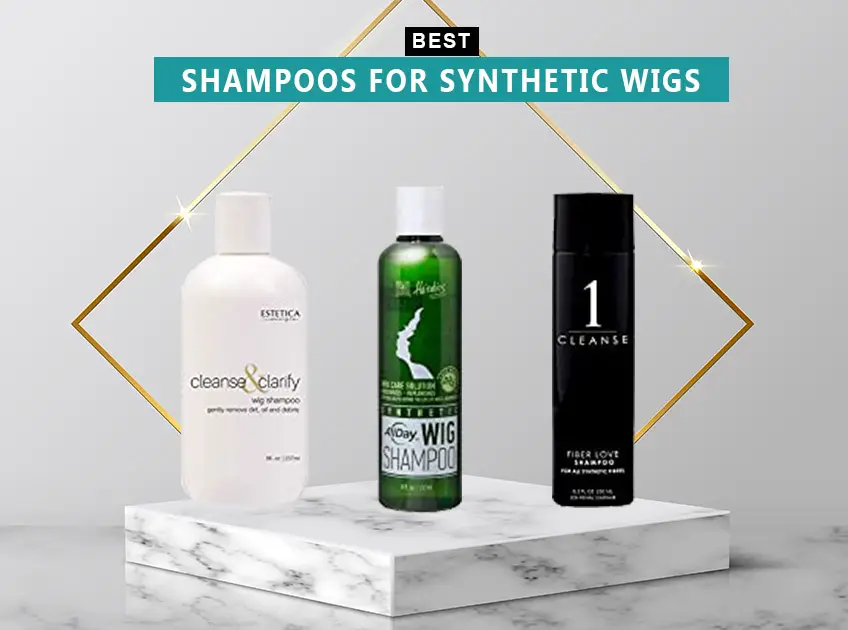 Wigs come to the rescue when you have less hair or a bald scalp. Besides, wigs also come in handy when you want a new hairdo and get a trending or stylish look. You may find different wigs with different hairstyles, made with synthetic or real hair.
Once you have a wig, you can use your hair styling tools to get straight, permed, wavy, or any other hairstyle with ease. At the same time, it won't disturb your natural hair.
The wig's only limitation is that it needs care and maintenance. Here, we are talking about wigs made with synthetic hair that needs TLC. It is when using the best shampoo for synthetic wigs that it helps. Proper care is the only way to main your wig last longer with shine and volume.
Synthetic Wigs
The best shampoo for synthetic wigs should remove the impurities and residues from the strands, maintaining their shine. It will help prevent hair breakage and hair loss too. If you are not able to find the best shampoo for the wig, check out the list below, where we have carefully selected the 7 best shampoos to make your search easy.
Using these shampoos will help maintain the look, feel, shine, and smell of the wig, keeping it fresh. Keep reading to know more about the products and pick your favorite one.
7 Best Shampoo For Synthetic Wigs
1. Best Volumizing: Awesome Synthetic Wig Shampoo [pH6]
It helps prolong the life of the wigs
With a pH value of 6, the shampoo prevents the wig from drying out
It imparts shine and texture to the wig
Also, it helps add extra volume to the wig
It has a refreshing formula that makes the wig look and feels fresh
What We Don't Like: It features an overpowering smell.
[ Read: 10 Best Drugstore Volumizing Shampoo ]
2. Best Affordable: Hairobics Unlimited All Day Synthetic Wig Shampoo
Removes all the build-up in the wig caused by environmental pollutants
Cleanses the wig gently
Formulated with coconut oil
Ingredients help to moisturize, purify, and revitalize the wig hair
It also retains moisture and gives an extra shine to the wig
What We Don't Like: Unpleasing smell.
3. Best Gentle Formula: Jon Renau Cleanse Fiber Love Shampoo
It gives stunning shine and bounce to the wig
Gentle formula handles the wig effectively, making it look and feel fresh
It is free of sulfates and parabens
Extends the life of the wig and prevents the damage
What We Don't Like: Fells slightly greasy.
[ Read: 10 Best Shampoo For Dry Damaged Hair With Split Ends ]
4. Best For Eliminating Build-Up: African Essence Control Wig Shampoo
A gentle formula that cleanses the wig
Removes excess oil and dirt effectively
It makes the wig soft and adds a beautiful shine to it
Revitalizes the natural look of the wig
What We Don't Like: It May feel slightly heavy.
5. Best pH-Balanced Formula: HairUWear Freshening Wash Cleanse Shampoo
It is a luxurious pH-balanced shampoo for wig
The gentle formula nourishes the synthetic hair effectively
It provides weightless moisture and shines on the wigs
Formulated to neutralize odors
It makes the wig smell and feel fresh
What We Don't Like: It is slightly greasy.
6. Best With Pleasant Fragrance: Estetica Designs Cleanse & Clarify Shampoo
Formulated specifically for synthetic and human hair wigs
Effectively removes dirt, oil, and debris from the strands
Make the wig look and smell fresh and pleasing
It gives the wig a beautiful shine and moisture
What We Don't Like: Some users do not like its strong smell.
[ Read: 5 Best Sulfate Free Clarifying Shampoo ]
7. Best Nourishing: Henry Margu Cleanse Shampoo
Formulated to cleanse and nourish wigs
Also, it helps with hair extensions
Effectively eliminates any kind of dirt or oil present in the wig
It has a gentle formula that refreshes the wig's hair
What We Don't Like: Unpleasing smell.
Conclusion
So, these are some of the best shampoos for synthetic wigs that are equally good for all types of synthetic hair and hair extensions. All these products are tried and tested on different wigs, and they have given outstanding results. So, start using them on your wigs for a refreshing transformation of them.
You Might Also Like: