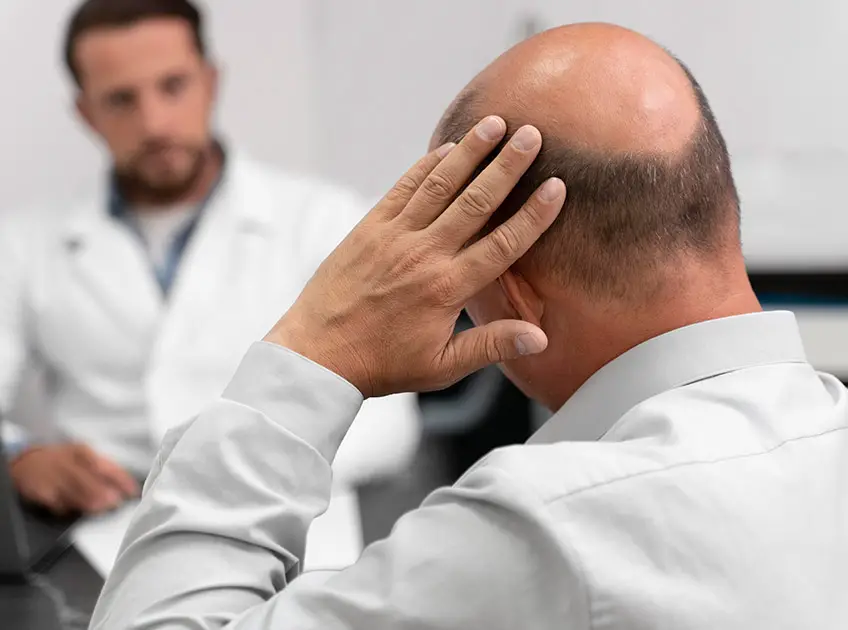 For everyone there is one question rolling around the head always, is it necessary for bald people to use shampoo on their heads? You may be one of the people thinking of this question. The answer is yes, bald people must use shampoo, and it is not to clean the hair, but to control the level of oil on the scalp. If you don't have hair on the head, you may tempt to use lotion or soap just like other parts of the body. Soap and lotion are said to be risky ones for bald heads, so going for the best shampoo gives you some calmness on the head. You must know why shampooing and caring for a bald head is very crucial and what role it plays?. The upcoming article is meant to guide you properly for your bald head.
How Important To Use Shampoo On A Bald Head
It is very significant to keep a bald head healthily. A bald head always needs some care and conditioning in order to keep the scalp good. In reality, lots of shampoos actually treat the scalp along with the hair. If you have a bald head you should keep in mind that using shampoo for the scalp is highly important. The scalp is covered by sebaceous glands which are used to secret sebum. Sebum is an oil and it is designed to keep the body skin moisturized. It is produced naturally in the body with the help of hormones as well as a slight influence of the environment.
You consider hot sunny days, even with SPF body will feel the sun's rays and start to dry out. In this case, sebum creation starts to keep everything hydrated. Hormone levels can vary the amount of sebum production in each individual whatever may your scalp type, you must aware of how to take care of your bald head.
Why Bald People Should Not Use Lotion Or Soap?
The drying nature of soap and lotion brings damage to the bald head because it even drier the scalp. Soap specifically has a particular pH balance and is mostly used from the neck down. The soap is designed to give a harsh clean and is suitable for skin but not for the head, especially for bald heads. Likewise, the lotion is designed to dry the skin and the head may feel smoother after applying the lotion, but glands and hair follicles won't receive any benefits. Which means the sebum level continues to rise because of drying and the lotion sitting at the surface ready to leave the scalp when it does then the oil is produced. This situation makes it even more oily than normal. In this case, the bald head scalp needs healing as well as oil-controlling elements like shampoo.
[ Read: 7 Best Shampoos For Hair Loss Men ]
What Does Shampoo Exactly Do For The Scalp?
Shampoo greatly helps to get rid of oil from the scalp. Excess sebum on a bald head is highly visible when no hair is there to prevent and cover it. The shampoo contains surfactants and sulfites content in which surfactants help to remove debris from the scalp such as dead and dry skin. Sulfites are chemicals that are meant to reduce oils in the scalp but it's nature of harshness can sometimes do harm than good. Most dermatologists recommending to avoid shampoo which contains sulfites in them. You may get sulfite-free shampoo easily nowadays and at a good price.
Types Of Shampoo That Helps Bald Head
Three different types of shampoo available that do some role in scalp management are as follows
1. Shampoo: As mentioned above, shampoo removes dead skin cells as well as oil from the scalp. But it is a must to use conditioner after taking a bath with shampoo.
2. Conditioner: Conditioners greatly work to treat scalp for bald heads. Most people who use shampoo regularly to maintain their bald head's health will go for leave-in treatment to promote a hydrated head. The fact is conditioner varies from shampoo because it is used to heal and treat than clear and clean the scalp of residue.
3. Hair masks: People with bald heads know the importance of hair masks. The hair mask is mainly used to clean the actual oil and residue in the hair. It is applied to the hair only and left for 20 to 30 minutes, then should wash with normal water.
Conclusion
Concluding that, bald people can generously use shampoo and it is a very pivotal thing for their scalp health. Bald head using shampoo and conditioner is said to be a good course of action. This allows them to give the bald head love as well as the occasional refresh it deserves. Keeping the scalp very healthy makes people with a bald head feel happy because nothing looks good than a clean and oil free head.
You Might Also Like: