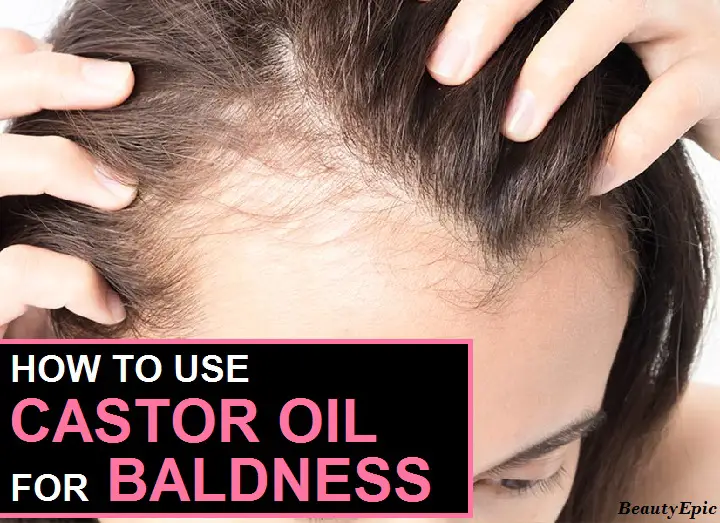 Baldness is a typical health conditions which causes excessive loss of hair from scalp. It is also known alopecia and observed by people of all ages. Here are some methods of using castor oil for baldness.
Does Castor oil Help Baldness?
Castor oil is known for stimulating the growth of new hair in hair follicles which behaves being dormant.(1)
It also supports in purging scalp DHT because of its antifungal nature.(2)
Scientific evidences are there that castor oil can help in preventing further loss of hair from the scalp.
How to use Castor oil for Baldness?
There are various methods of using castor oil and you can select any of them as per your convenience.
1. Castor oil and Coconut oil for Baldness
Coconut oil penetrates through hair scalp and helps in protecting scalp from all environmental impurities as well as excess heat. Existence of natural antioxidants as well as vitamin E and K and iron in coconut oil helps in hair growth and its re-growth(3)
Ingredients:
Coconut Oil
Castor oil
Jojoba oil
Preparation Time: 5 Minutes.
Procedure:
Mix all three oils and put in a bottle having dropler
Keep parting hairs and put drops of oil using the dropler
Massage oil to make it penetrate well and make the blood circulation smooth
Rinse the hair well using herbal shampoo
How it work: Regular use of this oil mix encourages the growth of hair from the dormant hair follicles.
Repetitions: Repeat it in 2 days gap for a month to see the effects.
Best time to Apply: Always before bath.
Tips: Condition your hair after shampoo.
[ Read: Benefits of Coconut Oil for Hair ]
2. Castor oil, Egg Yolk and Honey for Baldness
Eggs yolk are Rich in proteins, vitamins, as well as super-nourishing fats, which are considered best for making hair softer, healthier and also shinier. It supports in long hair growth. Honey helps in hair moisturizing.
Ingredients:
Castor Oil
Egg Yolk
Honey
Preparation Time: 10 minutes.
Procedure:
Take 1 tablespoon of castor oil
Mix the oil with 2 eggs Yolk
Add 1 tablespoon honey in it and prepare a mask
Now apply the mask covering all your hair and scalp
Cover it with shower cap and leave for 30 mins
Wash your hair using herbal shampoo
How it work: This mask rejuvenates the scalp and helps in re-growth of hair.
Repetitions: Apply mask once weekly for hair restoration and growth.
Best time to Apply: Before taking bath.
Tips: Do not use a dryer for hair drying let it dry natural under sun.
[ Read: How to Use Tea Tree Oil for Hair Growth? ]
3. Castor oil and Olive oil for Baldness
Olive oil helps in moisturizing effect the scalp and nourishes it. It can prevent growth of dandruff, which can be one of the causes for hair loss.(4)
Ingredients:
Preparation Time: 5 Minutes.
Procedure:
Take 3 spoon of Castor oil
Mix it with 1 spoon of olive oil
Make this mix little warm
Massage your scalp and hair roots with this mixed oil for about 5 mins
Leave it for 20 mins
Now shampoo and pat the hair dry
How it work: It nourishes the scalp and moisturizes it to remove scalp dehydration, making it healthy for hair growth.
Repetitions: Follow it 2 to 3 times a week for a month.
Best time to Apply: Before bath or before bedtime if you can make early morning hair wash.
Tips: Condition your hair using good conditioner.
The above treatments are perfect for mild hair loss or for people who are at the initial stages of hair loss. It helps in re-growth and growth of new hair.
Scientific Evidence:
You Might Also Like:
Image:- 1