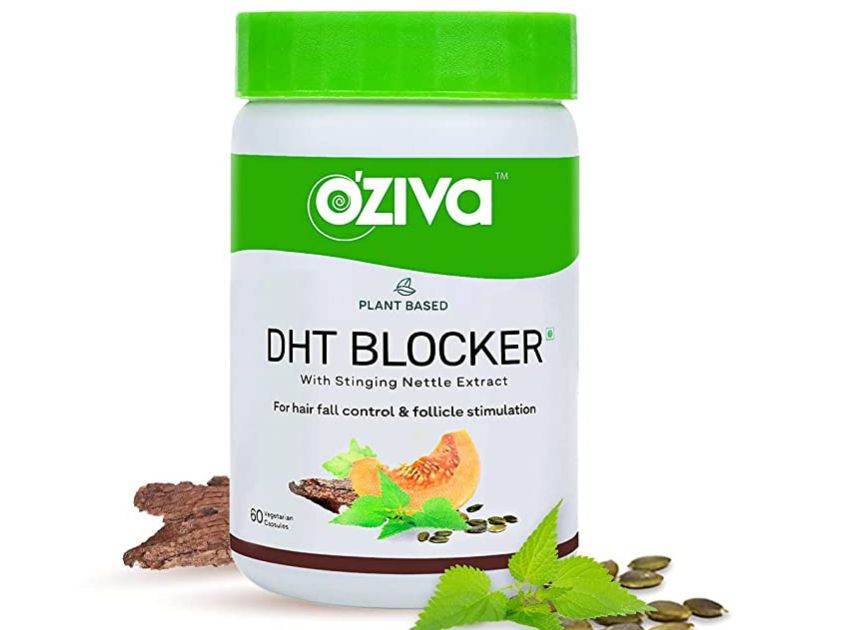 Gone are the days when women used to have healthy, lustrous, and shining hair until they got too old. Today, multiple factors contribute to hair loss and receding hairline at a young age. Hair loss or baldness, which was once used to be common among men, has become a major concern among women too.
In the struggle to get voluminous hair and prevent hair loss, people use several hair care products lesser, knowing the fact that chemicals present in them do more harm than help. Therefore, it is time to switch to plant-based products that contribute to healthier and stronger hair and something that can prevent hair fall.
Today we will review Oziva Plant-Based DHT Blocker, which commits to preventing hair loss with all herbal and natural ingredients.
Product Review
Oziva DHT Blocker works naturally to prevent the hair follicles from shrinking and thus promoting hair growth. It has plant-based ingredients like pumpkin seeds, pine bark, stinging nettle, beta-sitosterol- everything that promotes healthy hair growth.
There are 60 capsules in a bottle that needs to be taken once every day to see the effectiveness of the product. One bottle is sufficient for two months. It is advised to take the capsules for at least 3 to 4 months, so you have to buy two bottles at a time.
Since there is no soy, artificial sweeteners, or preservatives, you do not have to worry about the side effects. Also, it is certified clean by US CLP & Certified Vegan by Vegan Society of UK.
Product Description
DHT, Dihydrotestosterone, is a hormone that is believed to contribute to hair loss in both men and women when produced by the body in excess. However, there are a few components in nature that help to block DHT and thus prevent hair fall.
The powerful combination of plant-based ingredients like pumpkin seeds, stinging nettle, and pine bark in Oziva DHT Blocker stimulates blocking DHT and prevents hair follicle shrinking. It also reduces the chances of receding hairline and baldness.
The capsules make the hair stronger right from the roots as it works on the culprit behind hair loss- the DHT. It promotes hair re-growth and fights off the issues that lead to progressive baldness. Additionally, over time, the hair cycle gets prolonged.
NUTRITION FACTS
Every ingredient in this product is natural. The extracts of seeds and barks of trees that produce DHT blocker is utilized to deliver the benefits. The major components of Oziva DHT Blocker capsules include-
Pumpkin seeds– The presence of phytosterols helps to keep the hair healthy. Additionally, they are known to block DHT production and thus promote healthy hair growth.
Stinging Nettle– DHT, when produced in excess, can damage hair follicles. Stinging Nettle, with its tendency to produce DHT blocker, prevents follicles from shrinking and thus boosts hair growth.
Pine Bark– Pine is loaded with antioxidants that halt aging and keeps the skin and hair healthy. It makes the hair stronger from the roots and promotes healthy hair growth.
WHAT WE LIKE
It is vegan and therefore suitable for all.
The capsules are soy-free and contain non-GMO components.
There are no added preservatives and artificial sweeteners.
WHAT WE DON'T LIKE
One needs to take one capsule every day for at least three to six months to see the effectiveness of the product.
The results are not immediate and take time.
HOW MUCH DOES OZIVIA DHT Blocker COST?
The regular price of Oziva DHT Blocker is Check Here. Make sure you buy Oziva products from reliable sources like its website or Amazon to avail the benefits of the sale.
ALTERNATIVE PRODUCTS
Conclusion
When the problem of hair fall is not subsiding even after using different methods, giving a try to Oziva DHT Blocker is not a bad idea. The reason behind it is the presence of all-natural and plant-based components that will not have any side effects.
However, be prepared to take the capsules for at least three months to get the desired results. Since there are no chemicals, there is no harm in giving it a try.
Read More