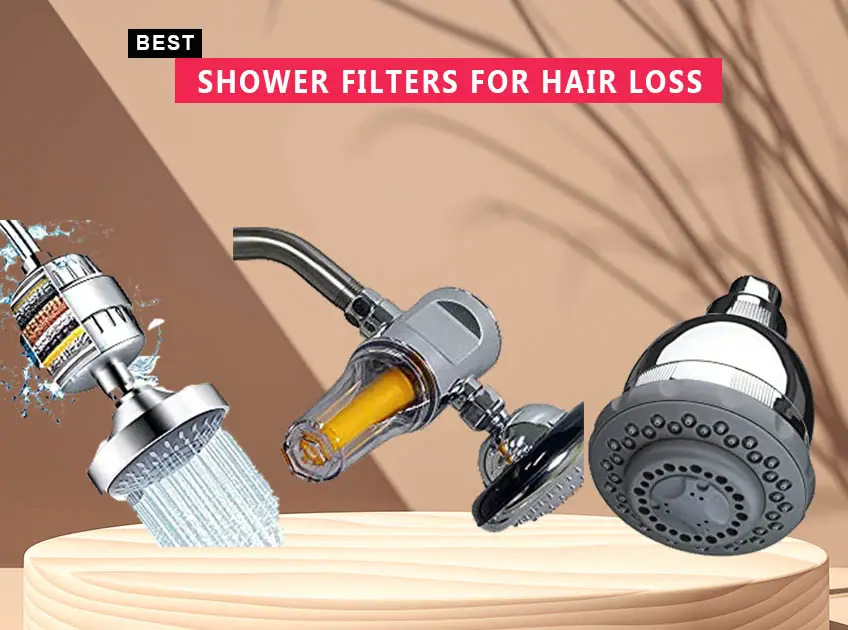 Hair loss can be frustrating, especially when it can be prevented. The chemicals some municipalities put in water or some of the contaminants found in well water can be tough on skin, hair, and nails.
Investing in a shower filter can not only prevent hair loss but also restore your hair to its healthiest self. If you ever feel grimy, dry, or just not clean after a shower, it could be a chemical such as chlorine that is drying out your hair, skin, and nails.
Shower Filters
There are a handful of options when choosing the best shower filter for hair loss, and you will likely find multiple designs that will work for you. Check out our product reviews of the best shower head filters for hair loss, as well as a buying guide to help make your decision easier.
10 Best Shower Filter For Hair Loss
1. AquaBliss High Output Universal Shower Filter
This shower head filter effectively removes harmful chemicals and minerals from your water, such as chlorine, trihalomethanes, sediment, scale, and many others. Removing these contaminants can help with hair, nails, and skin health.
The filter has seven stages of filtration, including a sand filter, ultra-fine stainless steel mesh, micro-porous PP cotton, calcium sulfate, redox media, activated carbon, and another layer of micro-porous PP cotton.
The cartridge should last about six months unless you have hard water or well water, in which case it might need to be replaced more often. The filter is made of chrome and will work with all types of showerheads.
Why We Love It: This shower head filter is easy to install and works with all types of showerheads. It can work with well water as well as municipal water.
Keep In Mind: If you live somewhere with bad water or have well water, you will have to change the filter cartridge more often, possibly even every month.
[ Read: 7 Best Shampoos And Conditioners For Chemo Hair ] 
2. Shower Filter – Hard Water Chlorine Remover
This shower filter is made of chrome and has an extensive filtering system in a small package. When installed on a showerhead, you barely notice it, yet it can remove heavy metals, chlorine, bacteria, and other chemicals.
Using this showerhead filter regularly can help prevent hair loss, dry skin, and irritation. It is great for hair that is colored as well as hair that is not. The reduction in hair loss will be noticeable after using the filter for just a short time.
Why We Love It: This filter has a universal fit and can be installed in minutes. It will also not affect your water's flow rate and can work with both hot and cold water.
Keep In Mind: Ideally, the filter should last about six months if you have hard water or well water, it could be significantly shorter.
[ Read: What Does Chlorine Do To Your Hair ]
3. Culligan WSH-C125 Wall-Mounted Filtered Shower Head
This is a filter that is built into a showerhead. So, to use it, you will have to replace your showerhead. It has a chrome finish and has a flow rate of two gallons per minute. The showerhead itself is high quality with five different spray options and anti-clog nozzles.
When the filter cartridge needs to be replaced, it is simple to unscrew the showerhead's head, pop out the cartridge, and replace it with a new one. Not only is this showerhead great for hair, nails, and skin, it will also prevent scale or discoloration from happening in your shower.
Why We Love It: A replacement cartridge is included with the kit. In addition to reducing hair loss, it will also reduce scale build-up in your shower.
Keep In Mind: You will have to replace your shower head as this filter is in the showerhead itself. There is only one option for the type of shower head you receive.
[ Read: 5 DIY Natural Hairspray Recipes For All Hair Types ]
4. 15 Stages Shower Water Filter With Silver Layer
This filter has fifteen different filtration layers that include but are not limited to calcium sulfite, silver balls, activated coconut carbon, and KDF-55. This combination of filtration media is extremely effective and has been proven to filter out harmful chemicals from hot or cold water.
One of the biggest assets to this shower filter for hair is that even though there are so many filtration levels, it still outputs 2.5 gallons per minute, which is the standard water pressure for a showerhead.
Why We Love It: The manufacturer is extremely thorough in its explanation and transparency with the filter. It has fifteen stages and yet does not reduce water pressure in the shower.
Keep In Mind: This will lower your shower head by several inches when installed, so if you have a showerhead that is already low, be aware of that possible issue.
[ Read: How to Get Shiny Hair Naturally at Home ]
5. Water Softener Shower Head – Hard Water Filter
Similar to the Speakman brand, this is a showerhead water filter that not only filters the water but softens it too. If you have hard water or well water, this is a great option. The filtration and softening cartridge are in the showerhead itself, so you will need to replace whatever showerhead you have.
This filter softens hard water and also removes fluoride and chlorine from the water, which will protect your hair, skin, and nails and help prevent hair loss. If you have hard water, you might even feel the effects of this filter immediately.
This product comes with two replacement filters and a 1-year warranty, which many similar filters do not offer.
Why We Love It: Not many water filters for hair loss prevention come with a warranty, but this one has a full-year warranty included. It also comes with two replacement cartridges.
Keep In Mind: If you have a showerhead you like, then you will have to give it up if you choose this showerhead.
[ Read: How to Protect Your Hair From Hard Water ]

6. PureAction Vitamin C Shower Head Filter with Hose & Replacement Filters
One of this shower head water filter's major assets is it comes with a 60" hose. This is great for people with families or even pets who need to move the showerhead around. Additionally, the shower handle is clear so that you can see the filtration beads at work.
The system has a 1-year warranty and will remove heavy metals, odors, chloramine, chlorine, and chloride, all of which can be harmful to your skin, hair, and nails. It also comes with three different aroma filters, jasmine, rose, and lavender, which can freshen the water even more.
Why We Love It: This showerhead water filter and softener comes with a 60" hose to be used as a shower want and not just be fixed to the wall.
Keep In Mind: The different filtration aspects need to be replaced at different times, making it more to remember and maintain.
[ Read: Essential Oils for Hair Loss ]
7. Aquasana AQ-4100 Deluxe Shower Water Filter System
This is an all-in-one showerhead and filter. There is an option to get a shower head with a hose attached to it as well if you prefer. The Aquasana AQ-4100 uses copper, zinc, and coconut shell carbon to filter out chlorine, lead, VOCs, and pesticides from water.
The filter has a 1-year warranty, and the cartridges need to be replaced about every six months. Filtering out the contaminants above can help make your hair softer and healthier. This filter will not reduce the water pressure in your shower.
Why We Love It: This showerhead has a unique and effective design. It comes with a 1-year warranty and has multiple purchase options, including one with a hose.
Keep In Mind: The replacement filters are fairly expensive and need to be replaced every 6 months. The filter itself does not look very modern.
[ Read: How to Detox Your Scalp for Healthy Hair at Home ]
8. Vitamin C Filter Inline Shower Assembly By Sonaki
This filter system is unique. It will work with your current showerhead but is designed to be horizontal, so it will not lower your showerhead's placement by much. This filter specifically removes chlorine and chloramine, two of the most damaging chemicals in the water.
The kit comes with a wrench for installation and two extra filters, which are a great bonus because they have a slightly shorter lifespan than some other similar filters on the market. This filter has a modern design and is clear around the filter to see the filter cartridge.
Why We Love It: A lot of times, adding a water filter to a showerhead will lower its height by several inches. However, this system will keep your showerhead at the height it is installed.
Keep In Mind: The filters need to be replaced more often than some other options, sometimes as often as every other month.
[ Read: 16 Effective Tips For Healthy Hair ]
9. 15 Stage Shower Filter – Shower Head Filter
This is a high-quality filter that will soften your hair and help prevent hair loss. You will likely also feel benefits on your skin and nails. The filter has 15 different stages; all meant to remove contaminants from water.
This filter is focused mainly on chlorine, so it probably won't be as effective on hard water. It reduces chlorine by about 80 to 90%. Every time you use the filter, the percentage will decrease a slight amount.
The filter cartridge should be replaced about every four to six months. A benefit to this filter is the replacement cartridges are reasonably priced and very easy to replace. Tools are not needed for either the installation or replacing the cartridge.
Why We Love It: This is a nice filter that doesn't require you to switch showerheads. It can just be installed on whatever you currently have.
Keep In Mind: It does not remove as much chlorine as some competitors, only between 80% and 90%. That percentage decreases as the filter cartridge ages.
[ Read: 7 Best Shampoos for Hair Smoothening ]
10. High-Pressure Shower Filter Combo
This is a very functional filter and showerhead. It has fifteen stages packed in a fairly small package and is very nondescript. The showerhead itself is modern-looking and high-quality. The system comes with a lifetime guarantee.
The filter removes chlorine, algae, metals, and other toxins from the water to help prevent hair loss and restore your hair to a healthy level. The filter needs to be replaced every four to six months depending on usage.
Installation is simple and requires no tools. Additionally, when you are replacing the filter, you do not have to disassemble the system, simply take off the top and replace the filter.
Why We Love It: It is always nice to get a lifetime guarantee on a product, especially one that pertains to your health. Additionally, the filter will last for four to six months before needing to be replaced.
Keep In Mind: The nozzles are microscopic and can almost feel like the water is stinging you if you have high water pressure. There are adjustments that can be made, though.
[ Read: Remedies for Alopecia Hair Loss ]
Shower Filter For Hair Loss – Buying Guide
Many of the shower filters that will help with hair loss look pretty similar, but many of them have subtle differences that may set them apart in your decision-making process. Every home and need is different, so finding the right shower filter is a must, and there is no one size fits all solution.
We will be exploring some different considerations that might affect your decision and the standard types of water filters that can help prevent hair loss. By the end of this buying guide, you should have a good idea of the type of filter you want and possibly even the exact one you are hoping to purchase.
Considerations When Trying to Find a Shower Filter
Type Of Water
One of the biggest considerations that need to be taken into account is your type of water. Not all shower head filters are designed to handle hard water or well water. Companies are usually straightforward with this information.
If you have well water or hard water and use a filter not equipped to handle it, two things might happen. The first is the filter will be completely ineffective from the start, and the water will ruin it. The second is that the filter cartridge's life will be significantly decreased, meaning you have to replace it more often.
Some systems act as both a water softener and a filter and some systems are just hardy enough to handle well water. It is definitely necessary and can save a significant amount of frustration and money to find a water filter to handle the water you have.
Chemicals Reduced Or Removed
If you have municipal water, most showerhead filters should work for you. The second biggest consideration is to compare the chemicals that your municipality adds into the water or contaminants that are known to be in your well water with the chemicals that the filter reduces or removes.
If you have municipal water and get a filter that does not remove a chemical that your municipality adds in, it probably won't be very effective. The big chemicals that are added are usually chlorine or chloramine and fluoride.
Well water tends to be high in iron, which can not only cause damage to hair, skin, and nails but also cause the scale to build upon your shower walls and around your plumbing. Knowing what the filter you choose removes and how much of it can be key.
Some filters will only remove 80% or so of chemicals such as chlorine. For some people, that might be perfectly sufficient and help prevent hair loss, but for others, such as those with sensitive skin, it might not be enough.
[ Read: 11 Best Home Remedies To Control Hair Fall Naturally ]
Design Of The Filter
A third major consideration to think about is the design of the filter and its components. All of them on the list above and most of their competitors are extremely simple to install and can be done without tools or maybe just a single tool and in under twenty minutes.
So it is not necessarily important to worry about installation, but the physical design of the filtration system could make a difference. Some of the filters are a showerhead with the filter media in the showerhead itself.
For this type of filter, you would need to replace your showerhead. These are easy enough to screw and unscrew, so if you rent, it should not be a big deal to swap out the showerheads; however, if you like the showerhead you have, you may not be willing to give it up.
In that case, some filters go in between the showerhead and the wall. These are also simple to install and can be a great option for those who love their current showerhead and don't want to replace it.
The biggest downside to this type of filter is that most of them will lower the showerhead's height. Some of them are pretty minimal, but some can be up to about three inches. If you are tall and are already short on space in the shower, one of these shower filters could make life interesting.
[ Read: Top 5 Reasons and How to Treat Hair Loss at Early 20's ]
Hose Or No Hose
Something else that should be discussed is whether or not you want a hose on your shower head. This can be a detail that is overlooked. If you have kids, pets, or just like to use the wand, you might be limited to the filters that will work with it.
Some of the filters have a want option or come standard with the hose. These are probably the best options to ensure it will work; however, many of the installed filters between the showerhead and the wall will work as well.
Cartridge Replacement Timeline
The timelines for replacing the filters vary pretty significantly. Some filter cartridges or media need to be replaced as often as once a month; others can last up to a year. It is critical to do a quick cost analysis on how much you will spend each year on cartridge replacements.
Several of the above options come with a replacement cartridge and sometimes several. These are great perks to purchasing certain filters as it means you do not need to remember to purchase the filters right away.
You should consider cost and think about how likely it is you will remember to change the filters. Once a year or every six months doesn't seem like a lot to remember, but it can be straightforward to forget.
Filters such as these usually will clog up or slow the water pressure when it is time for them to be changed, though, so keeping an extra cartridge on hand can be a safe bet. You may also be able to feel a difference in your skin and hair's softness if the filter has stopped working and needs to be replaced.
This is a pretty solid list of considerations that should guide you to an educated decision when looking for a water filter to prevent hair loss. Many of these filters will help your skin and nails and possibly even make cleaning your shower easier.
Frequently Asked Questions (FAQ's)
1. Does it matter what % of chemicals are removed in a showerhead?
If you have sensitive skin or hair, you might want to look for something in the 99% range, but if you are just looking to improve your water and your hair's health, then anything above 80% removal should be sufficient.
2. What if I want a hose on my showerhead?
Many of the market filters are compatible with a hose; you just need to look a bit closer to ensure it will work.
3. Will showerhead filters work with well water?
Not all of them will be strong enough to handle well water, but some act as a softener and filter. These are great for those with hard water or well water and will usually significantly reduce iron and other contaminants.
Having a shower filter can significantly increase your hair and skin's health and even prevent hair loss. You will feel cleaner and better, leaving the shower instead of feeling like you barely showered at all.
Our top pick is the Wassa high-pressure filter that has a lifetime guarantee and checks many boxes on our list of what makes a great filter. It is a filter that can work for many different people and is very efficient and effective in its filtration process.
It is important to remember to find a filter that works for you. Even if you purchase a great filter, you will not be satisfied if it doesn't fit into your life or fit your needs. Remember to be picky and consider options before making a decision.
You Might Also Like: