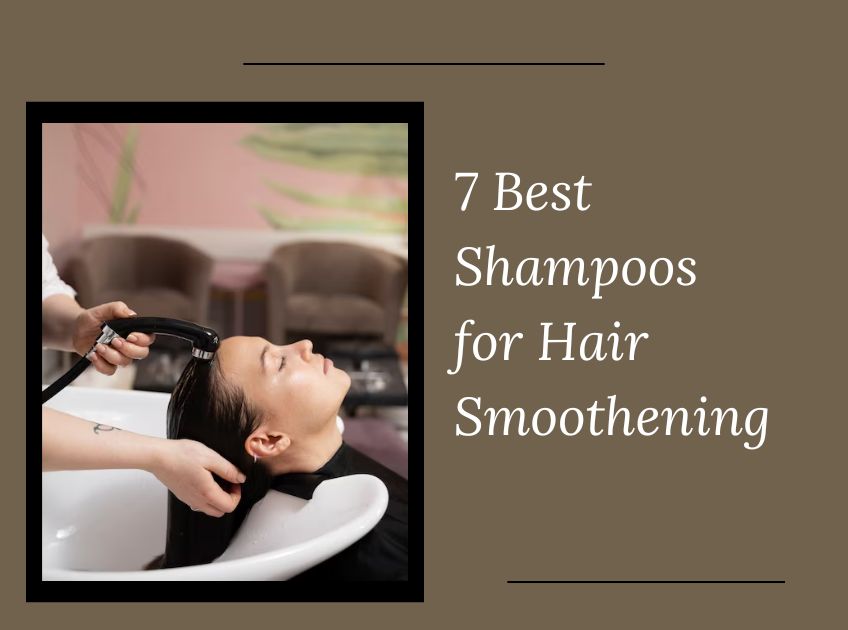 Who does not want that flowing smooth, shiny, and soft texture in their hair? It is these aspects that also make up our appearance and confidence when we step into an interview, party, or just casually meet a friend. Somehow when we have that fresh smooth hair, we never feel the need to be coy, it naturally helps us ooze confidence.
Hair Smoothening
But with a market flooded with each and every brand claiming to help smoothen your hair, it can be perplexing to reckon which shampoo to choose. It can be tiring to go through every ingredient, ethical practice, and many other facts counting in. So how can you choose what you need based on your preferences to achieve that smooth, fresh locks?
Take a look at this curated list of smoothing shampoos, so you can understand your preference and choose what you like. Happy hunting!
7 Best Shampoos for Hair Smoothening
1. Brand value: L'Oreal Paris 6 Oil Nourish Shampoo
It is every girl's best friend thanks to its combination of three conventional oils and three unique oils.
Provide you with beautiful, silky hair, these micro-oils—namely almond, coconut, argan, jojoba, olive, and camelina oils—are combined.
It smoothens and softens hair, requires little product, controls frizz, and enhances hair texture.
All hair types can benefit from the deep nourishment and care that is provided to the scalp by this product.
What We Don't Like: It does leave a greasy texture on the hair making it look oily.
2. Professional's Choice: TRESemme Expert Selection Keratin Smooth Shampoo
It will make every hair strand look delightfully silky, soft, and shining, and it promises to prevent frizz for three days!
It contains keratin protein, which fights dryness and quickly offers you manageable hair, as well as argan oil, which adds shine and tames rebellious hair.
You can use it to get hair that is velvety smooth yet has plenty of natural movement.
ideal for color-treated hair and soft enough for daily
What We Don't Like: You need to wait for quite some time for this to take effect.
[ Read: 7 Best Shampoos For Keratin Treated Hair ]
3. From Morocco with love: Herbal Essences bio renew Argan Oil of Morocco Shampoo
Natural argan oil from Morocco is added to gentle shampoos which helps to restore smoothness to hair.
It works wonders to make the hair softer and is a fantastic source of antioxidants and Vitamin-E.
It is free of chemicals like sulphates and parabens and could strengthen hair by mending broken strands.
It is safe for all hair types, including coloured hair, and it may be useful in defending the tresses against UV and styling-related harm while enhancing softness and lustre.
What We Don't Like: It may lead to dandruff for some people.
4. The Brazilian Therapy: OGX Ever Straightening + Brazilian Keratin Therapy Smoothing Shampoo
It is enriched with coconut and Brazilian keratin proteins, which support hair strength and shine restoration.
There are numerous natural oils in it, such as aloe leaf extract, avocado oil, and coconut oil.
It is made without parabens and is also made without using any animal products, making it an incredible value for anyone shopping on a budget.
What We Don't Like: Its results take time to reflect.
[ Read: How to Straighten Hair with Coconut Oil ]
5. Overall Value: Schwarzkopf Bonacure Smooth Perfect Shampoo
It is designed specifically for stubborn hair with unruly and difficult-to-manage locks.
This shampoo effectively smoothens and eliminates frizz from your hair thanks to Bonacure technology.
It gives your hair a healthy and soft texture while the amino cells in it work to rebuild the elasticity and strength of your hair from the inside out.
It is incredible because it is made without parabens and without using any products from animals.
What We Don't Like: It is pricer than others.
6. Paraben and Silicon free: Biolage Smooth Proof Shampoo
This is the best option if you are looking for silicon- and papraben-free shampoo for your hair.
Its formula shields the sleekly polished hair in a barrier while controlling humidity and preventing frizz.
It detangles, manages frizz, and protects hair that has been polished to a shine from humidity.
Without adding weight, it offers the highest level of smoothness and shine.
What We Don't Like: It contains SLS which may not suit everybody.
[ Read: 7 Best Shampoos for Humidity ]
7. For curly hair: Briogeo Farewell Frizz Smoothing Shampoo
Its formula contains rosehip, argan, and coconut oils which deeply nourishes the scalp for shiny hair.
Coconut oil penetrates the hair shaft to nourish and mend it from within, while Argan oil delivers deep conditioning to restore lustre.
Its farewell frizz formula is a standout that controls the fluffy, flyaway hair brought on by the humidity.
It is colour safe, removes excess oil and impurities from the hair, moisturizes it, and blocks humidity that causes frizz.
What We Don't Like: It does not lather up well.
Conclusion
Determine your hair type before purchasing a shampoo to achieve silky, smooth hair. Look for elements like proteins, keratin, almond, argan, and shea butter, as well as cocoa and shea butter. Today's market is flooded with shampoos that promise to make your hair softer, smoother, and simpler to manage. Some of these shampoos have the capacity to enhance the texture of hair while thoroughly cleansing the scalp. Keep a dermatologist's phone number handy in case you ever have any skin-related difficulties.
You Might Also Like: