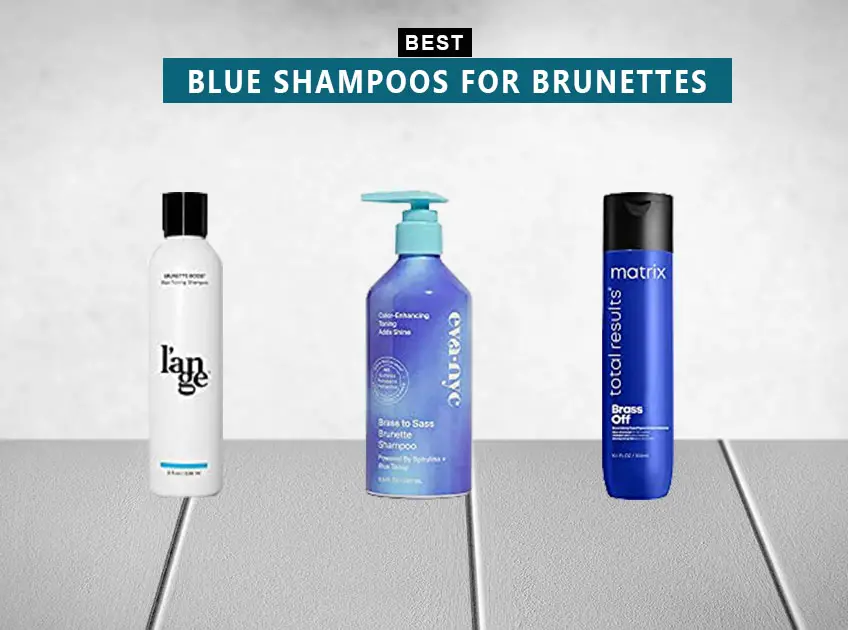 Blue shampoo doesn't mean that it will turn the hair blue, but it fights the brassy or orange hair tones which make the brunette hair less lustrous. Just like purple shampoo, blue shampoo can help in enhancing the brightness of blonde hair by counteracting the orange tones of brown hair. When using ultra-pigmented shampoos, use gloves to avoid staining your hands and lather them into damp hair. Letting it sit for some time based on the effect you want.
With a good blue shampoo, you can improve the hair colour quality between your salon appointments, with the least effort.Brunettes can use balayage, ombré, sombré, and classic highlights for adding a dimension to their hair by lightening the brown shade.
Blue Shampoos
If you are looking for a product that can provide amazing results for your brown hair, here we have got you covered. Read on to check out the best blue shampoos for brunettes, to avoid rushing to the salon for frequent touch-ups.
7 Best Blue Shampoos For Brunettes
1. Not Your Mother's Triple Threat Brunette Shampoo And Conditioner For Boosting Shine And Keeping Hair Moisturised
Why Do We Like It?
Keeps hair moisturised and shiny.
Blue tansy oil has been infused in the product to reduce brassiness.
Deep blue pigment tones and maintains brunette hair colour or highlights.
The blue conditioner has a nourishing and conditioning effect.
It has an amber woody scent.
Free from silicones, parabens, phtalatae, and gluten.
Vegan and cruelty-free.
What Do We Dont Like?
The effect of the blue tone could have been better.
[ Read: 7 Best Shampoos & Conditioners For Chemo Hair ]
2. dpHUE Cool Brunette Shampoo that also strengthens hair
Why Do We Like It?
Cleanses but doesn't strip the hair.
Keeps the hair moisturised.
Neutralises the unwanted red and brassy tones.
Makes the hair soft and shiny.
Strengthens the hair.
Free from glutens, and sulphate.
It is cruelty-free
What Do We Dont Like?
The lather formation could have been better.
3. L'ANGE HAIR Brunette Boost Blue Toning Shampoo that creates the best lather
Why Do We Like It?
The gentle cleansing formula forms a rich lather.
Nourishing shampoo.
Neutralises the brassy tones.
It is cruelty-free.
What Do We Dont Like?
It leaves behind a residue.
Contains sulfate.
4. MATRIX Blue Shampoo for colour-treated hair
Why Do We Like It?
Neutralises unwanted warm tones and creates a cool-toned finish.
Refreshes the hair.
Comes with a vanilla-rose fragrance.
It is sulfate-free
What Do We Dont Like?
Not suitable for brunettes with sensitive skin.
Not cruelty-free.
[ Read: 7 Best Sulfate-free Shampoos For Curly Hair ]
5. Eva NYC Brunette Shampoo for soft hair
Why Do We Like It?
Softens hair.
Forms enough lather.
Reduces brassiness.
It is sulfate-free.
The pump bottle ensures the convenience of use.
It is Cruelty-free.
What Do We Dont Like?
Fine-haired individuals will find it too heavy.
6. Joico Color Balance Blue Shampoo for removing brassiness and repairing brittle hair
Why Do We Like It?
Reduces brassy and orange tones.
Suitable for lightened brown hair.
Strengthening the hair.
Has amazing ingredients like arginine, rosehip oil, and keratin.
It is cruelty-free.
What Do We Dont Like?
The price is on the higher end.
Not sulfate-free
[ Read: 7 Best Shampoos For Keratin Treated Hair ]
7. John Frieda Blue Shampoo and conditioner for reducing brassy tones in brunettes
Why Do We Like It?
Eliminates warm undertones.
Makes the hair shiny.
It results in a cooler, bright colour scalp.
The shampoo is sulfate-free.
What Do We Dont Like?
Hands can get stained by using it, without any gloves.
Not cruelty-free.
[ Read: 7 Best Shampoos for Shiny Hair ]
Conclusion
Blue shampoo has a different effect on different types of hair, especially when your hair is colour-treated, dry or bleached. Those with chemically processed hair can overuse the blue shampoo for better blue tinting rather than just toning. The best idea is to start slow and see how it goes with your hair. For dry hair, make sure to use a good hydrating deep conditioner after using the blue shampoo, for better nourishment.
Investing in a good blue shampoo and using it 2-3 times a week can result in beautiful bluish-toned hair. Check the ingredients, especially if you have sensitive skin, so that they can nourish the hair and provide desired results without irritating it. Those containing amino acids, vitamin E, soybean oil, keratin, argan oil, avocado oil, and green tea extract are excellent for healthy hair.
You Might Also Like: