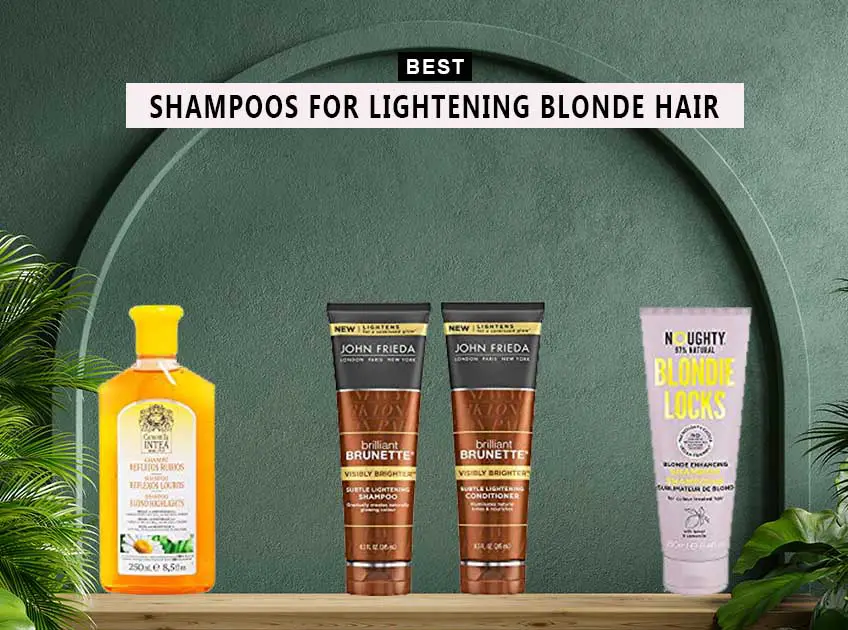 Color treatment exposes hair to a lot of harsh chemicals that lead to damage. Therefore, it becomes essential to use shampoos that can repair this damage. However, while using the shampoo, you need to be mindful as one wrong product can affect hair quality drastically.
If you have recently colored your hair blonde and the results didn't come out as expected, you need to use the best shampoo for lightening blond hair. It is essential that the shampoo does not strip off the strands' moisture and lock it in to prevent further drying.
Lightening Blonde Hair
You can find multiple shampoos that are formulated to remove and lighten the artificial color of your hair gradually. It lightens the color by neutralizing the pigments and reducing yellowish and brassy tones from your hair. Lightening shampoos are a great investment, and they offer numerous benefits.
If you are not able to find the best shampoo for lightening blonde hair, check out the list we have shared. All the shampoos we have listed are of high quality, lightening blonde hair and delivering astounding results.
Keep scrolling!
7 Best Shampoos For Lightening Blonde Hair
1. Best for Honey Blonde Hair: John Frieda Go Blonder Lightening Shampoo
Citrus and chamomile are the two active ingredients
Chamomile is a natural lightening agent
Best to curb yellow or brassy tones of blonde
Features a refreshing smell that lingers with you for a longer period
Hair feels soft and refreshed
Free of ammonia and peroxide
It also includes silk proteins which make your hair look healthy and shiny
What We Don't Like: It contains sulfates.
[ Read: 7 Best Professional Toners for Blonde Hair ]
2. Best for Dull and Limp Hair: Manzanilla Grisi Vitagloss shampoo
Chamomile Flower Extract is the major and active ingredient
Removes all build-up from the hair and makes it squeaky clean
It helps make hair smooth and shiny
It helps lighten and brighten the blonde
It enriches the hair color and makes it more vibrant
Suitable for people with damaged hair
Features lightweight formula
Adds volume to limp hair
What We Don't Like: It features a strong fragrance from added perfumes so that it can trigger sensitivities
3. Best for Brunette Hair: John Frieda Brilliant Brunette Subtle Lightening Shampoo
Green Tea Extract and Calendula are the major ingredients
It helps bring out the cooler tones
Leaves tresses a gorgeous ash brown color
It works perfectly well to maintain my brunette color
It contains crushed pearl extracts, making hair shiny
The presence of sweet almond oil helps control frizz and adds softness
What We Don't Like: It dries out hair in the longer run
[ Read: 7 Best Blue Shampoos For Brunettes ]
4. Perfect for Dry Blonde Hair: Naughty Blondie Blonde Enhancing Shampoo
Chamomile and lemon are the two major ingredients
It is vegan and 97% natural
It did not lather but cleansed hair thoroughly
It makes hair super soft and smooth
Infused with only safe and clean ingredients
Free from harmful ingredients like sulfates, petrochemicals, parabens, and silicones
What We Don't Like: The scent might be unappealing to some
5. Best for Platinum Blonde Hair: Bold Uniq Purple Shampoo
Purple Pigment, Vitamin B5 are the two major ingredients
It gave natural-looking highlights to the hair
It makes hair moisturized and smooth
Free of sulfate, SLS, mineral oil, phthalates, formaldehyde, and paraben
Best for damaged hair and sensitive scalp
It works well for light hair colors as it removes brassy, reddish tones
What We Don't Like: It may dry out hair due to the presence of alcohol and added perfumes.
[ Read: 7 Best Products For Platinum Blonde Hair ]
6. Best for Oily Hair: Intea Blonde Shampoo
Chamomile is the major ingredient that acts as a lightening agent
It is a safe and natural alternative
It gives a vibrant and natural-looking blonde shade
It contains active ingredients extracted from chamomile flowers
Free of harsh ingredients like ammonia, silicones, and parabens
Free of ammonia and alcohol
Safe for sensitive scalp
Pleasing scent
What We Don't Like: It contains sulfates, so it might not be suited for dyed hair or dry, sensitive scalps
[ Read: 7 Best Natural Shampoos For Oily Hair ]
7. High Smoothness: Schwarzkopf Professional Bonacure Keratin Smooth Perfect Micellar Shampoo
Instantly controls frizz and makes hair more manageable
Hair gets smoother, shinier, and easy to handle
Enriched with Keratin Smooth Technology and Apricot Kernel Oil to ensure long-lasting smoothness
Gentles cleanses while providing intensive moisture to the hair
Suitable for thick, coarse, wavy, curly, unmanageable, and frizzy hair
What We Don't Like: It is pricey and contains SLES.
Conclusion
Now that you know some of the best shampoos for lightening blonde hair, it's high time you should start using them to strip off the brassy yellow tones and bring healthy and shiny luster to them.
You Might Also Like: