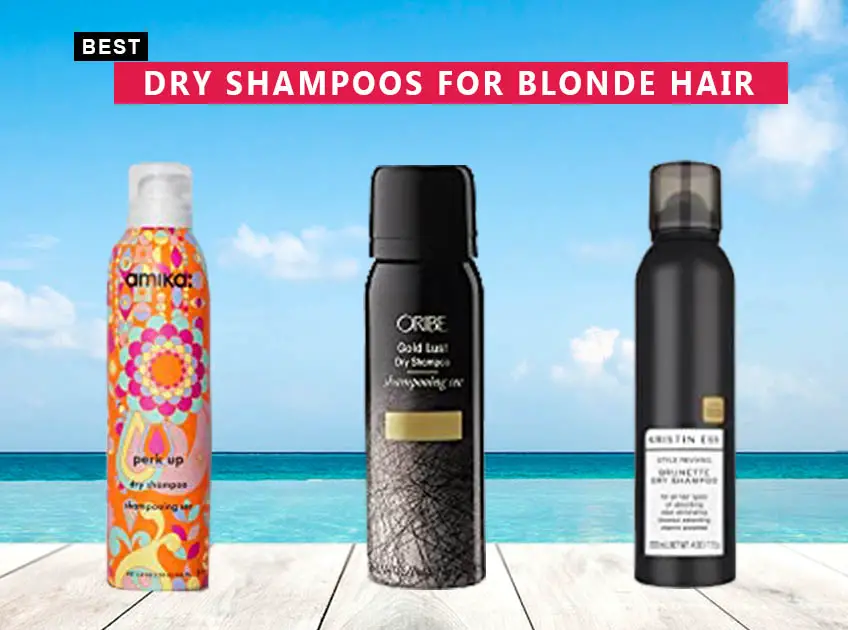 If you have naturally blonde hair or colored it in lighter shades like blonde or silver, maintaining them can take a toll, especially if you style them often. Since using different hair products like oil and gels can lead to buildup, shampooing hair daily is not a good decision.
Likewise, many times due to some reason, we are not able to shampoo our hair, for instance, while traveling. In such cases, dry shampoo comes handy. Dry shampoo helps absorb the buildup, dirt, and grime from the scalp and hair strands, making them feel fresh and bouncy all over again.
Dry Shampoos
The best dry shampoo for blonde hair absorbs excessive grime without stripping off the essential oil. If you cannot decide which dry shampoo will meet the needs of your blonde hair, check out the products we have listed based on quality and performance.
7 Best Dry Shampoos For Blonde Hair
1. Lightweight Dry Shampoo: Hair Dance Volumizing Dry Shampoo
It consists of non-aerosol that helps cleanse hair in a jiffy, leaving it fresh and aromatic
Infused with rice starch, oatmeal, non-crystalline silica, lavender oil, and olive leaf extract– everything that makes hair healthy
It is free of talc and ensure no white residue after you use it for dry shampooing
Contains 100% organic ingredients and no harsh chemicals and additives
What We Don't Like: It is not suitable for sensitive scalp.
[ Read: Hair Color For Sensitive Scalp ]
2. Best Overall: Moroccan Oil Dry Shampoo Light Tones
It works wonderfully on blonde, white, platinum, and gray hair
It is infused with rice starch that cleans grease and product buildup
The presence of argan oil makes hair smooth and healthier than ever
It helps bring more volume and shine to the hair
The invisible finish makes Moroccan Oil Dry Shampoo the best
What We Don't Like: If you have fine hair, it would be too heavy.
3. Pleasing Smell: Amika Perk Up Dry Shampoo
The oil-absorbing power of Amia Perk Up dry shampoo is excellent
It helps bring more volume and shine to the hair
It ensures giving invisible finish and removes all the dirt and grime
The pleasing scent that makes your hair smell fruity and flowery all through the day
The scalp feels clean and relaxed
What We Don't Like: it makes hair slightly stiff.
[ Read: 5 Homemade Hair Rinse Recipes for Silky and Shiny Hair ]
4. Effective and Affordable: Oribe Gold Lust Dry Shampoo
It is highly effective in absorbing all the buildup, oil, and grime from the strands with its translucent powder
Starch and rice powder are the key ingredients
Brings greater volume to the hair and bounces like freshly washed hair
The fruity smell makes you feel good and refreshed all the time
What We Don't Like: It is pricey.
[ Read: 7 Best Dry Shampoos For Fine Hair ]
5. Super Absorbent Formula: Drybar Detox Dry Shampoo
The super-absorbing formula eliminates all the excess oil and grime from the scalp and hair strands
It consists of micro rice powder that takes up impurities without stripping off the natural oils
It is a translucent powder that blends well and doesn't leave residue on hair
The presence of golden root extracts helps seal moisture, preventing hair issues like breakage and split ends
The pleasing fragrance of jasmine, sandalwood, and Madagascar vanilla makes it more tempting
What We Don't Like: It is expensive, and the fragrance may be overpowering to some.
[ Read: 10 Best Shampoo For Dry Damaged Hair With Split Ends ]
6. Budget-friendly Dry Shampoo: OGX Extra Strength Refresh + Restore Coconut Miracle Oil Dry Shampoo
It is an excellent absorbent that removes all the buildup and grime from the scalp and strands effectively
Offers an invisible finish and doesn't leave any residue on hair
Helps in making the hair look refreshed, voluminous and healthy
Contains the pleasing fragrance of coconut and flowers
What We Don't Like: it may feel heavy for fine textured hair.
[ Read: Detox Your Scalp for Healthy Hair at Home ]
7. Best For All Hair Types: Kristin Ess Style Reviving Dry Shampoo
Quick absorbing and takes up all the buildup from the scalp
The invisible finish and the ability to make hair voluminous and bouncy make it highly effective
Makes hair feel fresh and healthy looking
What We Don't Like: It is not suitable for everyday use.
Conclusion
So these are some of the most useful and best dry shampoos for blonde hair that you can use whenever normal shampooing is not possible. Make your hair feel fresh and bouncy, and let them blow with the wind.
You Might Also Like: