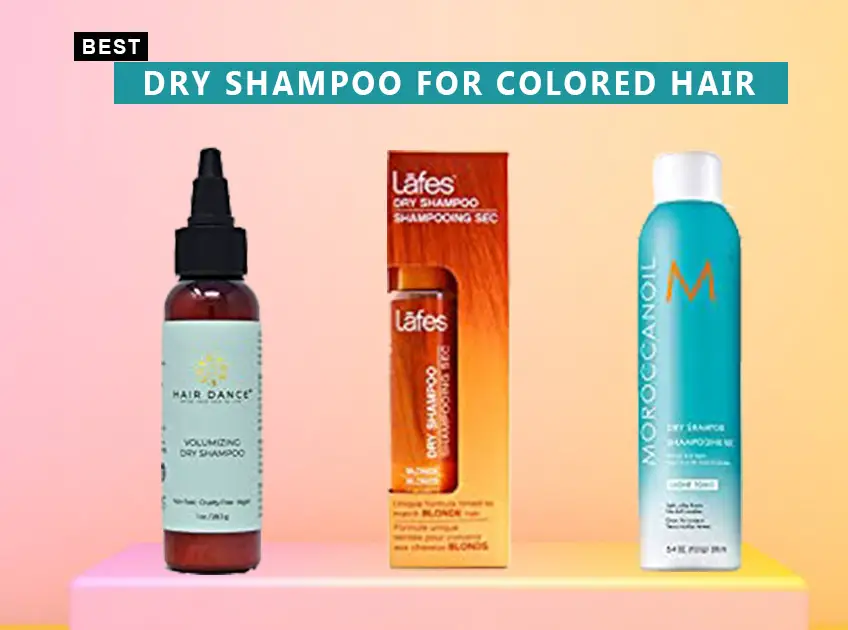 Colored hair needs special treatment. It is necessary to use the right hair care products when you have colored your hair. It will ensure maintaining their health and shine. Since most shampoos contain harsh chemicals, they can strip off color from hair strands. Therefore, reading the labels before purchasing is essential.
Dry Shampoo
Here, we are talking about dry shampoo that can absorb the extra oil, grease, buildup, and other impurities from hair and scalp without water. Since dry shampoos are time savers, they come in handy often.
We have hand-picked the 7 best dry shampoos for colored hair based on their quality and performance. Check them out!
7 Best Dry Shampoo For Colored Hair
1. Instant Refreshing: Not Your Mother's Beach Babe Texturizing Dry Shampoo
It absorbs all the excess oil present on the scalp without stripping off the hair color
Delivers great shine, perfect texture, and volume to the hair
It delivers a long-lasting and refreshing fragrance to the hair
Helps in adding volume and texture to the hair without leaving white residue
What We Don't Like: If you have a sensitive scalp, do not use this dry shampoo, as it can irritate.
2. High-quality and Performance: Klorane Dry Shampoo with Oat Milk
It is an award-winning dry shampoo with a highly effective formula that absorbs dirt and grime
It gives great shine, volume, and bounce to the hair
It stays gentle on the hair due to its plant-based ingredients infused with starch and silica
Tackles oils as well as odor with its highly effective oat milk that also soothes the scalp
What We Don't Like: You may temporarily feel white residue on your hair.
3. Lightweight Dry Shampoo: Hair Dance Volumizing Dry Shampoo
It consists of non-aerosol that helps cleanse hair in a jiffy, leaving it fresh and aromatic
Infused with rice starch, oatmeal, non-crystalline silica, lavender oil, and olive leaf extract– everything that makes hair healthy
It is free of talc and ensure no white residue after you use it for dry shampooing
Contains 100% organic ingredients and no harsh chemicals and additives
What We Don't Like: it is not suitable for sensitive scalps.
4. Best Overall: Moroccan Oil Dry Shampoo Light Tones
It works wonderfully on blonde, white, platinum, and gray hair
It is infused with rice starch that cleans grease and product buildup
The presence of argan oil makes hair smooth and healthier than ever
It helps bring more volume and shine to the hair
The invisible finish makes Moroccan Oil Dry Shampoo the best
What We Don't Like: If you have fine hair, it would be too heavy.
[ Read: 7 Best Dry Shampoos For Fine Hair ]
5. 100% Natural Ingredients: Handmade Heroes Drop Dead Gorgeous Dry Shampoo Sun Seeker For Light Colored Hair
It is infused with natural ingredients that bring instant shine and volume to dirty and dull hair
Helps absorb excess oil and other impurities from the scalp, giving hair texture and shine
The dry active cleansing powder is made with ingredients like coconut charcoal, rice powder, and kaolin clay
Moreover, the powerful blend of geranium and lavender oils soothes and relaxes the scalp and lifts your mood
What We Don't Like: It may irritate the sensitive scalp.
6. Vegan Formula: Lafe's Dry Shampoo
It consists of certified argan oil that extracts the excessive oil, dirt, grime, and other impurities from the hair and scalp
Gives life to hair, making them smooth and shining
It reduces the production of sebum due to the presence of kaolin clay and active scratch complex
Deep cleansing is ensured, allowing a longer time between washes
Safe for color-treated hair as the ingredients are gentle
What We Don't Like: The shampoo's fragrance is not pleasing.
7. Super Absorbent Formula: Drybar Detox Dry Shampoo
The super-absorbing formula eliminates all the excess oil and grime from the scalp and hair strands
It consists of micro rice powder that takes up impurities without stripping off the natural oils
It is a translucent powder that blends well and doesn't leave residue on hair
The presence of golden root extracts helps seal moisture, preventing hair issues like breakage and split ends
The pleasing fragrance of jasmine, sandalwood, and Madagascar vanilla makes it more tempting
What We Don't Like: It is expensive, and the fragrance may be overpowering to some.
[ Read: 6 Best Homemade Hair Masks for Split Ends and Growth ]
Conclusion
So these are the most effective and the best dry shampoos for color-treated hair. Get any of them and save your time spending hours in the shower.
You Might Also Like: