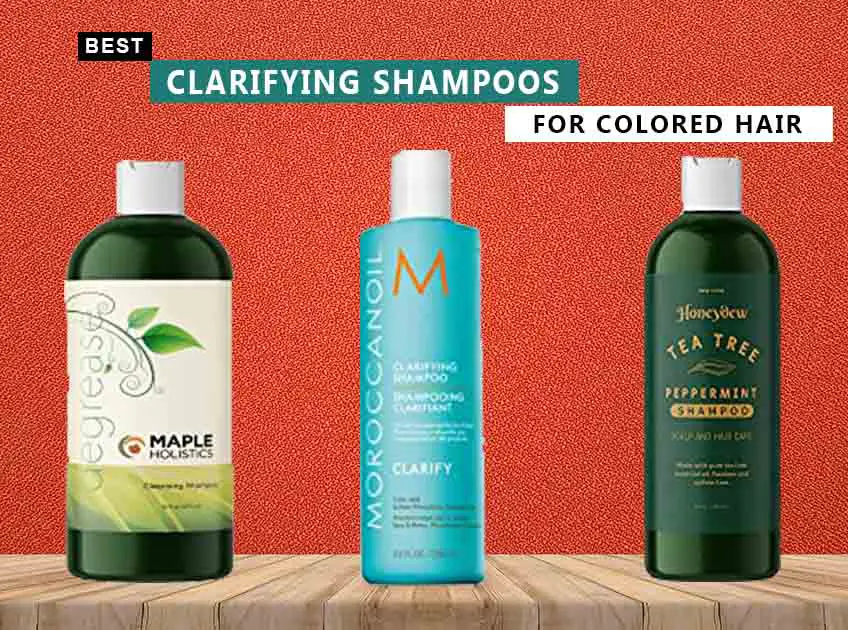 If you have colored your hair, you have exposed them to multiple chemicals. Even though hair experts may claim that the ingredients of their hair color are safe, they still damage hair to some extent. While some hair colors will damage more, others will be less, leading to dry and brittle hair.
Chemical treatments are not good for hair health; however, they can enhance your personality, give you a statement look and bring more attractiveness. Once you color hair, you must use special hair care products that help treat hair and stay gentle on them.
Clarifying Shampoos
Since styling products leave remnants on the scalp, the best clarifying shampoo for colored hair will help tremendously. These shampoos are meant to combat excess sebum on the hair shaft, preventing them from feeling dry and dehydrated. At the same time, they will help get rid of the build-up from the styling products, ensuring thoroughly cleansed hair.
Check out the 7 best clarifying shampoos for colored hair!
7 Best Clarifying Shampoos for Colored Hair
1. Best Overall: Neutrogena Anti-Residue Clarifying Shampoo
It is infused with hair-loving ingredients such as hydrogenated castor oil and glycerine
The clarifying ingredients present in the shampoo cleanses the scalp gently and help boost hair volume
Removes over 90% of the dulling residue from the scalp
Protects hair color while eliminating the heavy build-up
Free of added dyes and colors
What we don't like: The strong fragrance of this product is disliked by many users.
2. Works Best for Oily Hair: Maple Holistics Degrease Moisture Control Shampoo
Enjoy the goodness of botanical extracts that work on dry and frizzy locks
Clarifies the scalp, making it oil-free
Protects the colored strands and stays gentle on them
Infused with the peach kernel, rich in antioxidants and vitamins, ensuring huge protection from environmental stress and pollutants
Also consists of cypress oil, and extracts of rosemary and basil that improve blood circulation
What we don't like: Some residue may stick to the scalp if not cleaned properly.
[ Read: 7 Best Dry Shampoos For Oily Hair ]
3. Protects from Pool Water: Paul Mitchell Shampoo Three
It is the most suitable shampoo for swimmers
Features clarifying formula that maintains the level of oil on the scalp and increases hair volume
Controls oil production and makes sure the moisture level is intact
Consists of wheat extracts that deeply condition the hair strands
Strengthens hair and minimizes build-up
What we don't like: It may damage dry and brittle hair.
4. Combats Dandruff: Honeydew Tea Tree Peppermint Shampoo
Contains essential tea tree, rosemary, and peppermint oils that are 100% pure and of therapeutic-grade
Features antibacterial and anti-inflammatory properties to soothe the scalp
It is a gentle shampoo, suitable for all hair types, including the sensitive scalp, and color-treated hair
The active ingredients are peppermint essential oils, tea tree, and rosemary
What we don't like: It is slightly greasy.
[ Read: Essential Oils for Hair Growth ]
5. Best Hair Treatment: Moroccanoil Clarifying Shampoo
Infused with a blend of argan oil, and avocado oil that moisturizes the hair strands
Consists of extracts of lavender, chamomile, and jojoba for deep cleansing and invigorating effects
Removes build-up from chlorine, and hard water; thus suitable for swimmers
Enriched with argan and avocado oil that provides a protective shield to hair strands and protect them from the harmful effects of chemicals
The active ingredients are chamomile, lavender, and jojoba extracts
What we don't like: It comes with a hefty price tag.
6. pH-balanced shampoo: Redken Hair Cleansing Cream Clarifying Shampoo
Features detox formula that works well for all hair types and textures
AHA cleansing complex in the shampoo helps cleanse hair and scalp
It helps get rid of hard water minerals, product build-up, and excess oils
Adds a shine to the color-treated hair and strengthens the hair cuticles
What we don't like: It may make the hair dry.
[ Read: Hair Color for Sensitive Scalp ]
7. Advanced Technology: GIOVANNI 50:50 Balanced Hydrating-Clarifying Shampoo
Features its trademark Eco Chic Technology
Infused with a blend of vitamins, proteins, and essential nutrients
Helps over-processed, color-treated hair to maintain natural shine, health, and color
Active ingredients are Aloe vera, rosemary, and other plant-based extracts that make hair soft and manageable
Suitable for normal to dry hair
What we don't like: It comes with a hefty price tag.
[ Read: How to Use Rosemary oil for Hair Growth? ]
Conclusion
Colored hair needs special care and attention. Exposure to nasty chemicals can degrade hair quality, making them dry, brittle, fragile, and prone to breakage. Fortunately, we have many hair care products that protect the treated hair, and clarifying shampoo is one of them.
Buy any of the best clarifying shampoos for colored hair we have mentioned and ensure your hair's health.
You Might Also Like: