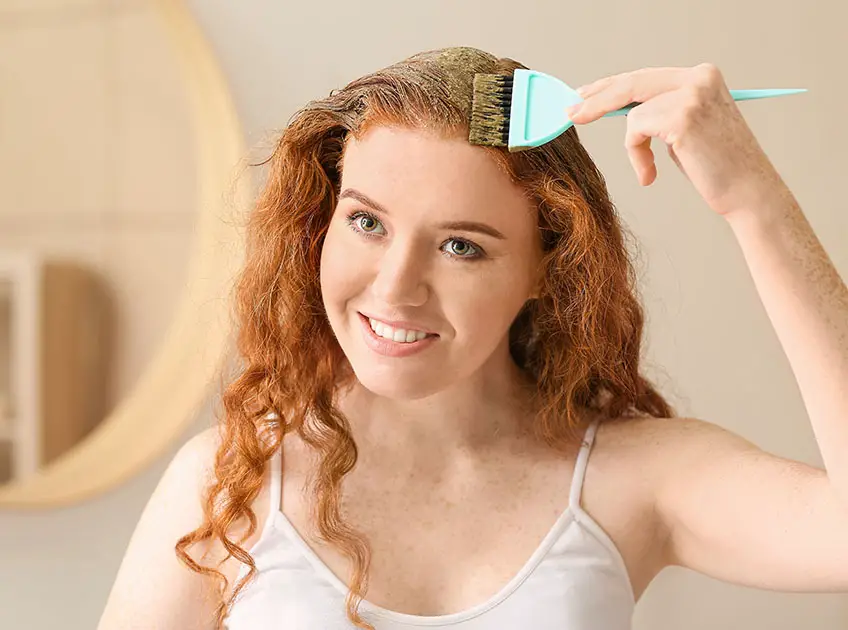 Discovering hair color for people with sensitive scalps can be a challenging task, but it's an important one. In general, 44% of people are said to have sensitive scalp problems, so it is crucial to understand why it occurs and what is the solution. This blog is going to view what is the sensitive scalp, its causes, protection from scalp sensitivity, and hair color tips for before and after hair coloring.
What Is Said To Be A Scalp Infection And Its Preventive Measures?
If your scalp feels irritated, painful, itchy, and red, you can understand that your scalp has turned into a sensitive scalp. If your scalp is tight and has excessively itchy symptoms, you may be suffering from a severe sensitive scalp.(1)
Causes Of Sensitive Scalp: Sensitive scalp effects are caused by using chemical shampoo, climate conditions, hormonal changes, and eating an unbalanced diet. Chemical reactions occur in sensitive scalp skin. These reactions will cause swelling, itching, and burning of the scalp. Normally commercial hair shampoo contains a high amount of chemicals, and they make the sensitive scalp.
Preventive Measures For Sensitive Scalp: If you use oil-based scalp cream, moisturizing shampoo frequently will remove dead skin cells and maintain a dust-free scalp. Before you going to wash your scalp, you have to apply oil-based scalp cream and moisturizing shampoo and let it for a few minutes. It will control your scalp's irritation, itchiness, and pain as well as offers protection against scalp sensitivity.
Sensitive Scalp Hair Coloring Tips
If you like to color your hair but have scalp sensitivity, you have some choices do hair color. Organic or Ammonia-free hair coloring is best suitable for people with sensitive scalps. If you want to use the hair color dye, primarily, you have to avoid commercial hair colors used on your scalp, and better to use ammonia-free hair colors like Elumen and Logona.. Now view some tips before going to do hair coloring.
1. Patch Test: If you want to do hair color on your sensitive scalp, you should do a patch test. Mix your organic or chemical-free hair color dye and apply it to your leg or arm and let it for a while then wash it. If you feel any burning, itching, or redness, better to avoid it. However, you don't find any side effects on the patch test, and your scalp skin is ready for hair coloring.
2. Hair Color For The Sensitive Scalp: Try to understand your scalp condition and don't think that you have a non-sensitive scalp. You have to be alert always when you apply the hair color on your scalp and don't leave it to your face. Before going to apply hair color, do some research about which hair color is suitable for your sensitive scalp and have a look at ammonia-free, peroxide-free, and PPD-free hair color dye. If you choose one of these three hair color dyes, it will create fabulous hair color.
3. Don't Strip The Scalp Of Its Natural Oils: Do not wash your hair before hair coloring. Keep your natural protective oils on your scalp. Because it protects your scalp and does not allows the chemicals into the scalp as well as prevents the scalp's contact with chemicals while coloring the hair. You need to hydrate your hair before hair coloring treatment, and this will prevent severe scalp damage. The natural oil on your scalp provides a protective layer against harmful chemicals.
4. Do A Hair Colorist Consultation: If you're getting your hair colored at the salon, don't be hesitant about asking your colorist to do a patch test first. Most hair colorists perform the patch test, but some people won't do it. You have to ensure that there are using the correct tools for hair coloring and if you experience any itching or burning sensation while hair coloring, you inform them immediately and don't sit idly.
Protect Your Sensitive Scalp After Hair Coloring
Your sensitive scalp and hair can be very dehydrated after a hair color treatment. Hair color chemicals may cause alkalinity. You try to use low pH level shampoo. Because high pH shampoo increases the amount of alkalinity. A high level of alkalinity is not good for your scalp and hair. This can make irritate your scalp's acid shield. Allowing these alkaline chemicals to accumulate for too long can cause your scalp to itch after hair coloring. So, try to use low pH shampoo like Matrix Biolage RAW nourish. This shampoo helps to balance the scalp pH level and retain the scalp's acid-alkaline level as well as acts as a deep hair and scalp cleanser.
Conclusion
After viewing this blog hoping that, you will have a clear understanding of how to do your hair coloring, what methods to follow and how to protect your hair before and after hair coloring.
Scientific Evidence:
Tinea Capitis- https://www.ncbi.nlm.nih.gov/books/NBK536909/#:~:text=Tinea%20capitis%20is%20a%20fungal,may%20invade%20the%20hair%20shaft.
You Might Also Like: