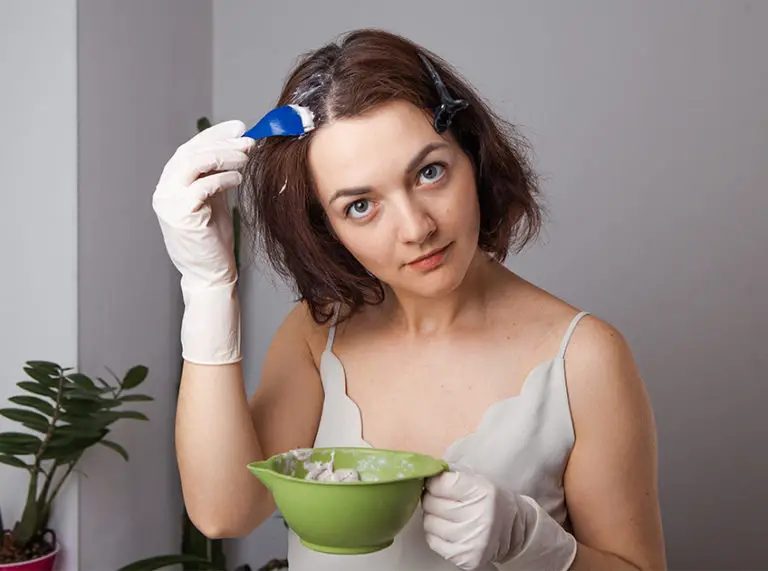 Sometimes we don't like our hair color and then we go for dyeing. But what if we don't get our preferred color even when there are various shades of dyes available? In such a case, you must be wanting to create the color of your choice by mixing two dyes of different brands. Is it possible and does it work? Read on to know more.
Mix Hair Dye Brands
Does Mixing Two Or More Hair Colors Make Sense?
Yes, this is fine when you want a shade that is not on the boxed kit. Sometimes this is also needed for counteracting an undertone in the color.
[ Read: How To Remove Hair Dye Stain From Sink ]
Mixing Two Different Brands Of Hair Dyes:
This is generally not recommended as the ingredients in them vary. Also, some brands have 10 shades of hair dye while others have 12. An unpleasant reaction may occur because of the interaction of ingredients in the brands, resulting in a negative impact on the hair. Still, if you want to do it, check with a professional hair colorist to ensure that the outcome will be as desired and safe.
[Read: Hair Color For Sensitive Scalp]
Process Of Choosing Colors For Mixing
Choosing the color shades is crucial to succeeding in the dyeing process. The two shades must complement each other. It is important to avoid mingling colors with the opposite shade as they are quite dominant to result in a good shade together. 2 to 3 lighter levels can be chosen for getting a unique color
Selecting The Hair Tone
Hair tones can be chosen in three types: neutral, cool or warm tones. There are more blue and green pigments in the cool tone and are also known as ash tones, which can be difficult to recognize in a darker shade. But on a higher shade level, they can result in icy blonde or champagne color.
The neutral tones are between the cool and warm tones and result in a lighter shade, suitable for almost everyone. The dominant colors (red, gold, orange) are embraced by the warmer tones. Chestnut brown color is created at the lower shades while the higher levels create strawberry blonde color.
[ Read: Fix Orange Hair With Box Dye ]
Here are the steps for mixing different dye colors:
Take a bowl, brush and gloves.
Put on your gloves and mix the two preferred hair dyes in the bowl, in the ratio based on the formula of your hair dye to get the expected color.
If there is no formula, mix them in a 1:1 ratio.
Use the brush for mixing the dyes till it is free from any lumps.
Then the developer has to be added to the mixture in a 1:1 ratio to create a silky smooth paste which is ready for application to the hair.
Tips:
Mixing the hair dyes without any formula is usually risky, so it is better to do a trial by creating a small amount of mixture for a hair strand and applying it.
Select the strand under your hair and if the outcome is not up to your expectations, change the ratio to get a more even look.
Make sure to complete the trial 24 hrs before dyeing
Mixing hair dyes to get the right color can be tricky, especially when you are doing it for the first time. You can always take the opinion of an expert hair colorist to get the best outcomes and lower the chances of hair damage.
You Might Also Like: