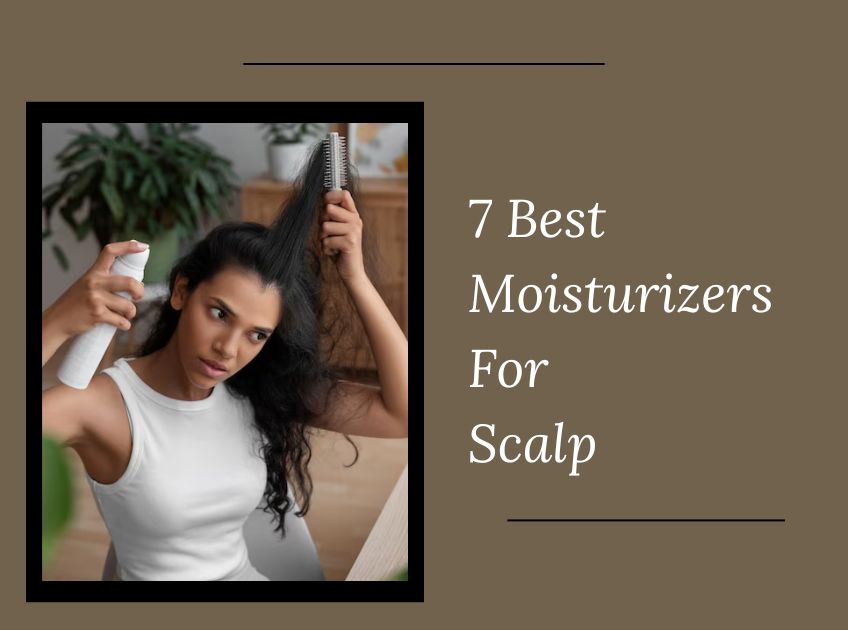 In the efforts to improve our hair condition, we often forget about TLC our scalp needs. Since hair grows right from the scalp, giving attention to it is equally important. Once your scalp is healthy, the hair will grow healthy too.
People suffering from itchy, flaky, or dry scalps know how frustrating it becomes to manage these conditions. If the scalp is not healthy, their health will affect too. Therefore, using the best moisturizer for the scalp is extremely important.
Here we have listed some of the most effective moisturizers for the scalp that are available in the form of oil, serum, leave-in conditioners, etc. All these products are highly beneficial in combating scalp issues and bringing the best in scalp health.
Moisturizers
While selecting the best moisturizers for the scalp, we have checked the ingredients and ensured you get the goodness of tea tree oil, coconut oil, shea butter, and many other hair-loving ingredients. Also, we ensured they were free of sulfates and parabens that can exacerbate dryness.
So, if you are dealing with a dry and flaky scalp and want to treat your dandruff, keep reading to find the best solutions.
7 Best Moisturizers For Scalp
1. Sulfate-Free Lotion: LivSo Moisturizing Lotion
Infused with willow bark extract, soybean seed, coconut oil, ceramides, shea butter, German chamomile flower, and honey extracts
Loaded with hydrating and nourishing ingredients for the scalp
Also contains aloe vera to keep the scalp itch-free and strands moisturized.
Its lightweight and sulfate-free formula make it suitable for all hair types.
What We Don't Like: According to some users, the consistency is inappropriate.
2. Soothing Ingredients: OGX Extra Strength Refreshing + Invigorating Teatree Mint Dry Scalp Treatment
The active ingredients in the product are tea tree oil and witch hazel for instant hydration
Also contains peppermint oil, one of the soothing ingredients for the scalp
It is a lightweight oil is easy to work with
It is sulfate and paraben free
Comes at an affordable price and gives stunning results
Helps moisturize and soften the scalp
What We Don't Like: IT may make the hair slightly heavy.
[ Read: How to Detox Your Scalp for Healthy Hair at Home ]
3. Treats Flakes: Head & Shoulders Supreme Hydrating Scalp Serum
A dual-purpose product that hydrates the scalp and treats flakes
Infused with ingredients like vitamin E, argan oil, and pyrithione zinc
Works wonders to combat itchiness or irritation of the scalp
It is free of sulfates, parabens, phthalates, phosphates, and dyes
It is the best solution to eradicate dandruff and flaky scalp
It is cool and refreshing
What We Don't Like: People with oily hair may feel greasy strands after its application.
4. Ultra Hydrating: Tea Tree Hair and Body Moisturizer Leave-In Conditioner
It features creamy formula with ingredients like tea tree oil and jojoba oil to moisturize the hair and scalp
The presence of peppermint helps soothe scalp irritation and brings instant relief
It is free from sulfates and parabens
It can also be used on other areas of your body
Works great as a shaving cream
What We Don't Like: It may leave a residue.
[ Read: How to Use Tea Tree Oil for Scalp ]
5. Briogeo Scalp Revival Charcoal + Tea Tree Cooling Hydration Scalp Mask
Delivers intense moisture without excess greasiness on the scalp
It is suitable for oily and thin hair
Infused with scalp-benefitting ingredients such as nourishing tea tree and soothing aloe vera and peppermint
Free of sulfates, silicones, parabens, and phthalates
What We Don't Like: A patch test is recommended for sensitive skin.
6. Best for Complex Hair: SheaMoisture Scalp Soother Oil Serum for Wig and Weave
Effectively helps to relieve tightness associated with protective hairstyles
The presence of tea tree oil and borage seed oil offers instant hydration to the scalp
It also contains aloe vera that helps soothe irritation
The oil serum doesn't contain any parabens, phthalates, sulfates, or mineral oil
Soothes the itchy and inflamed scalp
What We Don't Like: Overpowering fragrance.
[ Read: 7 Simple Home Remedies For Dry Itchy Scalp ]
7. Multipurpose OIl: Nutiva Organic Cold-Pressed Virgin Coconut Oil
It contains virgin cold-pressed coconut oil
It can be massaged directly into the scalp for amazing moisture
USDA-certified organic and non-GMO oil, suitable for use on the body and scalp
It can also be used for cooking purposes
Works as a moisturizer for the face, as a natural deodorant, or even to help soothe sunburn
Contains a refreshing coconut fragrance
What We Don't Like: It is sticky.
Conclusion
All these moisturizers are highly effective and ensure a healthy and well-nourished scalp. Even though all these products are safe and gentle, we recommend performing a patch test, especially if you have sensitive skin.
You Might Also Like: