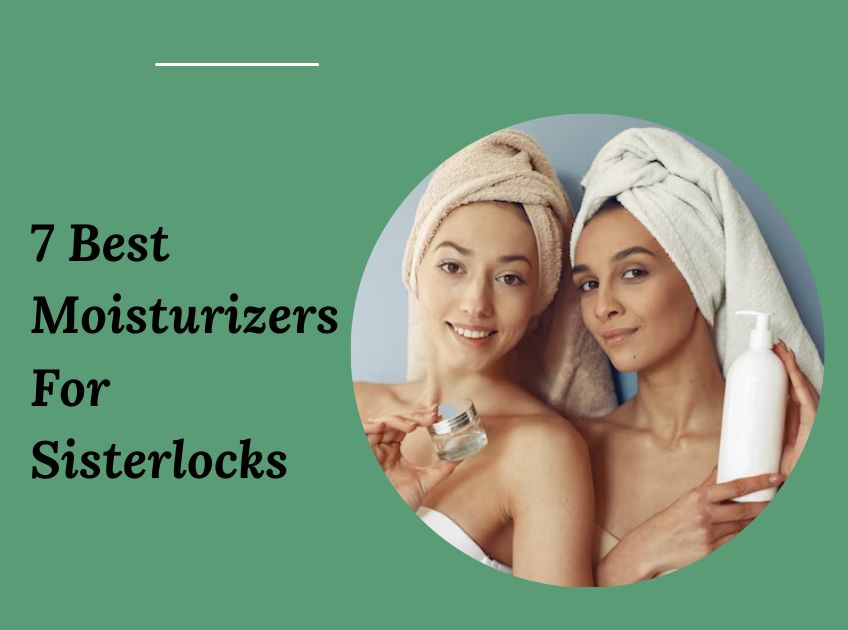 One of the most popular hairstyles among African women is sisterlocks. They are somewhat similar to dreadlocks but neater in appearance and look classy. Women and girls love adoring sisterlocks and give a statement look to their personalities. The best part is sisterlocks can be styled in an up-do or left loose, cut, or left to grow long.
Even though there is so much good about sisterlocks, maintaining them could take a toll. The first issue with such hair is dryness, leading to a flaky scalp. It is when the best moisturizers for sister locks come to the rescue.
Moisturizers
Luckily, many hair care products available in the form of oils, leave-in conditioners, and shampoos can help moisturize sisterlocks and keep them healthy and intact.
Check out the list below and find your pick.
7 Best Moisturizers For Sisterlocks
1. Best Overall: Taliah Waajid Total Body Black Earth Shampoo
The nourishing formula of this shampoo has the ability to repair damaged hair
It is intensely hydrating and softening on complex hair strands.
The best clarifying and moisturizing shampoo for sisterlocks
It is lightweight and leaves no residue
It doesn't make hair feel greasy or oily
It contains healthy and hair-loving ingredients only
What We Don't Like: It contains a dye that may affect certain hair types and sensitive scalps.
[ Read: 7 Best Shampoos for Sisterlocks ]
2. Moisturizing Spray: Locsanity Rosewater and Peppermint Daily Moisturizing Spray
It is a lightweight botanical spray that moisturizers the scalp and brings a soothing effect to the hair
It adds softness and does not cause buildup
It doesn't weigh the hair down
Does not leave product residue or buildup on the scalp
Moisturize the hair intensely and make sisterlocks manageable
It has the soothing aroma of different botanicals
Suitable for everyday use due to its gentle ingredients and lightweight formulation
What We Don't Like: According to some reviewers, the spray bottle might be hard to pump.
3. Moisturizing Oil: Maple Holistics Rosemary Essential Oil
Rosemary has natural properties of moisturizing the hair and making them healthy
It helps provide volume and bounce to the hair
It makes hair look soft and healthy
The ultra-hydrating power of rosemary makes it the best moisturizer for sisterlocks
It has a calming and soothing scent
It also helps to add shine and sheen to the strands
What We Don't Like: It may weigh down some hair textures.
4. Lightweight Gel: Fruit of the Earth Aloe Vera Gel
Aloe vera is a natural hydrator that adds to the health of sisterlocks
It is lightweight and feels refreshing on the scalp
It is one of the best options to manage locs without compromising their health
It gives retwists a good hold without leaving them gunky
It is extremely nourishing and moisturizing
What We Don't Like: According to some users, the hold is not strong enough.
[ Read: 7 Best Moisturizers For Scalp ]
5. Organic Conditioner: Alikay Naturals – Lemongrass Leave-In Conditioner
Coming in a creamy texture, this leave-in conditioner is suitable for dry, damaged, and all other hair types
It offers moisturization benefits to the hair and makes them bouncy
It does not weigh the hair down due to its lightweight texture
Infusion of essential oils helps smooth the hair shaft and keeps it moisturized
It contains 100% natural ingredients, among which 90% or organic
The refreshing scent of citrus makes it more appealing
What We Don't Like: It feels greasy.
6. Best for Treated Hair: tgin Honey Miracle Hair Mask Type 3c and 4c hair
Repairs damaged and treated hair by providing deep conditioning
Infused with raw honey that helps make cuticles soft and shiny
It also consists of jojoba and olive oils, ultra-nourishing and moisturizing for the skin and hair
It ensures restoration of hair health and prevents damage to give beautiful and healthy curls
What We Don't Like: It is an expensive conditioner for 4C Hair.
[ Read: 6 Best Homemade Hair Masks for Split Ends, Growth ]
7. Premium Treatment for hair: PURA D'OR Organic Moroccan Argan Oil
Extracted from the kernels of the Argania Spinosa Tree through cold pressed extraction method.
It adds an extra layer of protection against environmental factors as it is rich in vitamin E and essential fatty acids
Locks in natural moisture by boosting superior hydration levels
It can be used on the skin as it helps reduce redness and skin irritation with its anti-aging properties
What We Don't Like: People with oily skin can have acne and breakouts using this oil. So, it is better to use it only on hair.
Conclusion
All these products are highly effective on complex hair types. We have selected them purely based on their performance, quality and ingredients. You can use any of them and manage a dry and flaky scalp instantly.
You Might Also Like: