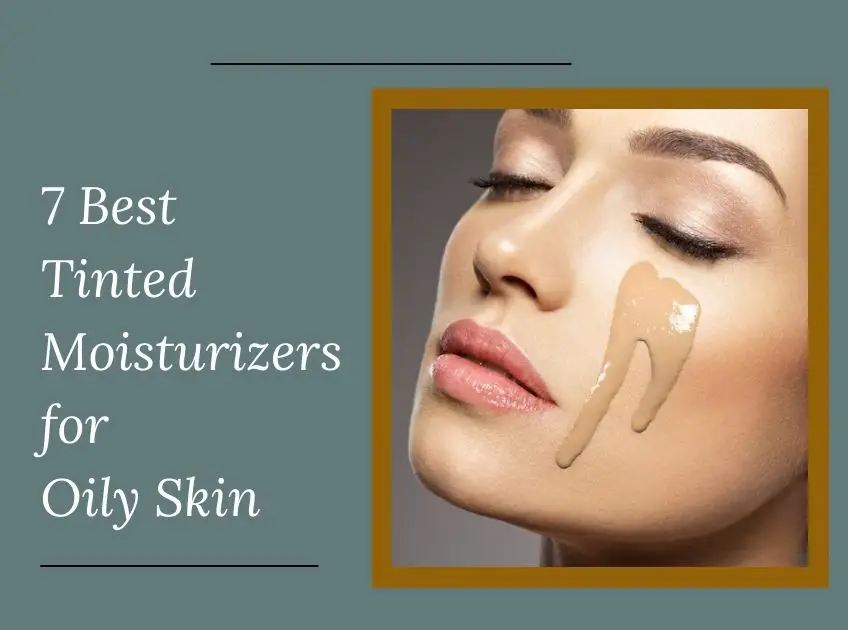 Who does not want to flaunt that picture-perfect no-makeup look? It is quite easier, saves a ton of time, and is great for your skin. But the catch here is to make sure that your skin looks hydrated, smooth, and glowy without using any considerable makeup products.
Oily skin can be a cause of unhealthy lifestyle habits, excessive sun exposure, or pollution. Excessively oily skin can even lead to irreparable skin damage. Choosing which products to use can be a daunting task for people with oily skin.
Tinted Moisturizers
However, the great news is that you can achieve that perfect look without the use of any harmful makeup products. A good tinted moisturizer can be your savior here. These products are a hybrid between a light foundation and a moisturizer.
Try a few from our picks of the best-tinted moisturizers available for oily skin and get ready to turn some heads!
7 Best Tinted Moisturizers for Oily Skin
1. Laura Mercier Tinted Moisturizer Natural Skin Perfector Spf 30
It provides just the right amount of moisture while leaving the skin smooth and flawless.
Keep moisture in and provide antioxidant protection.
The lightweight solution contains tamarind seed extract, which helps skin retain moisture and prevents water evaporation for long-lasting hydration.
This multipurpose skincare and cosmetics combination minimises flaws while providing a light hint of coverage.
Contains a complex of vitamins C and E and offers excellent protection against the sun's harsh, skin-damaging rays.
What We Don't Like: A bit expensive.
[ Read: 7 Best Moisturizers For Brightening Skin ]
2. Tarte Amazonian Clay BB Tinted Moisturizer
It is a vegan, oil-free tinted moisturiser with buildable coverage that hides flaws and gives SPF 20 protection as well as antioxidant vitamins A, C, and E.
The skin-nourishing product, powered by Amazonian Clay, includes antioxidants and chamomile to soothe your skin.
Its micro-treated mineral pigments give off a natural-looking finish that may be built up to the optimum level of coverage.
It contains Skinvigorating Ingredient, which offers complete skin balance for better, longer, and truer wear.
What We Don't Like: Too heavy on skin for some.
3. Touche Eclat All-in-one Glow Tinted Moisturizer
It is a medium coverage tinted moisturiser that has SPF 23 and is skin-friendly, all-in-one, and skin-loving. It evens out complexion, gets rid of lifeless skin.
The formulation has been dermatologist-tested, is talc-free, non-comedogenic, and oil-free.
Includes a combination of hyaluronic acid and potent antioxidants that function to get rid of dullness and minimise fine wrinkles.
It can be used as a daily tinted moisturiser or as a part of a multi-step foundation routine.
What We Don't Like: A bit expensive.
[ Read: Makeup for Oily Skin – Useful Tips and Tricks ]
4. Winky Lux White Tea Tinted Veil Moisturizer
This tinted moisturiser hydrates while shielding against dangerous UV rays and is brimming with skin-loving ingredients like wide spectrum SPF 30, pomegranate, and white tea extracts.
With just a hint of colour, the natural and lightweight finish leaves skin feeling and appearing smooth.
This cream is highly moisturising in addition to revitalising skin tone. The aroma is wonderful, and there are no breakouts at all.
Without sulphates, gluten, phthalates, or animal testing, the product is cruelty-free.
What We Don't Like: Offers limited shade range.
5. Hourglass Illusion Hyaluronic Skin Tint
This exceptional foundation makes use of cutting-edge technologies to help skin look smoother, firmer, and more youthful.
It provides an astonishingly brilliant glow, smoothens the look of sagging skin, and plumps fine lines and wrinkles.
The creamy formulation's medium-to-full coverage and perfect for people who desire a fuller face make it a wonderful choice.
Contains Pearlescent particles that give the skin a radiant glow.
formulated without Phthalates, Sulfates, Nanoparticles, Fragrance, or Parabens.
What We Don't Like: A bit expensive.
[ Read: 7 Best Cushion Foundations For Oily Skin ]
6. Wet n Wild Bare Focus Tinted Hydrator
For a naturally flawless and nourished glow, it has buildable sheer-to-medium coverage with a semi-matte finish.
With so many colours available, it is simple to pick the ideal shade to complement your particular skin tone.
This lightweight and incredibly handy product will help you be prepared in a flash by turning a multi-step process into a one-step routine.
Instantly brighten your skin while obtaining a smooth, semi-matte texture that is the ideal foundation for any makeup application.
What We Don't Like: It is too drying for some skin.
7. Milani Glow Hydrating Skin Tint
In order to avoid moisture loss and further lock in hydration, it is also loaded with electrolytes and coconut water.
Glow Hydrating Skin Tint offers sheer-to-light coverage, an ultra-dewy finish, and next-level glowing skin.
This tint melts into face, conceals flaws, and gives skin a naturally dewy glow. This light coverage hides flaws and has a mild coconut aroma for a clean appearance.
With a skin-quenching electrolyte and coconut water blend, as well as moisture-locking Squalane at a 29% concentration, this product is packed with moisture.
What We Don't Like: Offers limited shade range.
Conclusion:
With the immediate advantages of enhanced skin tone and increased radiance, tinted moisturisers can be thought of as an extension of your skincare regimen. Some tinted moisturisers target particular skin issues, such as dry skin, acne-prone skin, or oily skin, and they frequently have SPF to make your regimen even simpler. Always choose tinted moisturizer according to your skin concern and tone.
You Might Also Like: