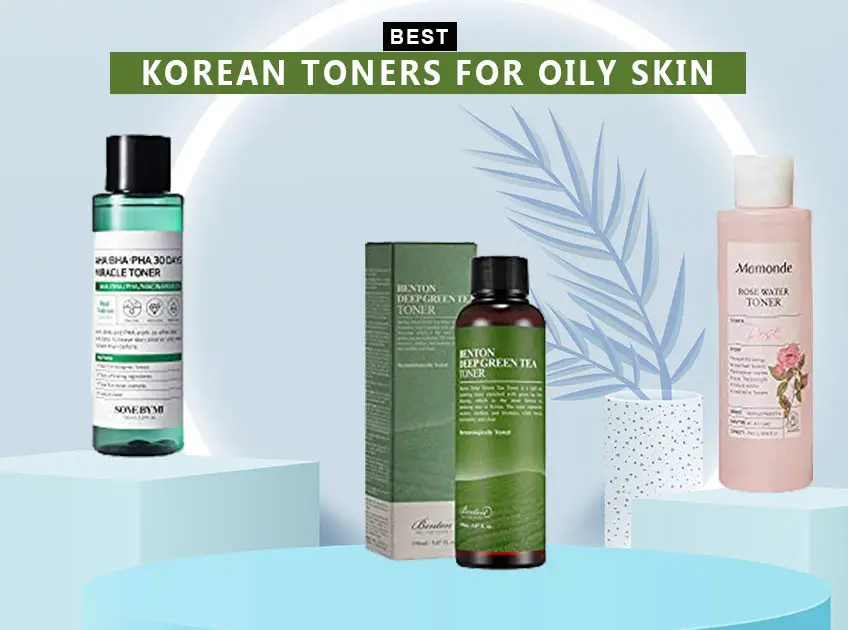 Koreans have gained a reputation for having flawless skin ever since the 10-step skincare regimen first made headlines. Whatever your skin types, there is always a great product just waiting to be found.
After cleansing your skin, toners work to remove any oil or dirt that may have remained. They can also help to balance your skin's pH and get your skin ready for the rest of your skincare regime.
Korean Toners
Toners are no exception to the numerous products that Korean skincare companies offer for oily skin. The following is a list of recommended Korean brands for oily skin.
7 Best Korean Toners for Oily Skin
1. Unlikely to cause an allergenic reaction: Cosrx AHA/BHA Clarifying treatment toner
AHA and BHA acids, as well as botanical ingredients like apple fruit water and willow bark water, which hydrate and nourish the skin, are all included in its exfoliating formula.
Without drying out the skin too much, this toner balances and calms oily skin. It is an appropriate choice for oily skin because it is hypoallergenic and paraben-free.
This popular Korean toner for oily to combination skin is applied by soaking a cotton pad in the product and rubbing it over your face.
It reduces excessive sebum production, is vegan, and is cruelty-free. It also balances pH levels.
What We Don't Like: The toner may not be an idle choice for sensitive skin.
[ Read: Best Face Wipes For Oily Skin ]
2. Green Tea Infused: BENTON Deep Green Tea Toner
For delicate, oily skin that is also sensitive to even minor irritations, try the Green Tea Line.
It includes freshly hydrating and nourishing deeply brewed Korean green tea from Boseong, the country's birthplace.
Dimethicones, synthetic fragrances, colouring, and other dangerous ingredients are not present.
What We Don't Like: The product is said to cause mild irritation.
3. For Skin Prone to Acne: Some by MI Miracle Toner
One of the absolute necessities in terms of beauty for people with oily and acne-prone skin is this toner.
It contains all the same components as Cosrx AHA/BHA, but PHA, a mild exfoliant, is an added bonus.
Tea tree extracts are another ingredient in this toner that helps to hydrate the skin. Niacinamide and adenosine,
which are great for helping to brighten your skin's complexion and aid in reducing oil production, are also present.
What We Don't Like: It might not be the best choice for people who have sensitive skin.
[ Read: 7 Best Toners For Oily Skin ]
4. For those with Skin Inflammation: Klairs Supple Preparation Unscented Toner
This toner's improved formula gives it a wealth of anti-inflammatory qualities that work well on both oily and sensitive skin.
It is made with nourishing components that your skin will adore, including aloe vera, licorice root extract, and organic essential oils.
This hydrating toner for oily skin is an excellent choice for all skin types because it does not contain artificial fragrances, alcohol, or harmful chemicals.
What We Don't Like: For some people, it may cause skin irritation.
5. The Sake Toner: Skinfood Peach Sake Toner
To control excessive oil production and minimize the appearance of pores, a toner made from Japanese sake and peach fruit extract is used.
Sake (rice ferment filtrate), a natural astringent that aids in pore-tightening and lowering sebum production, is an ingredient in the toner.
Vitamins A and C are abundant in peach fruit extract, which helps nourish and revitalize the skin while also lessening the visibility of pores and dark spots.
As it helps regulate sebum production, minimize the look of pores, and brighten the complexion, this toner is ideal for skin types that are oily, combination, or prone to acne.
What We Don't Like: The toner has a strong peach fragrance and contains alcohol, which can cause the skin to dry.
6. Alcohol-Free: Mamonde Rose Water Toner
The gentle and energizing formula of this Korean hydrating toner is one of the best for oily skin, which includes ingredients like organic rose water and lactic acid, which makes it so popular.
Including this toner in your daily skincare regimen has many advantages, including reducing inflammation & redness and hydrating & nourishing the skin with its antioxidant-rich formula.
It is vegan, has organic components, and offers hydration and exfoliation as well.
What We Don't Like: Its fragrance can be overbearing for some.
[ Read: 10 Steps to Make Your Own Korean Skin Care Routine ]
7. Most Raved Product: SON & PARK BEAUTY WATER
The skin can be cleansed, exfoliated, and replenished with the help of this toner. Witch hazel and rosewater, two of its main constituents, both help in preparing the skin for the following phase in your skincare regimen.
The Son & Park Beauty Water Toner was one of the most well-received products when the 10-step Korean skincare regimen gained popularity in the West.
Witch hazel, a plant that has been used for centuries as a medicine and for various skin-healing purposes, is one of its constituents.
Although it has many advantages, its anti-inflammatory and pore-tightening qualities are what make it so popular in toners.
What We Don't Like: Some people's skin may experience mild irritation.
[ Read: 10 Best Exfoliator for Oily Skin ]
Conclusion
The best Korean toner for oily skin can depend on a variety of factors, which can guide your purchase. These toners are made with specific ingredients that work together to hydrate and calm the skin while reducing oil production. Before buying, always run a demo and consult a dermatologist regarding skin care.
You Might Also Like: