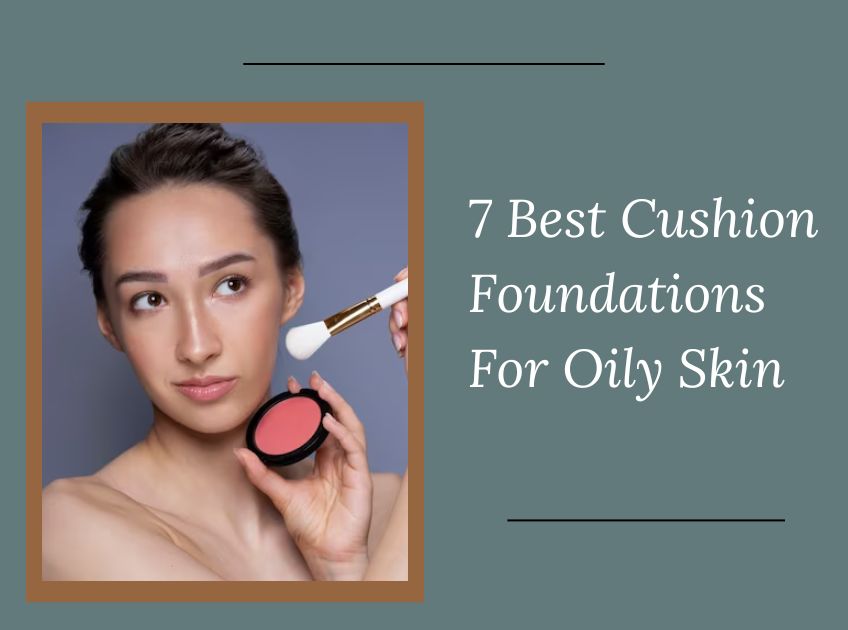 If you are looking for a glassy finish, just like you see in Korean celebrities, a cushion foundation is the right choice. These foundations work wonders on oily skin and greasy T-zones of the face.
The best cushion foundation for oily skin would be the one with the ability to soak excess oil, sebum, and sweat from the face. Moreover, it should not make the skin dry and dull. If it also delivers sun protection and is infused with anti-aging ingredients, buys it without any second thoughts.
Cushion Foundations
If you have difficulty finding the best cushion foundation for oily skin, check out the products we have listed based on quality and performance. They are enough to give you flawless, radiant, and highly glowing skin without compromising your skin's health.
7 Best Cushion Foundations For Oily Skin
1. Absorbs in the skin Quickly: MISSHA M Magic Cushion
It features lightweight and buildable coverage for the skin
Offers over 50 SPF for incredible UV protection
Covers all the flaws and imperfections of the skin, giving a clearer complexion
Infused with silica bead powder that takes up all the sweat and sebum, thus good for acne-prone skin
It is suitable for all skin types
What we don't like: It comes with a hefty price tag.
2. Easily Buildable: Maybelline New York Dream Cushion Liquid Foundation
It helps deliver high radiance to bring fresh-look to the face
With soft and velvety texture, it ensures buildable coverage
Easy to use, give a flawless finish, and stays all through the day
It is not cakey and doesn't settle into the fine lines
What we don't like: The presence of talc is not liked by everyone in this cushion liquid foundation.
[ Read: How to Apply Liquid Foundation Flawlessly ]
3. Greater Coverage: Momo Queen Mushroom Head Air Cushion Foundation
Delivers good hydration to the skin without making it look oily or greasy
Helps to hide the major flaws of the skin, like blemishes, spots, and scars
Prevents fading or smudging even when in contact with water
The breathable formula makes it light on the skin
Suitable for all skin types
What we don't like: Only one shade is available.
4. Non-comedogenic Formula: Nuonove BB Air Cushion Foundation – Natural
Helps give glowing, healthy, and bright skin
Infused with natural ingredients like the extracts from tremella and Centella for a soothing and nourishing effect
Blocks harmful UV rays with its powerful SPF
It is long-lasting, and the effect stays for hours
What we don't like: It has limited shades and may seem too dry to some users.
[ Read: How to Get Healthy Skin Naturally at Home ]
5. Delivers Semi-Matte Finish: CLIO Kill Cover Founwear Cushion
Helps control excessive sebum and thus prevents the skin from looking too oily or greasy
Offers a semi-matte finish and, due to its soft and velvety texture, spreads easily on the skin
It is a high-coverage foundation that lasts for over 54 hours
It is transfer-proof and smudge-proof
What we don't like: Very limited shades are available.
[ Read: 7 Best Foundations For Textured Skin ]
6. Ultra-moisturizing: Miba Big Cushion Foundation
Stays for over 44 hours, giving you a long-lasting flawless finish
Packed with pearl extracts and damask rose water that makes the skin feel soft and supple
It delivers a full-coverage look with a dewy finish to make you look more glamorous
It hydrates the skin without making it appear oily
What we don't like: It lacks shades.
7. UV Protection: HERA UV Mist Cushion Cover
Helps create a flawless base for makeup application
Ensures seamless coverage with a dewy finish to bring natural radiance to the face
Reduce the aging signs and hide the skin's imperfections like spots and blemishes
The ultra-fine, lightweight formula makes it easy to apply on the face and offers full coverage
SPF 50 protection from the sun's harmful rays
What we don't like: It is pricey.
[ Read: Mighty Patch Micropoint for Blemishes Reviews ]
Conclusion
We hope you know which cushion foundation for oily skin will best suit your skin and beauty budget. However, before using any of these all over the face, we recommend you perform a patch test and ensure they are not allergic to your skin.
It's time to get the glassy glow and low flawless for hours.
You Might Also Like: