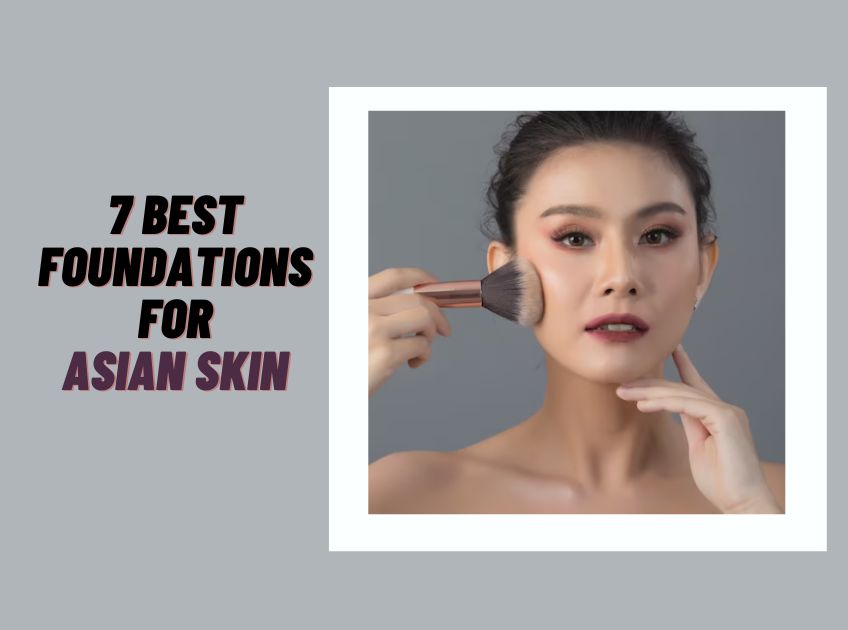 Foundation is a beauty staple, helping create an even and uniform color complexion. It is available in different forms, such as liquid, cream, and powder. Besides color correction, a foundation also covers the skin's imperfections, giving a flawless finish to the skin.
Today, foundations perform multiple functions, like moisturizing the face, working as an astringent or base layer for further complex cosmetics, and even providing sun protection with SPF. Since you can find multiple shades in a foundation, choosing the right shade according to the skin tone is important.
Foundations For Asian Skin
Asian skin tone usually has yellow undertones. Therefore, the foundation should not have pink or blue hues. It will not match or flatter the warm complexions of Asian skin tone. Moreover, such foundation will make you look washed out and ashy.
If you are not able to decide on the best foundation for Asian skin, fret not. We have curated a list with the 7 best foundations for Asian skin tones to help you get the best look. Keep reading and find your pick.
[ Read: Why Should You Apply Sunscreen: It's Importance]
7 Best Foundations For Asian Skin
1. Lightweight and Comfortable: Estee Lauder Double Wear SPF 10 Foundation
It is a lightweight foundation that one can wear all through the day without it creasing the skin
Formulated to give flawless and natural finish without looking too heavy
It gives long-lasting results irrespective of heat or humidity.
Doesn't cause breakouts or clog the pores
Offers good coverage and combines SPF to provide broad-spectrum sun protection
It is waterproof
What We Don't Like: You would require a string makeup remover to take it off. Also, it is not suitable for women with dry skin.
2. Matte Finish: NARS Sheer Matte Foundation
It is an oil-free, matte-finish foundation offering buildable coverage
It controls the excessive oil and shine, giving you a flawless finish all through the day
Regular use of this foundation helps improve skin brightness and texture, giving you a glowing and radiant look
Suitable for all skin types- normal, dry, oily, and combination
The results are long-lasting
What We Don't Like: It is not suitable for people with dry skin. Also, it doesn't offer sun protection.
[ Read: 7 Best Foundations For Combination Skin ]
3. Ultra Hydration: Laura Mercier Candleglow Soft Luminous Foundation
The exclusive formula of this foundation contains light-reflecting pigments that make you look stunning irrespective of time.
The hydrating ingredients add moisture to the skin, keeping it soft and supple.
It offers a dewy finish with its gentle and skin-hydrating ingredients.
It is non-matte, lightweight, and recommended for dry skin
What We Don't Like: It doesn't offer full coverage.
[ Read: 7 Best Cushion Foundations For Dry Skin ]
4. Easy Blendable: Maquillage Dramatic Powdery UV Foundation
It is a unique powder foundation made from the mousse
Blends seamlessly into the skin and covers visible pores, giving an even skin tone
It offers great coverage and blends easily in a jiffy
Suitable for women with all skin types
It has no artificial fragrance and other additives, thus works well for sensitive skin too
What We Don't Like: Using it excessively or overdoing it can give a cakey appearance.
[ Read: 7 Best Sunscreens For Sensitive Skin ]
5. Offer UV Protection: MAC Studio Fix Fluid SPF 15 Foundation
It offers medium, buildable coverage for a natural matte finish
A perfect long-wear foundation that keeps pores to a minimum and covers all the skin's imperfections
Makes skin look and feel smooth and flawless
It is an oil-free foundation, suitable for all skin types
Long-lasting results are assured
Also, provide sun protection with SPF
What We Don't Like: It may cause dry skin drier when used excessively.
[ Read: How To Get Rid of Open Pores Naturally at Home ]
6. Instant Hydration: Touch In Sol Advanced Real Moisture Liquid Foundation
Perfect for dry skin, it is a lightweight foundation that hydrates skin instantly
The texture is creamy and rich in moisture, giving flawless coverage
It is free of paraben, ethanol, and mineral oils
Contains only skin-loving ingredients that keep skin healthy and supple.
What We Don't Like: It is not suitable for oily skin. Also, due to the presence of added fragrance, it may cause skin sensitivity.
[ Read: How to Get Healthy Skin Naturally at Home ]
7. Dermatologist-tested: Maybelline Dream Urban Cover Foundation Makeup SPF 50
Offers great protection from the sun with its powerful SPF 50
Ensures natural and flawless finish
It blends easily, giving even-toned skin
Available in multiple shades
Works well on all skin tones and textures
Formulated with antioxidants and anti-aging ingredients
What We Don't Like: It contains added fragrance. Also, it may not suit sensitive skin.
[ Read: 5 Easy Homemade Anti-Aging Face Masks for Wrinkles ]
Conclusion
So, these are the best foundation for Asian skin that will surely be going to give you a rocking, flawless finish. All of them are best rated and give the most effective results. Go check them out!
You Might Also Like: