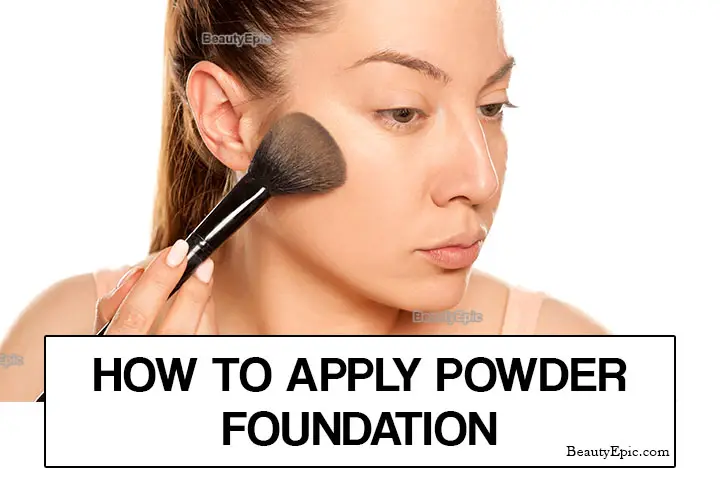 Powder foundation can amazingly transform your look when applied in the right manner using the right kind of accessories.
Required Accessories for Applying Powder Foundation
If you are planning to use a powder foundation for your makeup routine, you should be equipped with the following cosmetic products and tools.
1. Cleanser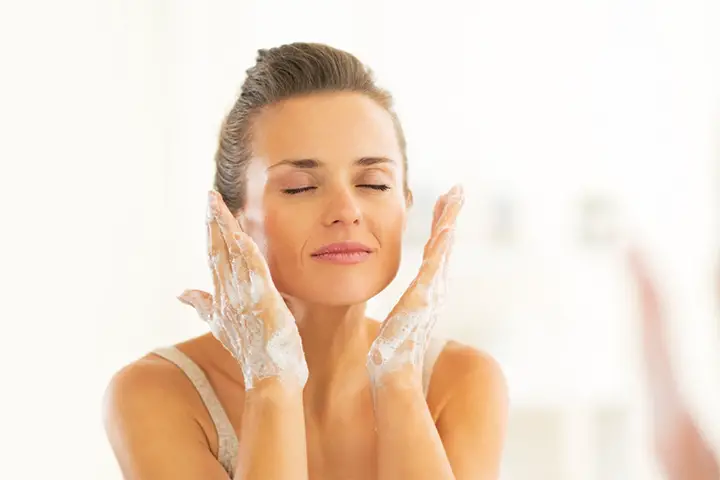 A cleanser is an essential part of your skincare. It cleans the pores and prepares the skin to hold multiple layers of makeup.
2. Moisturizer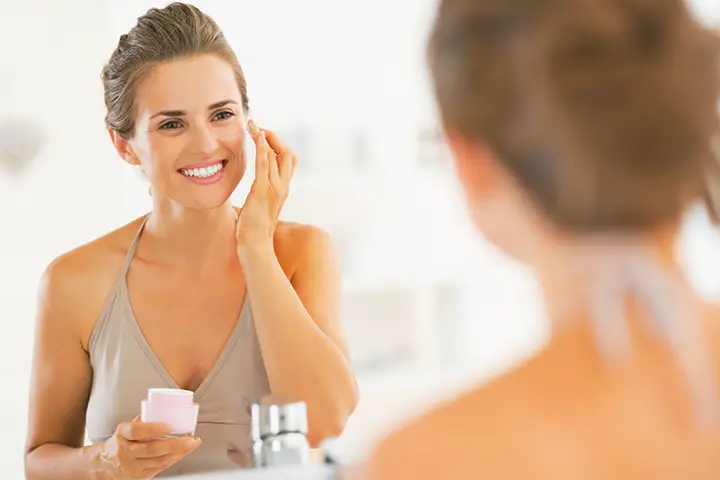 For those who have dry or semi-dry skin, it is essential to apply moisturizer before makeup.
[ Read: How to Apply Liquid Foundation ]
3.Foundation Primer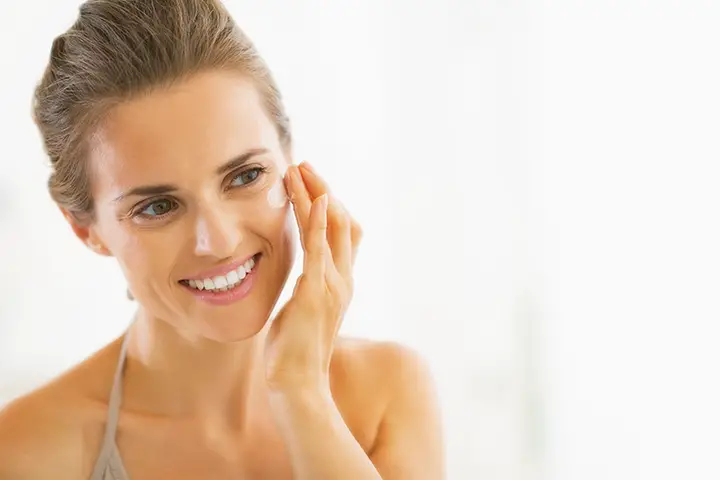 You would need a light primer that suits your skin type. If you have dry skin you can use a moisturizing primer.
4.Cream Foundation
You would need a medium coverage cream foundation that matches your complexion to cover flaws and dark spots on your skin.
5.Concealer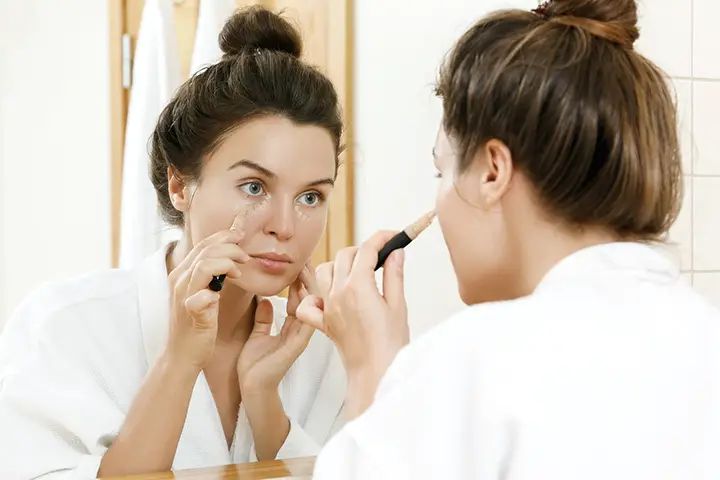 If you have any marks or scars you would need a concealer for the same.
[ Read: How to Apply Concealer ]
6. Powder Foundation
Select a medium to full coverage, lightweight powder foundation that has a natural finish.
7. Brushes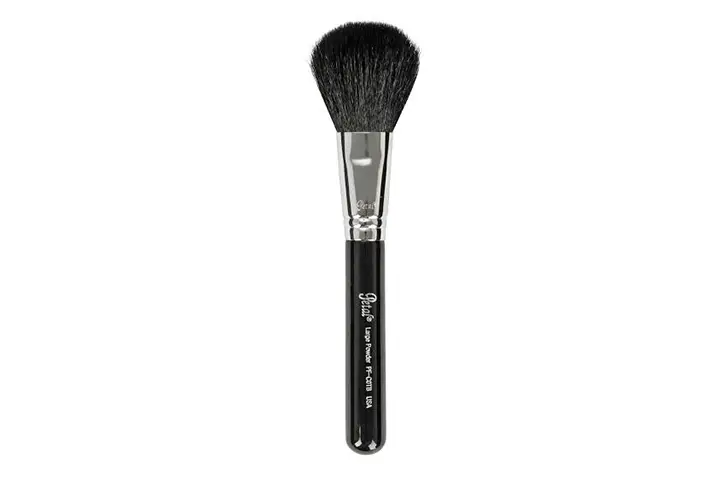 For proper application of powder foundation, you might require different types of brushes. For a long-lasting makeup, you would require,
A Duo Fibre foundation brush with thick bristles for applying the cream foundation.
A rounded brush or Kabuki brush for applying powder foundation.
A blending brush for mixing the layers of makeup.
A fluffy finishing brush.
[ Read: How to Apply Foundation With a Brush ]
Procedure Before Applying Powder Foundation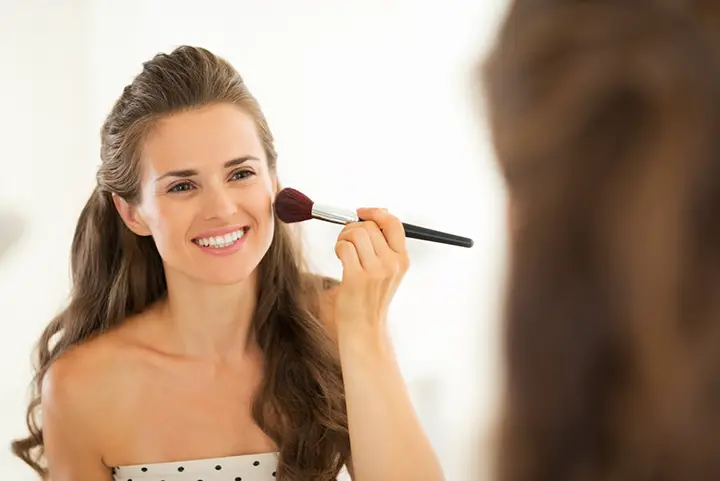 For a flawless facial makeup with powder foundation, you need to follow the below-mentioned steps to prepare your skin.
Wash our face using a mild moisturizing cleanser. Use cold water to rinse the cleanser and pat your skin dry.
After cleansing your face, apply a thin coat of moisturizing cream. Avoid gels as they take longer to dry up.
After applying moisturizing wait for few minutes so that your skin can soak up the nutrients and turn softer.
Now take a small amount of foundation primer on your fingertip and apply it evenly on your face.
[ Read: How To Apply Foundation Like a PRO ]
While applying primer gently spread it outwards with your fingertips. After applying wait for 5 minutes for the product to dry.
Once the skin has soaked up the primer, you can start applying your cream foundation.
Note that, before applying foundation if there are any spots or scars on your face, you can apply a concealer only on these areas.
If you are applying cream foundation make use of a Duo Fibre brush. This type of brush is ideal for proportionally blending thin layers of foundation.
A Duo Fibre brush has bristles that are partially black and partially white. The softer tip of the brush leaves a smooth finish on the skin.
While applying cream foundation start from the center of your face and gently spread the product outwards using the brush.
Make sure that you apply only a thin coat of cream foundation because you would be adding another layer of powder foundation.
Cream foundation when applied in excess can make your skin look crusty.  So you should use the product in moderation.
After applying cream foundation wait for a few minutes for the product to settle.
Use a cotton ball to wipe the areas that appear cakey or crusty. Once you are done this should leave your skin looking naturally spotless.
[ Read: How to Choose Right Foundation for Your Skin Tone  ]
How to Apply Powder Foundation?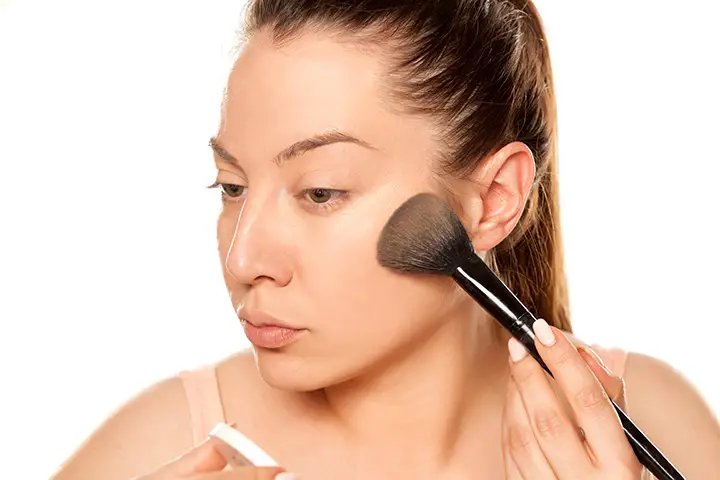 To get the best results using your powder foundation you need to apply it in the following manner.
After correcting the dark spots with a concealer and cream foundation you can apply your powder foundation for getting a flawless silky texture.
Use a rounded foundation brush to apply powder foundation since you are applying it over a layer of cream foundation.
If you are applying the foundation directly after the primer or concealer you would need a rounded Kabuki brush that has thicker bristles.
Now holding the brush horizontally swirl its tip into your foundation until the bristles are all covered in a fine layer of powder.
Now start applying the foundation on your cheeks in gentle circular strokes.
[ Read: How To Contour Your Nose Like a PRO ]
As you cover each area repeat the process on the other side of the face and make sure that both cheeks look symmetric.
After covering the cheeks and chin area apply the foundation over the nose and forehead.
Along the creases and joints where the brush reaches repeatedly, you can see that the foundation has clumped to appear a bit thicker.
Use a finishing brush with fluffy bristles to remove the excess powder from such areas until the skin looks naturally smooth.
Throughout the process make sure that you use a separate brush for your powder foundation. Using the same brush for multiple products shall not work.
Using the above method for applying powder foundation you can easily get flawless makeup for your face without using too many cosmetics.
You Might Also Like: