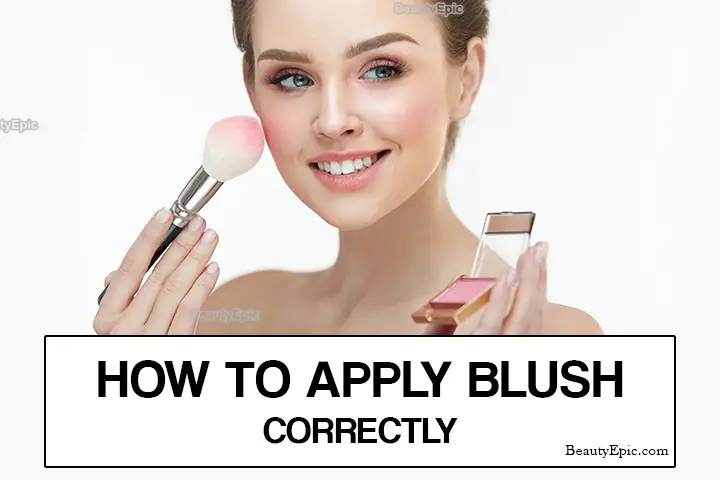 Blushing nourishes and polishes the makeup resulting in a glowing appearance on your face. No one desires to have a sleepy and dull look especially after setting up the makeup. It's a pretty makeup product that will keep you charming all day given that it is set up correctly on the required regions.
You absolutely need the best tips in order to avoid going through challenging occasions of where, and how to apply it and the best tools that you require for the all process. Your face needs the right makeup complement in order to look good.
The majority of American and Britain women prefer visiting beauty centers in order to set up their makeup simply because they lack proper tips for doing it for themselves. Below are some tips to guide you on how to apply blush. Start-up basics.
How To Apply Blush Correctly
1. Setting Up of the Blush Base
A blush comes last after the foundation has been set. This also comes after the concealer and the bronzer have been laid. The eyebrow makeup and mascara application also proceed with the blush. All these activities involved are meant to ensure that a uniform base is set in order to ensure that the makeup covers only the required parts.
[ Read: How To Apply Foundation Correctly ]
2. Applying Powder Blush
Pick a fluffy soft brush and keep it inside the blush container and remove the excess by tapping it softly on the lid of the blush. Begin by spreading it on the cheeks then pick a similar brush and blend to tone the entire region uniformly. This also keeps the facial hairs from rising.
3. Applying Liquid Blush
In case you chose liquid blush, then touch using the tips of the fingers and dot the cheeks. Blend using the ring finger or just use a blending sponge to evenly spread it over the skin's surface.
For a flawless and more natural look, set the blush using a soft brush. Ensure that you set the foundation with a liquid formula if you are blushing using a cream formula in order to attain the best results.
[ Read: Beauty Blender – What is it and How to Use ]
4. Removing The Excess Blush
If you used a cream blush, then cut a tissue that is wide enough to cover the size of your cheeks then lay it flat on the skin surface. Likewise, in case you used a powder blush, then set the tissue just as you did earlier and begin pressing it consistently with a blending sponge in order to blot the excess powder since it tends to persist.
Blushing According to The Face Shape
For a Heart-Shaped Face: Begin blushing the temple section then downwards to the cheeks in a curved motion. Ensure you exert a little more pressure while blushing the cheekbones to make it stick properly.
For a Round Face: Just blush along the cheekbones without getting into the cheek apples using a blush brush. To do this appropriately, just suck the cheek apples inwards in order to define the cheekbones. This is because blushing the apples will result in a face that is even more round.
For Oval Face Shape: Stroke the blush downwards beginning from the cheekbone all the way to the earlobe. Give a soft touch slightly above the cheeks.
Square Face Shapes: Work out the blush in circular motions in case you have a squared face in order to make it appear a little bit round so that the sharp edges can disappear. Do this by blushing the cheek apples directly.
[ Read: How To Apply Eyeshadow ]
How To Pick The Best Blush Color For Your Skin Tone
Choose a blush that perfectly matches your skin tone.
Fair skin requires a sheer plum, pink or peach color because they suit well with natural skins that range from light to deep colored. Sheer shades are also good because their effect is neutral.
For medium skin, an apricot blush is suitable since it gives the skin a subtle definition. A mauve blush is convenient for dark medium skin since it highlights it evenly.
A rose blush is right for olive skin Furthermore, for a deep dark complexion, go for a brick or raisin blush to make it more natural.
Nonetheless, pick a powder blush for oily or normal skin. It results in glowing matte skin all throughout the day and lastly, a creamy blush will be a good choice for dry skin. It enhances moisture production and therefore makes the skin look alive and bright. Aging skin can be renewed with this blush because it softens its texture.
Hence employ these tactics and give your blush a meaningful experience.
Best Cream Blushes
You Might Also Like: