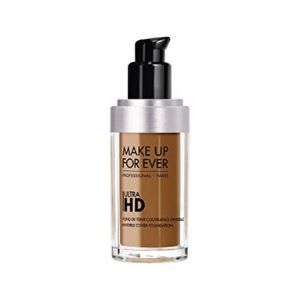 The rave about high-end luxury makeup products, especially Makeup Forever HD Foundation, has taken the world by storm. People all over the internet cannot stop talking about this amazing product and the stunning results it delivers. While makeup enthusiasts and celebrities keep on blabbering about Makeup Forever HD Foundation, it is out of reach for mainstream consumers.
The reason behind this is the hefty price tag with which it comes. If you can spend more than $50 on foundations, Makeup Forever HD Foundation is your go-to product. However, for others, we have come up with some amazing, trusted, and outcome-focused alternatives for Makeup Forever HD Foundation that cost a fraction of the price and give an almost similar result.
Before checking the best Makeup Forever HD Foundation alternatives, let's find out what makes this foundation from the luxury Makeup Forever brand so popular among the people.
Makeup Forever HD Foundation Review
Foundation is one of the essential components of a makeup regimen. Coming in liquid, cream, and powder formulations, the foundation helps to attain an even and flawless complexion. It gives a uniform color to the skin and is sometimes used to change the natural skin tone.
While the major function of the foundation is to even out the complexion, high-end products also work as a moisturizer, sunscreen, astringent or base layer for complex cosmetics. When you buy foundation, it is important that you find one which works well with your skin. At the same time, it should be available at a reasonable price.
Makeup Forever HD Foundation is one of the best foundations of all time. There are reasons that make this product an iconic foundation, providing undetectable medium coverage and a blurred, second-skin finish. The good thing is it lasts for 24 hours and is available in over 50 shades.
The major ingredients of Makeup Forever HD Foundation include the following-
Antioxidants: Tocopheryl Acetate, Tocopherol
Skin-identical Ingredients: Glycerin, Sodium Hyaluronate
It also consists of the following-
Cyclopentasiloxane- cyclic structured silicone that does not stay on the skin but evaporates, giving skin and hair a silky, smooth feel.
Talc- Helps in outstanding spreadability for a smooth application and its low covering power, aka translucency, to avoid clown-like effects.
Mica- Helps to improve skin feel, increase product slip, give the product light-reflecting properties, enhance skin adhesion or serve as an anti-caking agent.
Methylpropanediol- It has very good antimicrobial properties and acts as a true preservative booster.
Apart from these, Makeup Forever HD Foundation also consists of ingredients like Propanediol, Disteardimonium Hectorite, Glyceryl Caprylate, Dimethicone Crosspolymer, Sodium Chloride, etc.
Pros
Spreads easily and gives a silky smooth finish.
Consists of light-reflecting properties that make the skin glow.
Do not cake the skin.
Easy to apply and suitable for all skin types.
Cons
Makeup Forever HD Foundation is an expensive makeup product. Therefore, people often start searching for Makeup Forever HD Foundation alternatives that can fit their beauty budget.
5 Best Similar Makeup Forever HD Foundation Products
1. L'Oréal Pro Glow
It is a long-lasting foundation with medium coverage, recommended for people with dry skin.
The result lasts for over 24 hours, maintaining hydrating glow on the face.
The texture is light and creamy and the consistency is thin and watery for easy buildup.
Feels lightweight on the skin and contours fine lines or the texture of your skin.
Available in 12 shades.
[ Read: 7 Best Cushion Foundations For Dry Skin ]
2. NYX Mineral Stick Foundation
Works in three ways- as a highlighter, contour, or foundation.
Has creamy consistency for gliding and smooth application.
Blends really well into the skin without leaving a cakey residue or patchy spots on the skin.
Medium coverage that you can build smoothly and easily
Suitable for people with dry to medium-dry skin.
3. J. Cat Powder Foundation
Offers a medium-coverage look.
Leaves a smooth finish without enhancement to your skin's texture or fine lines.
Doesn't cake up or feel heavy on the face.
Gives an airbrushed finish like the Makeup Forever powder.
4. NYX HD Studio Foundation
Blur the skin's textures and pores to give you a flawless finish like Makeup Forever.
Offers medium to full coverage without the heaviness and cakey build-up.
Consists of peptides and minerals that help nourish the skin.
Reduces the appearance of any large pores or fine lines.
Available in 12 different shades.
[ Read: 7 Best Foundations For Sensitive Skin ]
5. Revlon PhotoReady Foundation
The formula has a thicker and creamy feel yet it doesn't feel heavy or look heavy.
SPF 20 in the formula and specks of glitter adds to its value.
Coverage is buildable and does give a flawless appearance
Suitable if your skin tone is light to slightly warm.
You Might Also Like: