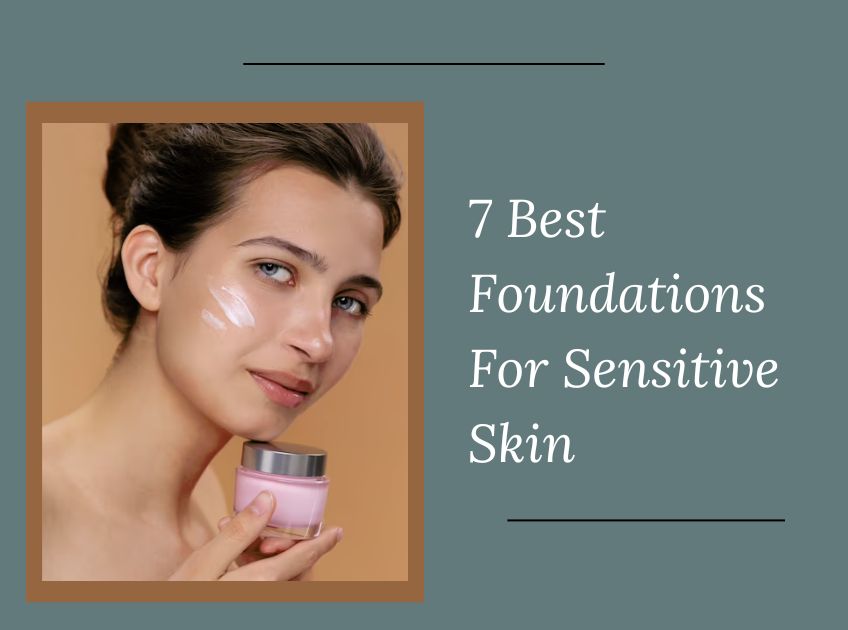 Dealing with sensitive skin takes a toll, and finding the right skincare product is even trickier. Since you never know what ingredient may trigger an allergic reaction, causing redness, breakouts, and skin inflammation, it takes many hits and trials to find the best product.
Here, we are talking about foundation, the base of any makeup. The best foundation for sensitive skin should have gentle ingredients that are safe for sensitive skin. It should not cause breakouts, irritation, inflammation, redness, or other skin concerns. At the same time, it should be buildable and easy to blend, offering medium to full coverage.
Foundations For Sensitive Skin
Since finding such products can be challenging, we have listed the 7 best foundations for sensitive skin based on their quality, performance, and users' reviews. They are best for sensitive skin and do not trigger any reaction. Check them out!
7 Best Foundations For Sensitive Skin
1. Best for Eczema: NARS SHEER GLOW FOUNDATION
It offers sheer and buildable coverage and is easy to apply
The non-comedogenic formula stays gentle on the skin without causing any irritation or redness
It has hydrating and light-reflecting ingredients that make it perfect for all skin types
Vitamin C derivatives, antioxidants, and turmeric extract are the added benefits
It is fragrance-free and free from other nasty ingredients like parabens and phthalates
Available in 40 shades
What We Don't Like: It offers light coverage. Also, if you don't want a shiny look, avoid it.
[ Read: 7 Best Essential Oils for Eczema Treatment ]
2. Best for Dry Sensitive Skin: Bareminerals Complexion Rescue Tinted Hydrating Gel Cream
It offers sheer to medium coverage and features non-comedogenic properties
The presence of natural ingredients like glycerin, squalane, and sodium hyaluronate makes it effective for all skin types
It also offers sun protection with SPF 30
The texture is gel-cream and lightweight, staying comfortable throughout the day
It is available in 18 stunning shades
What We Don't Like: Even though it corrects complexion, making it even, it is not able to cover the blemishes, and separate concealer is required.
[ Read: 7 Best Primers For Dry Skin ]
3. Effective and Affordable: L'Oréal Paris True Match Liquid Foundation
It offers full coverage and comes at an affordable price
The presence of aloe vera makes it suitable for all skin types, as it hydrates and nourishes the skin
40 shades are available
The non-comedogenic property makes it suitable for acne-prone skin
It is lightweight in texture, and results last longer
What We Don't Like: If offers only SPF 15 sun protection.
[ Read: 7 Best Primers For Acne Prone Skin ]
4. Best for Rosacea: IT COSMETICS YOUR SKIN BUT BETTER CC+ CREAM WITH SPF 50
It offers medium to full coverage with its easy to blend and buildable formula
SPF 50 is an add-on that ensures broad spectrum sun protection
It features a moisturizing and non-comedogenic formula that stays non-cakey on the skin
It ensures a radiant and glowing finish where the foundation stays for long
What We Don't Like: Only 14 shades are available.
[ Read: 10 Essential Tips to Get Glowing Skin ]
5. Best matte foundation: DIOR FOREVER MATTE FOUNDATION
It offers medium to full coverage and is the best foundation for oily and combination skin
The non-comedogenic property of the foundation makes it suitable for acne-prone and sensitive skin
It contains skin-smoothing rosehip extracts that nourish skin and provide deep hydration
It is oil-free and available in 36 diverse shades
What We Don't Like: It comes with a hefty price tag.
[ Read: 10 Best Full Coverage Foundation For Oily Skin ]
6. Lightweight and Comfortable: The Body Shop Fresh Nude Foundation
Infused with aloe vera and rose water, this foundation helps hydrate the skin and keep it well-nourished
Designed to give a natural and dewy finish
The non-comedogenic formula does not clog pores or feel heavy on the skin
It is ultra-hydrating, lightweight and stays comfortable all through the day
Provides sun protection with SPF 15
What We Don't Like: limited shades are available.
[ Read: Why Should You Wear Sunscreen: Importance for Every Skin Type ]
7. Mattifying Look: Bobbi Brown Skin Weightless Powder Foundation
The finely milled and smooth texture of the foundation makes it easy to blend
The lightweight, oil-free, and non-comedogenic formula works in favour of sensitive skin
It gives a mattifying look without being cakey
Gives a smooth canvas to apply further makeup
Available in 20 shades
What We Don't Like: It is pricey.
[ Read: 7 Best Setting Powders For Mature Skin ]
Conclusion
Even though these are the best makeup foundation for sensitive skin, we still recommend you perform a patch test to avoid any skin issues. Also, before using, read the labels and check every ingredient to ensure they are safe for your sensitive skin.
You Might Also Like: