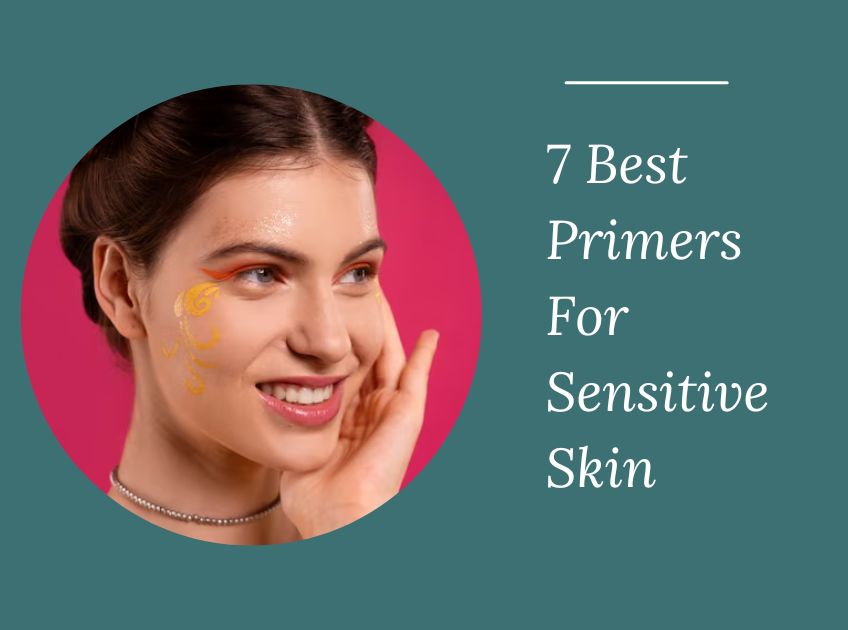 Sensitive skin is also called problematic skin for good reasons. It takes time for people with sensitive skin to know what chemicals can trigger a reaction and cause irritated, inflamed, and red skin. At the same time, sensitive skin is prone to breakouts with makeup products.
Sensitive Skin
Therefore, using products made specifically for sensitive skin is the right choice. Here, we have curated a list of the 7 best primers for sensitive skin. These primers contain antioxidants and Vitamin C that help keep breakouts and acne at bay, giving a glowing radiance to the skin.
At the same time, the major ingredients in these primers are plant-based, thus completely safe for problematic skin. Check them out!
7 Best Primers For Sensitive Skin
1. High Rated and Effective: CoverFX Mattifying Primer With Anti-Acne Treatment
The key ingredients are Salicylic Acid, Natural Fruit AHA Complex, Acne Tree Bark, Bisabolol
Formulated to fight acne and keep skin healthy
Natural ingredients like willow bark extracts help exfoliate the skin
Promotes clarity and reduces the buildup of sebum
The presence of Ancient African tree bark extract combats inflammatory acne
It is lightweight and easy to take off
It also contains vitamins C, E, and F to soothe inflammation and reduce redness
Doesn't cake the skin
What We Don't Like: It is expensive.
[ Read: 7 Best Primers For Acne Prone Skin ]
2. Best for Dry Skin: Too Faced Plump & Prime Luxury Face Plumping Primer Serum
Infused with Peptides, St John's wort, hydrolyzed rice extract, and vitamin
Also infused with hydrating ingredients like hyaluronic acid and glycerin.
Suitable for sensitive, balanced, oily, dry, and combination skin types
It delivers a plumping effect and creates an ultra-smooth canvas
Lightweight with a milky consistency
Absorbs quickly and gives a flawless finish
It tackles dryness and improves skin texture.
It comes in an airtight container
What We Don't Like: It contains artificial fragrance, which everyone does not like.
[ Read: 7 Best Primers For Dry Skin ]
3. Corrects Color: Physicians Formula Spotlight Illuminating Primer
The presence of 5 unique filtering pearls gives a glowing radiance
Improves skin tone
Infused with antioxidants to heal the skin
It gives a youthful glow
Contains Optical Blurring Agents
Minimizes the appearance of pores and spots
It makes the skin surface smooth
Clinically tested and approved by a dermatologist
Suits all skin tones, including sensitive skin
What We Don't Like: It is not a lightweight primer and feels heavy on certain skin types. Also, some users do not like its overwhelming smell.
4. Gives Mattifying Effects: Tarte Cosmetics Poreless Mattifying Primer
The key ingredients are Avocado, T5 Super Fruit Complex™
It also contains Echinacea Root, Hibiscus Flower, and Rosemary Leaf Extracts
The presence of Safflower Seed makes it even more appealing
It is easy to apply and remove
The results are not greasy, and a little goes a long way
Packed with natural ingredients, it keeps skin safe and healthy
Suitable for all skin types, especially acne-prone skin
Promises 12 hours of a shine-free matte finish
What We Don't Like: It is slightly coarse.
[ Read: How to Get Healthy Skin Naturally at Home ]
5. Natural Ingredients: Reviva Labs Makeup Primer
Infused with natural ingredients
It improves skin texture and revives the skin
It contains Vitamin E, Coenzyme Q, Vitamin D3, and Vitamin A
Reduces wrinkles and fine lines
Improves skin texture
It Evens out the skin tone
Reduces the size of enlarged pores
Do not clog the pores
It contains Dimethicone, a type of silicone
It helps to get a matte effect and a soft, supple look
It is non-comedogenic
Free of artificial fragrance
Hypoallergenic
What We Don't Like: It doesn't offer sun protection.
6. Suits Oily Skin: Neutrogena Shine Control Primer
It is a lightweight and smooth
Features non-greasy formula
Formulated with rice protein technology
It helps absorb all the excess oil from the skin
It contains an anti-inflammatory ingredient, silica
Blurs fine lines and wrinkles
It pumps up the skin's glow and radiance
Conceals large pores
Delivers the radiant glow for over eight hours
It is non-comedogenic
Offers matte finish
What We Don't Like: It is gritty and coarse.
[ Read: 7 Best Primers For Glowing Skin ]
7. Effective and Affordable: Almay 5-in-1 Correction Primer
Infused with microspheres for a smooth base to the makeup
Blends easily and effortlessly
It gives the refined and radiant look
Contains bi-colored spheres- lavender microspheres and green microspheres
Even out the skin tone and reduces skin redness
Oil-free gel formula
Stays light on the skin
Comfortable enough for all-day wear
It is non-comedogenic and oil-free
What We Don't Like: It doesn't offer sun protection.
Conclusion
So these are some of the best primers for sensitive skin. Once you start using them, you will notice how they transform your skin and gives you a radiant glow without compromising your skin's health. Even though all these primers are tried and tested on sensitive skin, we recommend you perform a patch test to prevent the chances of any mishap.
You Might Also Like: